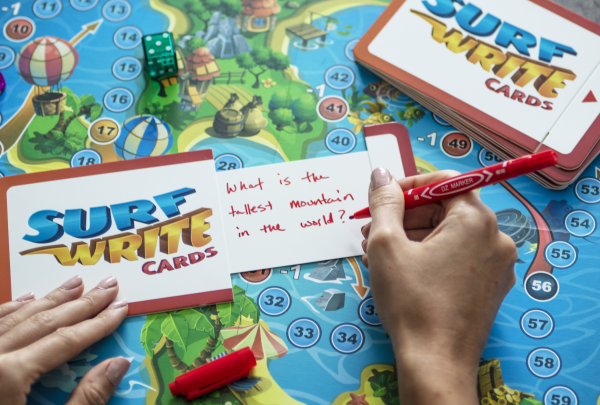 As a visual and kinesthetic learner in middle school, Chidi Paige struggled to grasp the text-book centered method of teaching STEM. That experience has paved the way for her devotion to developing intentional learning and game-based approaches to teaching. Chidi's popular offering is the Surf Write Educational Game Set, which is just one out of many educational games and programs she organizes.
Surf Write flash cards make learning interactive and fun with erasable and re-usable flash cards. Each card offers 3 places to write questions or quizzes, and the answer is hidden in a retractable panel within the cards. A deck of Surf Write super flashcards carries 30 such cards. A related product is the Surf Write Deluxe Game Set – a pirate theme game with 8 meeples, 30 super flashcards, 3 permanent markers and a special die-in-a-die.
With Surf Write, a gamification system, students can bring fun into preparing for tests and exams. They can gamify content on any topic and take out boredom from studies. For example, they can use Surf Write to prepare for chemistry tests, or get ready for SAT and GRE.
Chidi, a female African American immigrant, has also created a special classroom giveaway for educators! Each classroom set comes with 10 deluxe game sets, accompanied by a special classroom instruction sheet.
Since the game-based learning approach is popular, Chidi has launched a special venture, Concoursia, where such techniques are deployed in classroom settings. Meant for K-12 grades, the main services include 21st Century Skills, Educator Workshops, Student Engagement Programs, Youth Program Services, Social Emotional Learning (SEL) and more.
Other Concoursia offerings include the Game Shop, another activity that shows how to deconstruct and recreate games while solving problems, thinking critically and communicating with other players. The Play Lab is yet another activity for students to learn with fun.
A special initiative is to train the trainer. This involves training courses for game-schooling educators. Of particular interest are activities where Concoursia partners with local schools and hosts onsite game revelry.
"I'm passionate about STEM education advocacy, particularly in youth and community enrichment. I have 19 years of experience in designing and implementing programs that have proven effective in instilling a love of science in youth ages 6 to 18," says Chidi Paige.
The innovations brought in by Chidi have made her extend these approaches to create fun books. Her recent publications available from Amazon are What Happened To Waka Dimpolo, and I can Trace & Color: Kindergarten and 1st Grade.
Chidi holds a Bachelor of Science degree in Zoology, and has completed the coursework for Master of Science in Environmental Sciences. She was the inaugural Manager of Education Programs at Columbia University's Zuckerman Institute, managing programs such as BRAINYAC. She has designed and launched Saturday Science, a monthly family program that uses intentional play and interactive activity-stations to teach neuroscience.
About
Concoursia LLC, is a trans-media revolutionary publishing and consulting company. Our goal is to bridge the gap between game-based learning and traditional schooling. We aim to bring back the fun in learning experiences for K-12 grade-aged students while ensuring that the learners understand and retain concepts learned.
For more information, please visit: www.concoursia.com and www.SurfWrite.com
SOCIAL MEDIA LINKS:
https://www.facebook.com/SurfWrite
https://www.instagram.com/surfwrite/
Surf Write Game set video link: https://www.youtube.com/watch?v=h0RBCUuOsAU
Media Contact
Company Name: Concoursia LLC.
Contact Person: Chidi Paige
Email: Send Email
Country: United States
Website: http://www.chidipaige.com