Minneapolis, MN – December 18, 2019 – Unwanted and excess fat on the chest can be embarrassing for men. But they fear going under the knife or taking chemicals or other invasive medicines. A new, non-invasive and safe way to kills these fat cells is the use of cold compression. ChestSculptor offers a safety vest that can be worn to freeze and destroy unwanted fat without side effects.
Excess fat for men in the chest region (colloquially called 'man boobs') is no more a hard to treat the condition. Caused by either age, genetics or simple obesity, embarrassing fat deposits aren't a health issue, but cause social embarrassment and problems in personal relations. Some men try to treat them with diet and exercise, but often the fat remains intact. For these cases, the use of cold therapy with ChestSculptor can work wonders.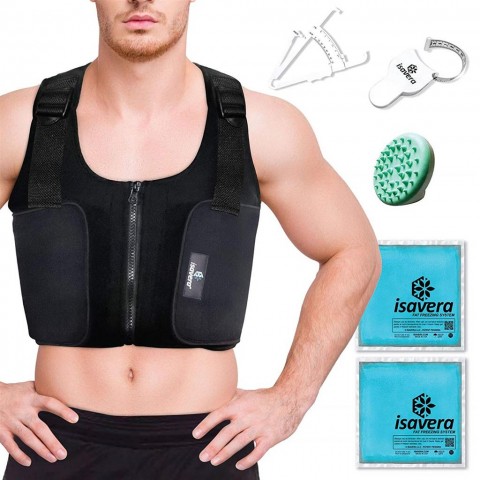 ChestSculptor, offered by Isavera, a leader in at-home fat freezing vests and wraps, uses a custom formulated, dual-action gel to create an ideal cold temperature that will trigger loss of fat without harming the body. Easy to wear and designed for comfort for all body sizes, the vest allows regaining one's manly chest without side effects. The vest has an anti-slip inner lining with double stitches for durable life.
"Our products are designed to tackle stubborn fat with simple, easy to use wraps. Just place the specially formulated packs into the insulated wraps and apply to the desired area. A significant portion of your fat cells will begin to freeze, break down, and melt away for good," says Nadia Kensington of Isavera.
ChestSculptor is based on the effect of cold on subcutaneous fat, which tends to crystallize within the fat cells. The crystallization triggers apoptosis or programmed cell death. The fat cells then break down and are eliminated by the body permanently via the lymphatic system.
An inexpensive system, ChestSculptor can be used at home without any special diet or exercise. The product is available from Amazon with a 90-day satisfaction guarantee.
About the Company
Isavera is an at-home freezing system that enables users to sculpt and tone and tone the body for a more desirable look. Inches and cellulite are quickly and permanently lost with their wide array of at-home fat freezing wraps. For more information, please visit: www.isavera.com
Media Contact
Company Name: Isavera LLC
Contact Person: Nadia Kensington
Email: Send Email
Phone: 202-555-0108
Address:525 N 3rd St
City: Minneapolis
State: MN
Country: United States
Website: https://www.amazon.com/Isavera-Man-Boobs-Freezing-Vest/dp/B082CH5DB1