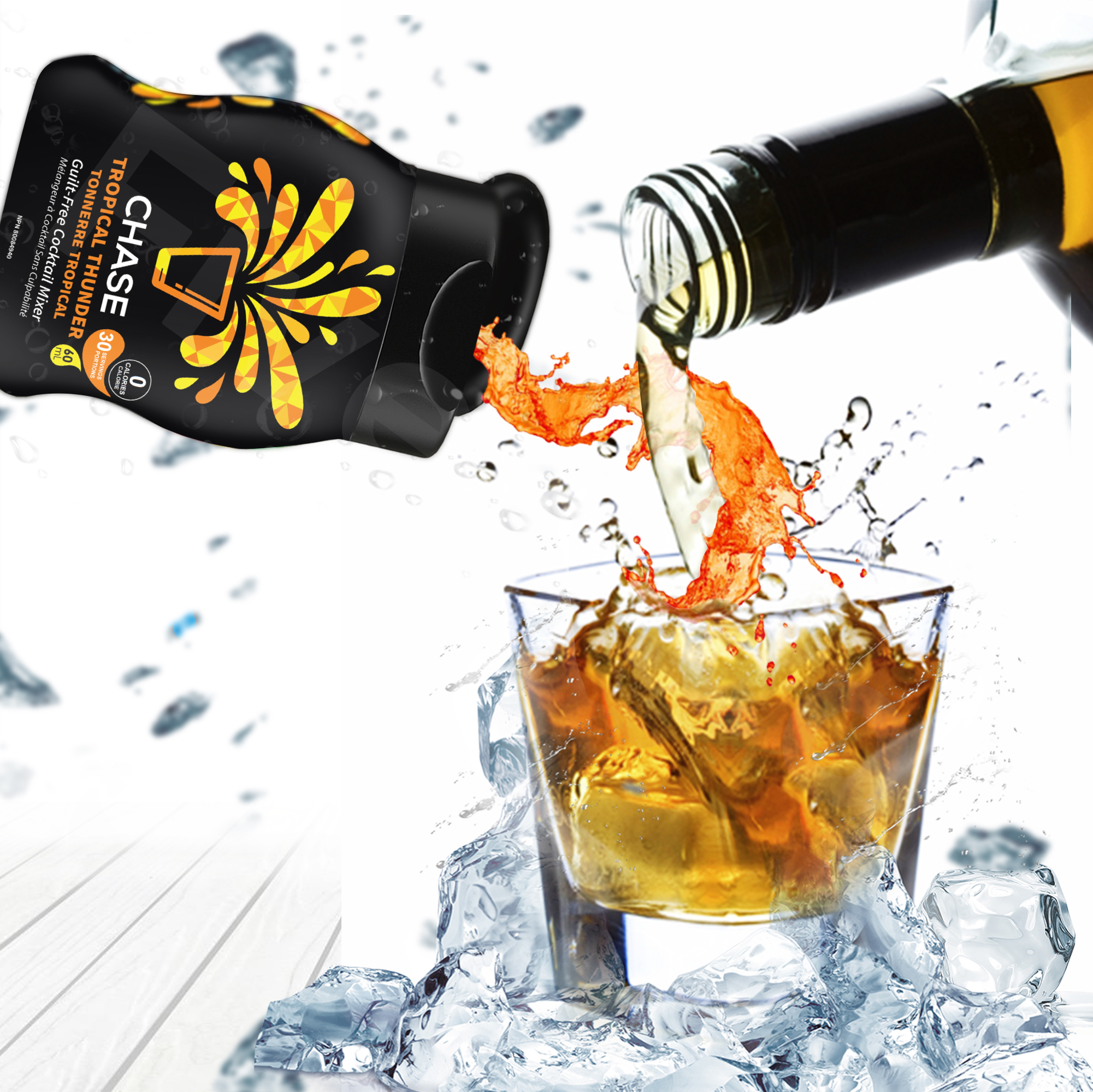 Make a Chase drink in 3 easy steps! Any hard liquor + a squirt of Chase + water or soda water = a delicious, low calorie drink!
Zero-Calorie Chase Mixers Take the Sugar and Hangovers Out of Drinking.
Chase is a zero-calorie mixer with 9 B-Vitamins to help combat your hangover! Chase was made for people who want to enjoy a couple of beverages and not regret it the next day. Say goodbye to tasteless vodka-sodas and sugar-laden cocktails with one squirt of Chase! Chase has no sugar, no calories, and no artificial colors, flavors or sweeteners. It's keto friendly, vegan, gluten free, and diabetic friendly. Make 30 drinks with the pocket-sized 60mL bottle!
Founder Chris Harper had two problems when it came to drinking: beer, wine and sugary cocktails expand his waistline, and vodka-sodas are tasteless. Was it possible to have your cake and eat it too? With the relentless problem-solver Harper on the case, it was. The trick was creating a product that didn't compromise on taste or ingredients.
By collaborating with a team of highly-skilled food scientists, Chase was formulated with all natural flavors, colors and sweeteners. Using the highest-quality Stevia that has no bitter aftertaste, Chase is guaranteed to satisfy that sweet-tooth!
Most people know that sugar is bad for their health. What most people don't know is that sugar makes a hangover much worse. The liver processes both sugar and alcohol, so adding traditional cocktail mixers, soda or juice to alcohol forces the liver to work double-time. Stevia bypasses the liver, diminishing those nasty hangover symptoms.
The process of metabolizing alcohol also depletes essential vitamins. B-complex vitamins are particularly susceptible, which is why Chase loaded each squirt with NINE of them. Each B-vitamin benefits a particular function in your body including energy levels, cognition and hormone levels, to name a few.
On top of it all, mixing with water replenishes those precious organs so that chugging a few glasses before bed is no longer necessary. While nothing can cure a hangover, the Chase MVPs – 9 B-vitamins, water and Stevia – are the toughest trio to ever take on a hangover.
When Jenn Fischer discovered Chase, it changed the game for her: "I stopped drinking because I had awful hangovers from one or two drinks. When I drink with Chase, I can actually wake up at a reasonable hour and be productive the next day. I can finally enjoy a few beverages again!"
Harper's main goal was to make it easy to enjoy a night out while maintaining a healthy lifestyle. Making a Chase drink is simple: any hard liquor + a squirt of Chase + water or soda water. The 60mL pocket-sized bottle is easy to take to a party, the bar or on your carry-on.
One bottle makes 30 drinks, so swapping soda or juice with a healthy and delicious alternative is cheaper than ever. The Cola & Mango Pineapple flavors were formulated to be familiar friends in a modern form, so it's easy to mix those drinks that you know and love.
Due to the rise of dietary restrictions, Chase was formulated to ensure that no consumer has to compromise. Chase is Keto-friendly, vegan, gluten free and diabetic-friendly.
After blowing up on social media and experiencing immense success in the Great White North, the obvious next step for Canada's fastest growing cocktail mixer was to go south, where the weather is warm and the drinks are cold. Chase is now positioned to explode in the U.S. market through an incredible partnership with one of the world's top distribution companies, Mr. Checkout. This partnership will make Chase available in gas stations and convenience stores across the United States.
Find Chase online or in a retail location near you!
Media Contact
Company Name: Jereki, LTD
Contact Person: Jennifer Fischer
Email: Send Email
Phone: 239-580-8148
Country: United States
Website: https://mrcheckout.net/chase-your-drink/