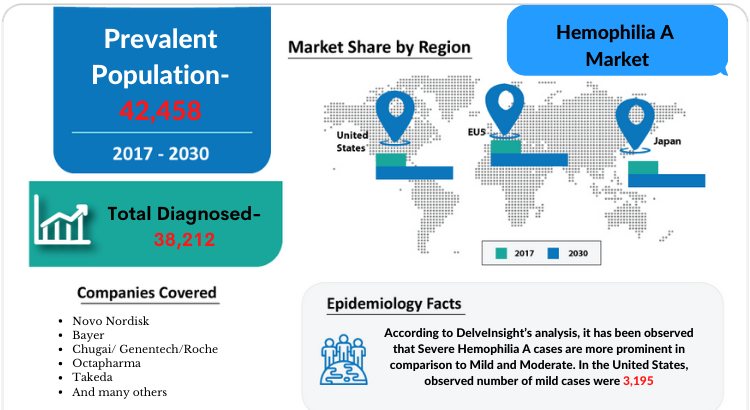 "Hemophilia A Market" report has been recently added to DelveInsight
The Hemophilia A Market report on gives adjusted data which has the mix of the past, current and future information that assists with understanding the Global Hemophilia A Market better. As such, it is a thorough rundown of the multitude of significant variables that are identified with expanding request development with regards to the market across the world. The report likewise gives subtleties of future prospects which have the most recent patterns that are to be found in the coming a long time in this focused on Hemophilia A Market
About Hemophilia A disease
Hemophilia A is a genetic bleeding disorder in which an individual lacks or has low levels of proteins named clotting factor VIII. The mainstay treatment option has long been FVIII replacement therapy. Initially, FVIII replacement was accomplished by donated whole blood, subsequently by plasma and currently by recombinant human FVIII (rFVIII) replacement therapies, which revolutionized the treatment of Hemophilia A.
Request for free sample copy of Hemophilia A market report- https://www.delveinsight.com/sample-request/hemophilia-a2030-market
Hemophilia A Geography Covered
The United States
EU5 (Germany, France, Italy, Spain, and the United Kingdom)
Japan
Hemophilia A Market Companies
Novo Nordisk
Bayer
Octapharma
Takeda
And many others
Global Hemophila A Market
About 30% of severe hemophilia A patients develop neutralizing anti-FVIII alloantibodies (inhibitors), which render the FVIII replacement ineffective. The standard of care therapy for patients with inhibitors is to induce immune tolerance with high-dose, high-frequency FVIII and treatment with bypassing agents (e.g. recombinant activated factor VII such as NovoSeven, FEIBA).
Hemophilia A Treatment Market
the major treatment options of Hemophilia A are Factor Replacement Concentrates, the source of which is either recombinant DNA technology or Human plasma-derive, and Bypassing agents. Moreover, this is an off-label treatment option, wherein Desmopressin Acetate (DDAVP) and Adjunctive therapies are also available for the management of Hemophilia A.
Hemophilia A Market: Report Scope
The report covers the descriptive overview of Hemophilia A, explaining its causes, signs and symptoms, pathophysiology, diagnosis and currently available therapies
Comprehensive insight has been provided into the Hemophilia A epidemiology and treatment in the 7MM
Additionally, an all-inclusive account of both the current and emerging therapies for Hemophilia A are provided, along with the assessment of new therapies, which will have an impact on the current treatment landscape
A detailed review of Hemophilia A market; historical and forecasted is included in the report, covering drug outreach in the 7MM
The report provides an edge while developing business strategies, by understanding trends shaping and driving the global Hemophilia A market
Following is the table of content of Hemophilia A Market Report
1. Key Insights
2. Executive Summary of Hemophilia A
3. Competitive Intelligence Analysis for Hemophilia A
4. Hemophilia A: Market Overview at a Glance
5. Hemophilia A: Disease Background and Overview
6. Patient Journey
7. Hemophilia A Epidemiology and Patient Population
8. Treatment Algorithm, Current Treatment, and Medical Practices
9. Unmet Needs
10. Key Endpoints of Hemophilia A Treatment
11. Marketed Products
12. Emerging Therapies
13. Hemophilia A: Seven Major Market Analysis
14. Attribute analysis
15. 7MM: Market Outlook
16. Access and Reimbursement Overview of Hemophilia A
17. KOL Views
18. Market Drivers
19. Market Barriers
20. Appendix
21. DelveInsight Capabilities
22. Disclaimer
23. About DelveInsight
Request for free sample copy of Hemophilia A market report- https://www.delveinsight.com/sample-request/hemophilia-a2030-market
Hemophilia A: Important Reasons to buy
The report will help in developing business strategies by understanding trends shaping and driving the Hemophilia A market
To understand the future market competition in the Hemophilia A market and Insightful review of the key market drivers and barriers
Organize sales and marketing efforts by identifying the best opportunities for Hemophilia A in the US, Europe (Germany, Spain, Italy, France, and the United Kingdom) and Japan
Identification of strong upcoming players in the market will help in devising strategies that will help in getting ahead of competitors
Organize sales and marketing efforts by identifying the best opportunities for Hemophilia A market
To understand the future market competition in the Hemophilia A market
Related Reports
Media Contact
Company Name: DelveInsight Business Research LLP
Contact Person: Yash Bhardwaj
Email: Send Email
Phone: 9193216187
Address:304 S. Jones Blvd #2432
Country: United States
Website: www.delveinsight.com/