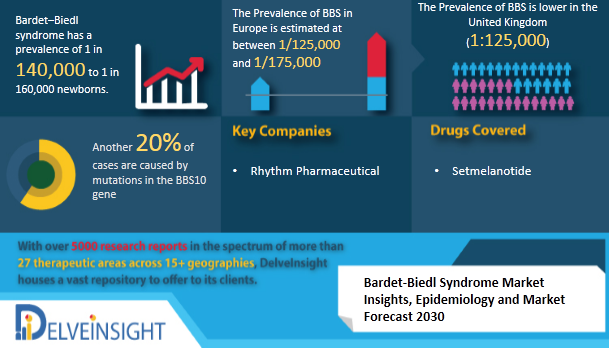 DelveInsight has launched a new report on Bardet-Biedl Syndrome Market
Bardet–Biedl syndrome (BBS) is an autosomal recessive inherited condition that affects many parts of the body. People with this syndrome have progressive visual impairment due to cone‐rod dystrophy; extra fingers or toes (polydactyly); truncal obesity; decreased function of the male gonads (hypogonadism); kidney abnormalities; and learning difficulties
.
Request for free sample copy- https://www.delveinsight.com/sample-request/bardet-biedl-syndrome-market
Bardet-Biedl Syndrome market report provides an edge while developing business strategies, by understanding trends shaping and driving the global Bardet-Biedl Syndrome market
Bardet-Biedl Syndrome Symptoms
This condition offers myriad symptoms which can vary up to a great extent, even among the individuals of the same family. Like, vision loss is one of the major symptoms of this syndrome which occurs in mid‐childhood. It occurs as the light‐sensing tissue at the back of the retina gradually deteriorates. Obesity is another characteristic feature of Bardet–Biedl syndrome. Abnormal weight gain typically begins in early childhood and continues to be an issue throughout life.
Key player of the Bardet-Biedl Syndrome Market Report
Bardet-Biedl Syndrome Market Report & It's Research
BBS can result from mutations in at least 14 different genes (often called BBS genes). These genes are known or suspected to play critical roles in cell structures called cilia, leading to structural and functional problems in cilia. Defects in these cell structures probably disrupt important chemical signaling pathways during development and lead to abnormalities of sensory perception. Researchers believe that defective cilia are responsible for most of the features of Bardet–Biedl syndrome.
Bardet-Biedl Syndrome Treatment
Currently, there is no cure for Bardet–Biedl syndrome. Treatment generally focuses on the specific signs and symptoms in each individual. A multidisciplinary approach is required to manage this pleiotropic condition effectively. Some of the physical abnormalities associated with BBS can be corrected with surgery, including extra digits, and some genitourinary abnormalities and congenital heart defects. As with any genetic condition, genetic counseling is recommended for affected individuals and their families.
Bardet-Biedl Syndrome Market Insights
BBS is generally diagnosed based upon identification of characteristic findings described earlier (e.g., visual problems due to retinal dystrophy, truncal obesity, and postaxial polydactyly). As diagnosis is based on clinical findings and BBS is associated with variable expression of the classical features, some patients may not have a clear diagnosis for many years.
Bardet-Biedl Syndrome Report Scope
The report covers the descriptive overview of Bardet-Biedl Syndrome, explaining its causes, signs and symptoms, pathophysiology, diagnosis and currently available therapies
Comprehensive insight has been provided into the Bardet-Biedl Syndrome epidemiology and treatment in the 7MM
Additionally, an all-inclusive account of both the current and emerging therapies for Bardet-Biedl Syndrome are provided, along with the assessment of new therapies, which will have an impact on the current treatment landscape
A detailed review of Bardet-Biedl Syndrome market; historical and forecasted is included in the report, covering drug outreach in the 7MM
The report provides an edge while developing business strategies, by understanding trends shaping and driving the global Bardet-Biedl Syndrome market
Table of content
1. Key Insights
2. Executive Summary of Bardet-Biedl Syndrome
3. Competitive Intelligence Analysis for Bardet-Biedl Syndrome
4. Bardet-Biedl Syndrome: Market Overview at a Glance
5. Bardet-Biedl Syndrome: Disease Background and Overview
6. Patient Journey
7. Bardet-Biedl Syndrome Epidemiology and Patient Population
8. Treatment Algorithm, Current Treatment, and Medical Practices
9. Unmet Needs
10. Key Endpoints of Bardet-Biedl Syndrome Treatment
11. Marketed Products
12. Emerging Therapies
13. Bardet-Biedl Syndrome: Seven Major Market Analysis
14. Attribute analysis
15. 7MM: Market Outlook
16. Access and Reimbursement Overview of Bardet-Biedl Syndrome
17. KOL Views
18. Market Drivers
19. Market Barriers
20. Appendix
21. DelveInsight Capabilities
22. Disclaimer
23. About DelveInsight
Reasons to buy
The report will help in developing business strategies by understanding trends shaping and driving the Bardet-Biedl Syndrome market
To understand the future market competition in the Bardet-Biedl Syndrome market and Insightful review of the key market drivers and barriers
Organize sales and marketing efforts by identifying the best opportunities for Bardet-Biedl Syndrome in the US, Europe (Germany, Spain, Italy, France, and the United Kingdom) and Japan
Identification of strong upcoming players in the market will help in devising strategies that will help in getting ahead of competitors
Organize sales and marketing efforts by identifying the best opportunities for Bardet-Biedl Syndrome market
To understand the future market competition in the Bardet-Biedl Syndrome market
Related Report
Media Contact
Company Name: DelveInsight Business Research LLP
Contact Person: Yash Bhardwaj
Email: Send Email
Phone: +919650213330
Address:304 S. Jones Blvd #2432
City: Las Vegas
State: NV
Country: United States
Website: https://www.delveinsight.com/