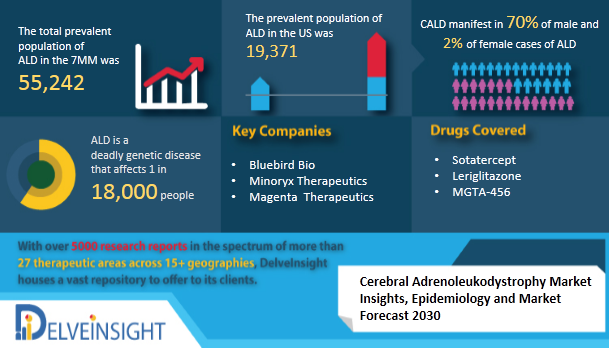 DelveInsight has launched a new report on Cerebral Adrenoleukodystrophy Market
Adrenoleukodystrophy (ALD) is an X-linked recessive genetic disorder caused by the abnormality in the ABCD1 gene present on the X chromosome that leads to the accumulation of very-long-chain fatty acids (VLCFAs) in the brain, nervous system, and adrenal gland. The accumulation of VLCFAs leads to the deterioration of the myelin sheath, and without the sheath, neurons cannot conduct action potentials, this leads to the development of seizures and hyperactivity. The disease mainly affects males (hemizygotes), but similar to other X-linked disorders, it is increasingly recognized that females (heterozygotes) may be clinically affected as well.
Get a free sample copy- https://www.delveinsight.com/sample-request/cerebral-adrenoleukodystrophy-cald-market
The Cerebral Adrenoleukodystrophy market report provides an edge while developing business strategies, by understanding trends shaping and driving the global Cerebral Adrenoleukodystrophy market.
Cerebral Adrenoleukodystrophy Symptoms
The symptoms of CALD include learning disabilities, behavioral problems, bowel incontinence, adrenal insufficiency, loss of vision, deafness, seizures, loss of brain and muscle tissue. The tools for evaluating CALD include RI Severity Rating (Loes Score), NFS Score, and X-linked Adrenodystrophy-Disability Rating Scale (ALD-DRS).
Cerebral Adrenoleukodystrophy Key players
Bluebird Bio
Minoryx Therapeutics
Magenta Therapeutics
Orpheris Inc.
Cerebral Adrenoleukodystrophy Treatment
General supportive care and symptomatic treatment for patient and family, provided by pediatrician or neurologist, with appropriate specialist consultation, nursing, schools, rehabilitation, and social agencies, are the cornerstones for the care and treatment of patients with CALD. Currently, there are no approved therapies for the treatment of CALD, and it is primarily managed by hormone replacement therapy, dietary therapy with Lorenzo's oil, and Hematopoietic stem cell transplantation.
Cerebral Adrenoleukodystrophy Market
CALD occurs due to mutations of ABCD1 (Xq28,) encoding ALDP, a peroxisomal transmembrane protein involved in the transport of very long chain fatty acid CoA-esters (VLCFA) into the peroxisome; perturbing VLCFA homeostasis in glial cells contributes to myelin destabilization. This leads to severe neuroinflammation with impairment of the neuro-vascular unit followed by rapid functional decline.
Get a free sample copy- https://www.delveinsight.com/sample-request/cerebral-adrenoleukodystrophy-cald-market
Table of content
1. Key Insights
2. Executive Summary of Cerebral Adrenoleukodystrophy (CALD)
3. Competitive Intelligence Analysis for Cerebral Adrenoleukodystrophy (CALD)
4. Cerebral Adrenoleukodystrophy (CALD) : Market Overview at a Glance
5. Cerebral Adrenoleukodystrophy (CALD) : Disease Background and Overview
6. Patient Journey
7. Cerebral Adrenoleukodystrophy (CALD) Epidemiology and Patient Population
8. Treatment Algorithm, Current Treatment, and Medical Practices
9. Unmet Needs
10. Key Endpoints of Cerebral Adrenoleukodystrophy (CALD) Treatment
11. Marketed Products
12. Emerging Therapies
13. Cerebral Adrenoleukodystrophy (CALD) : Seven Major Market Analysis
14. Attribute analysis
15. 7MM: Market Outlook
16. Access and Reimbursement Overview of Cerebral Adrenoleukodystrophy (CALD)
17. KOL Views
18. Market Drivers
19. Market Barriers
20. Appendix
21. DelveInsight Capabilities
22. Disclaimer
23. About DelveInsight
Reasons to buy
The report will help in developing business strategies by understanding trends shaping and driving the Cerebral Adrenoleukodystrophy (CALD) market
To understand the future market competition in the Cerebral Adrenoleukodystrophy (CALD) market and Insightful review of the key market drivers and barriers
Organize sales and marketing efforts by identifying the best opportunities for Cerebral Adrenoleukodystrophy (CALD) in the US, Europe (Germany, Spain, Italy, France, and the United Kingdom) and Japan
Identification of strong upcoming players in the market will help in devising strategies that will help in getting ahead of competitors
Organize sales and marketing efforts by identifying the best opportunities for Cerebral Adrenoleukodystrophy (CALD) market
To understand the future market competition in the Cerebral Adrenoleukodystrophy (CALD) market
Related Reports
Media Contact
Company Name: DelveInsight Business Research LLP
Contact Person: Yash Bhardwaj
Email: Send Email
Phone: +919650213330
Address:304 S. Jones Blvd #2432
City: Las Vegas
State: NV
Country: United States
Website: https://www.delveinsight.com/