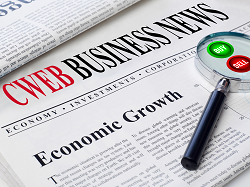 CWEB, the American multinational media news company, has published its latest roundup of trending business news for October 31.
CWEB, the American multinational media news company, has published its latest roundup of news for October 31, summarizing the important events and highlights from across industries and around the world.
CWEB shared regular updates on celebrities, from Hollywood to the global entertainment industry. This has made it a popular destination for fans and followers, making it a trusted celebrity news site.
The following are the main highlights as reported in its latest newsletter:
Even though Tuesday's housing data was stronger than expected, investors were nervous about the commencement of the Federal Reserve's two-day meeting and sent the Dow Jones Industrial Average down 125 points. After the electric vehicle giant's share price dropped below the 200 marks on Monday, Tesla (TSLA) shares continued to decline with substantial losses.
President Biden has signed an executive order to control the potential dangers posed by AI. The order mandates the development of new safety measures for AI, the promotion of equity and civil rights, and the encouragement of innovation and healthy competition. The directive stipulates, among other things, that those working on AI systems provide the United States government with the findings of any safety tests they conduct.
American families are still feeling the effects of high inflation and rising interest rates. LendingClub released research in September showing that 62 percent of individuals report living paycheck to paycheck. This number is the same as it was last year.
Demand for Pfizer's COVID medications dropped, and the company booked a large charge due in large part to the United States government returning millions of doses of Pfizer's antiviral therapy Paxlovid. On Tuesday, Pfizer announced its first quarterly loss since 2019.
Alphabet's top executive Sundar Pichai testified in the most important antitrust trial in 25 years, and he said that agreements making Google's search engine the default on cellphones and browsers might be "very valuable."
It's no surprise that Apple regularly releases updated processors. Apple, in keeping with the Halloween theme of last night's announcement, advertised its new series of processor chips for Macs as "scary fast." The tech giant intends to boost computer sales by including these chips. After Mac sales dropped by 7% in the previous quarter, Apple is hoping that the faster-processing Macs will be scooped up during the holiday season when they become available next week.
Even as the world's richest man cranks up attempts to transform the app into a one-stop-shop for a wide range of services, X Corp. is now worth approximately $19B, significantly below the $44B spent by Elon Musk to buy the social networking platform in 2022. Musk has been developing X into an "everything app," and has even joked about using it as a platform for online dating.
Samsung attributes its profit increase to the success of its smartphones and mobile displays. The company has done better in the last three months than in the previous quarters, and they attribute this to the success of their mobile flagship products and their premium displays.
The largest brewing company in the world, Anheuser-Busch InBev, reported Tuesday that it had beaten third-quarter projections despite continuing negative effects from the online debate surrounding its Bud Light marketing. The 5% increase in revenue over the period surpassed the 4.7% growth projection made by the company.
On Monday, the Defense Department's Space Development Agency awarded contracts worth approximately $1.3 billion to York Space and Northrop Grumman to construct communications satellites.
GDP in the Eurozone shrank marginally from the second to the third quarter and slowed significantly from the first to the third year, according to a preliminary assessment released on Tuesday.
After the Bank of Japan (BOJ) loosened its hold on the "yield curve control" (YCC) program to counterbalance the Federal Reserve's liquidity tightening, Bitcoin (BTC) continued trading above $34,000.
Canada, concerned about the privacy and security of government-issued mobile devices, prohibited the use of the Chinese messaging app WeChat and the Russian antivirus program Kaspersky on Monday.
Tonight is Halloween. The companies AB InBev, BP, Caesars Entertainment, Caterpillar, JetBlue, Match, Pfizer, Shutterstock, and Sonoco are anticipated to report earnings.
Native American Heritage Month officially kicks off on Wednesday. Policy decision by the Federal Reserve. Jobs available starting in September. Airbnb, Allstate, Avis, Cheesecake Factory, Coca-Cola, CVS, DoorDash, Electronic Arts, E.l.f., Estée Lauder, Eventbrite, Garmin, Kraft, MetLife, Mondelez, PayPal, Qualcomm, Roku, Toyota, Wayfair, Wingstop, Yum Brands, and Zillow are forecasted to report earnings.
Apple, Block, Cigna, Cloudflare, Coinbase, ConocoPhillips, Crocs, DraftKings, Dropbox, Expedia, Ferrari, Gannett, Hyatt, Live Nation, Marriott International, Moderna, Molson Coors, Palantir, Papa John's, Redfin, Shake Shack, Shell, Shopify, Starbucks, Subaru, Sweetgreen, Wendy's, and Yelp are scheduled to release their quarterly results on Thursday.
On Friday, we'll learn October's unemployment rate. In terms of profits, BMW and Cinemark are anticipated.
Stocks to watch with positive momentum and Buy Rating:
SNDL Group (SNDL), Groupon (GRPN), Chase Bank (JPM), Microsoft (MSFT), GOOGL, Apple (AAPL), Pay Pal (PYPL), Walmart (WMT), Amazon (AMZN), Carnival Corporation (CCL), PepsiCo (PEP), Wells Fargo (WFC), Johnson & Johnson (JNJ), Philip Morris International (PM)SNAP INC (SNAP), Exxon Mobil (XOM), Chevron (CVX), EBAY
Celebrity WEB Update — Premier Jewelry designer and manufacturer fashion house ParisJewelry.com has started manufacturing a new custom line of celebrity jewelry designs with 30% Off and Free Shipping. Replenish Your Body- Refilter Your Health with OrganicGreek.com Vitamin Bottles, Vitamins and Herbs. Become a WebFans Creator and Influencer. Check the New Special XMicro Razors for Men & Women, 1 Razor, 7 Blade Refills with German Stainless Steel, Lubricated with Vitamin E for Smooth Shave, Shields Against Irritation, Version X.
Read the newsletter online: https://www.cweb.com/cweb-news-summarized-breaking-business-and-stock-newsletter-october-31-2023/
Check out the latest news and announcements at CWEB: https://www.cweb.com
About CWEB.com
CWEB is an American multinational media news company. CWEB is primarily involved in the news, media, blogs and entertainment industries, including free forums, classifieds and job postings. CWEB reports breaking news, celebrity, entertainment, sports, politics, finance, stock market and business news.
Facebook: https://www.facebook.com/cwebmedia
Instagram: https://www.instagram.com/cweb/
Twitter: https://twitter.com/cweb
YouTube: https://www.youtube.com/c/cwebmedia
TikTok: https://www.tiktok.com/@cwebnews
Media Contact
Company Name: CWEB
Contact Person: Rachel Cohen
Email: Send Email
Phone: (310) 990-0009
Address:PO BOX # 12404
City: Marina Del Rey
State: California 90295
Country: United States
Website: https://www.cweb.com/