'Gone With The Wind Today' is expected to make big splash in the entertainment world.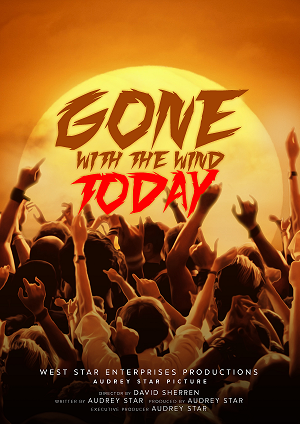 Hollywood actor, singer and entrepreneur Audrey Star is excited to announce her maiden film venture, the Covid-19 documentary 'Gone With The Wind Today'. The talk of the tinsel town and a rising icon of Hollywood, Audrey Star is turning out to be the hottest actor, singer and dancer to have emerged of late. Audrey Star has recently added a new talent to her portfolio as a producer of the upcoming documentary, 'Gone With The Wind Today', which will soon be available on YouTube.
Prior to the Covid-19 outbreak, there were high hopes for future economic progress and a reduction in world poverty. However, in order to protect the planet from the global coronavirus, everyone was required to remain inside their homes. Will everything go back to normal? Will the government bear responsibility for sustaining economic development that was projected prior to the pandemic?
'Gone With The Wind Today' is expected to make big splash in the entertainment world. The documentary is produced by West Star Enterprises Productions and is an Audrey Star Picture. Audrey herself wrote the script and is the producer and executive producer.
She needs no introduction today. Audrey Star, dubbed as the "new Marilyn Monroe" by fans and critics alike, has been in the limelight of the media and the paparazzi for everything she does. Acting and film production have always been part of her dream life. Audrey has always said that she'd one day love to make a film, which is part of her dream life in Hollywood.
With 'Gone With The Wind Today', Audrey has also cherished working with the crew and cast. When the documentary is released on YouTube, it will be a big occasion for her.
Audrey's entrepreneurial journey is well known, beginning with her Perfume Collection Atelier venture. She has recently launched "Hollywood Icon" and "Blonde Bombshell" lipstick from her brand store, Audrey Star Perfume Collection Atelier.
Audrey never ceases to reinvent herself when need be. She has groomed herself as an icon who knows what is possible. Proof lies in her great campaign, "YOUNESS". Her music album, "Hollywood Lights" became an instant hit and wowed the listeners with its fresh lyrics. Fame was quick to descend on Audrey, who was seen as the new material girl, and critics recognized her as the new Marilyn Monroe.
Audrey's talent has catapulted her to the top ranks of celebrity in a short period of time. From acting and singing to perfumes, clothing and cosmetics, and now film direction, every venture taken up by Audrey reveals a new dimension of her multi-faceted personality. After acting and singing, Audrey is poised to become a recognized filmmaker with the release of 'Gone With The Wind Today'.
Media Contact
Company Name: West Star Enterprises Film Production
Contact Person: Media Relations
Email: Send Email
Phone: 1(747) 231-0835
City: Los Angeles
State: California
Country: United States
Website: https://audreystarperfumecollection.com/