Dubai is truly a world city. It has become a convergence point for civilizations from all over the world. The city is also a prime example of modern architectural design with projects like the Burj Khalifa, Palm Islands, Cayan Tower and many more. The city not only celebrates its modern architectural marvels, but also offers patronage to contemporary art forms. Joy – a public art installation is among the latest of such initiatives by Art EMAAR.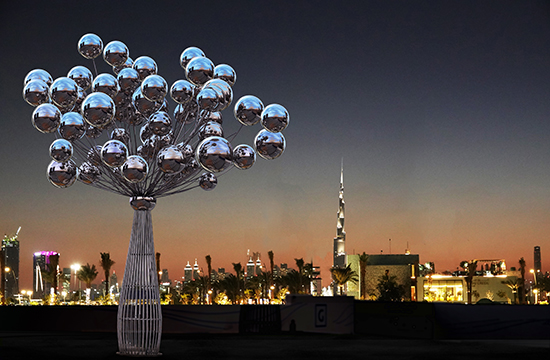 Representing the unbridled joy of a child who sees balloons, the art installation is meant for transporting the viewer from the mundane to a realm of pure bliss and serenity. Joy depicts a bouquet of balloons, made from spotless, stainless steel, reflecting the ever-changing environment around it and enticing passersby with its aura. The installation was unveiled by Indian Contemporary Steel Artist, Vibhor Sogani at the Dubai Creek Harbor. Joy is one of the largest public art installations in Dubai and sits close to the upcoming Dubai Creek Tower, set to be tallest tower in the world.
About Vibhor Sogani
Vibhor Sogani is a renowned Light & Steel Artist, known for his exemplary creation, the Sprouts Art Installation in New Delhi. The 40-feet high stainless-steel installation was unveiled in time for Commonwealth Games in 2010. Spread in over 6 acres, the Sprouts Art Installation is the largest public art installation in India. Sogani is also the recipient of 'Indian Art Icon of the Year 2014' and his work graces many prominent public, corporate and hospitality establishments in India and the world.
A graduate from the National Institute of Design with a specialization in Industrial Design, Vibhor finds inspiration in steel, using it as his primary material of choice for manifesting his ideas.
Public Art definitely adds a massive value to the social, cultural, economic and aesthetic value of a place. Contemporary urban design and public art can become the signatures of a city or society's identity for years to come. We hope, as India develops, we will see more of such works around our cityscapes as well.
Media Contact
Company Name: Digital Obsession Communication Pvt Ltd
Contact Person: Ashish
Email: Send Email
Phone: 0124 – 4009490
Country: India
Website: https://www.digitalobsession.in/