Atlanta Cigar Week 2019 will feature a series of events through the third week of September to bring together the Atlanta cigar community and celebrate its rich cigar culture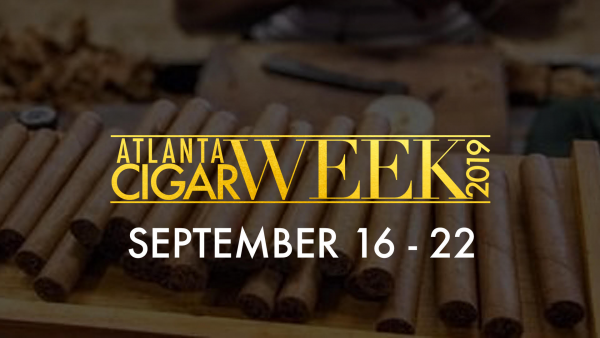 Atlanta, Georgia – Cigar lifestyle tastemaker Octavia Toliver of HERficionado, Henry Stokes of Tailored Ash, Tony Hall of Prince Place Cigar Lounge, and Jamison of Trilogy Cigar Company proudly announce Atlanta Cigar Week 2019 (ACW2019) which runs from September 16th to 22nd, 2019. After receiving a proclamation from the city of Atlanta in 2018 declaring the 3rd week of September the official week of cigars, the 3rd annual Atlanta Cigar Week will be a week of curated events from the best of the best cigars, spirits, and more.
Atlanta Cigar Week presents an opportunity for companies and individuals to support a worthy cause while engaging with Atlanta's elite, business owners, and visitors from around the world. The organizers will bring together some of the strongest innovators and influencers to make this a great opportunity to enter the storied cigar and spirits culture while introducing products to a market of new & old clients. Atlanta Cigar Week will provide access to an affluent, educated, and forward-minded audience of patrons and business owners. ACW largely caters to cigar aficionados and lovers of the refined luxury lifestyle. However, its founders have intentionally implemented elements that also appeal to novices and nonsmokers alike.
Atlanta Cigar Week will kick off on Monday, September 16th with the ACW Black Tie Awards Gala at the Prince Room Private Club from 5:00pm to 12:00am. Various members of the cigar community will be honored in style. Attendees can expect to be soothed by a live pianist and a soloist. This event will be followed by the ACW Happy Hour on Tuesday evening from 6:00pm to 10:00pm at a pop-up location. On Wednesday, the 18th, BlackOut will take place at The Cigar Bar, which will run from 9:00pm to 2:00am. Dressed in all black, attendees will be free to let their hair down in a lively environment with a live DJ.
Thursday, September 20th, will kick off ACW for most out of town attendees. The appropriately named event, Welcome to Atlanta will be held at NFL star Cam Newton's restaurant/cigar lounge Fellaship from 7:00pm to 11:00pm. The weekend festivities begin on September 20th with the highly popular, She Smokes Too (SST) from 7:00pm to 12:00pm at Halo Lounge. This event is designed for ladies & gentlemen alike to network, learn, & mingle in a sophisticated yet lively atmosphere. Saturday is Rep Your City 90's Block Party at the upscale Atlanta staple, Cigar City Club. Atlanta Cigar Week concludes on September 22nd with Atlanta Cigar Week Classic at Heritage Sandy Springs. Female guests will come dressed in their Sunday's best and gentlemen will don their finest apparel as well. Complete with vendors, art, and live music, ACW Classic is the perfect ending to a diverse week.
In support of a better world for all, Atlanta Cigar Week will donate proceeds from the event to Jump Africa to aid in funding the building of a new library in Ghana. Jump Africa is a 501c3 Georgia non-profit corporation founded in 2014 with a mission to facilitate the building of libraries, development and delivery of essential educational and medical supplies to African countries.
Find out more about ACW 2019 AND RSVP at http://atlantacigarweek.com/ and follow on Facebook at https://facebook.com/atlantacigarweek for more information.
Media Contact
Company Name: Atlanta Cigar Week LLC
Contact Person: Octavia Toliver
Email: Send Email
Phone: 404-941-5747
Country: United States
Website: atlantacigarweek.com