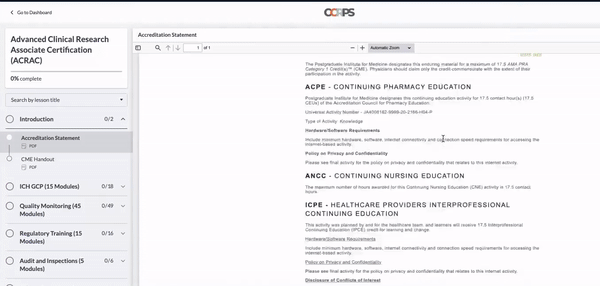 CCRPS, the US's leading course provider institution, has brought an entire AGCPC course for clinical research professionals. With 15 modules, the course touches on aspects essential to learn to comply with the GCP guidelines.
Along with providing students and professionals with an updated Advanced ICH GCP Certification (AGCPC), CCRPS has been opening the door of several career options like clinical research coordinator, research assistant, and clinical research associates/monitors. The institution has also been endowing learners with courses like ICH GCP Certification, Clinical Research Coordinator Certification, Research Assistant Training, and more.

Learners choosing to avail of this course are in thousands and ranging from fresh college graduates to professionals working in reputed organizations. The institution employed experienced Clinical Research veterans to comprehend the importance of ICH GCP guidelines in the workplace. Hence, the 15-course modules designed by them focus on the aspects required for following GCP guidelines minutely. To be adjusted even in the hectic schedules of learners, the course is flexible and allows self-paced study. Moreover, it would have never been possible if there were any rigid due dates or deadlines.

Right after purchasing the course, students gain lifetime access to the study materials. They can study whenever they want by accessing CCRPS's 24×7 active online portal compatible with mobile phones, tablets, and computers. When a student has gone through all modules of this course, a brief 20 question exam will be conducted to evaluate the knowledge and skills he has gained from the course. After passing the examination successfully, they will be given a certificate of completion accredited internationally. The certificate will be subject to 10 years' validity.

According to the course co-coordinator of CCRPS, "We are very optimistic about our Advanced ICH GCP Certification course. Our experienced team of Clinical Research veterans has designed the course. It has been navigating galore of clinical research associates and other professionals towards more growth in their careers."
The students are also finding the course cost-effective. Along with the single installment purchases, CCRPS also opens an unlimited access package for organizations and CROs with a free trial offer for two days. The package of organization use will be valid for 12 months after purchase. The interested candidates can register the course at https://app.ccrps.org/courses/ich-gcp.
About the Company
Being one of the top course provider institutions in the United States, CCRPS is recognized by several renowned organizations, including ACCRE, ACPE, ACCME, Transcelerate Biopharma, and ANCC. The certificates given by CCRPS are also valuable for students because they put a globally recognized seal on candidates' proficiency and knowledge, endowing positing effects on clinical research coordinator salary similar to related professionals.
Media Contact
Company Name: CCRPS
Contact Person: M.K.
Email: Send Email
Phone: 833-222-2775
Country: United States
Website: https://ccrps.org/clinical-research-blog/ich-gcp-certification