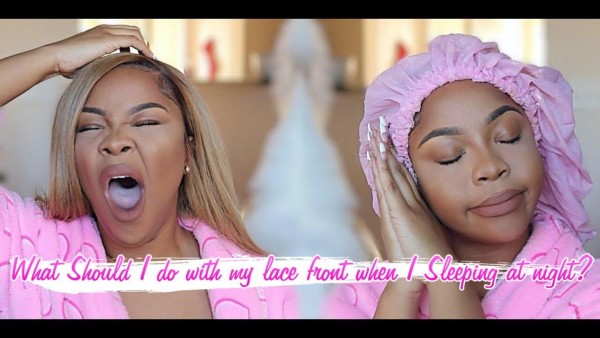 If you are a human hair lace wig beginner, it is important to know how to properly care your human hair lace wig. Many women are wonder that should the African girl take their human hair lace wig off when they are going to bed every day. How can they take their lace front wig off and wear it every day? Follow this article, you will find the best answer.
Should I need to take off my human lace wig when I go to bed?
Every woman wants to be the pretty princess, so they choose to wear the lace front wig. That not only to cover your hair loss, baldness, the most important function is installing one human lace wig can improve their appearance. Human hair wig can help them show off their beauty in their friends and families and make themselves more confident. To be beauty is the forever topic in African women's life. There is an old saying in Chinese, beauty begins at the head. So that choosing one quality human lace wig for African women has become the most important thing in their daily life. We all know that quality human lace wig is expensive.
So, we all prefer to protect the lace wig carefully and let the lace wig last longer. However, for most lace front wig beginner they do not know should I take my lace wig off when I go to bed at night? At the professional human lace wig company, we usually suggest you can remove your lace front wig off. Not only avoid your lace front wig with baby hair become knotting when you are sleeping, but also let you own scalp breath the flash air. So, it is necessary to remove your lace wig off at night. In fact, for some beginner, it will take a long time to take off the wig and installed it in the morning. If so, you can sleep with full lace wig at night, you can wear one wig cap and keep the lace front wig safe while sleeping.
The Right Way of sleeping with human hair lace wig?
If you are choosing sleeping with you pre-plucked lace front wig, you must prepare one appropriate wig cap when sleeping. Wig cap can help you protect your lace wig with baby hair become matting. Before applying the wig cap on, you must do a loose ponytail so that the wig cap can cover all the hair on your lace front wig. That is necessary to know the wig cap material, most of the wig cap is nylon, silk, and cotton. We suggest choosing the silk wig cap. This kind material it feels incredibly soft and silky. That can protect your human hair wig very well. If you can change your pillow to a silk one, that will be prefect. It will help you reduce the friction with pillow.
After reading this article, have you got answer? If you have any good suggests about sleeping with the lace wig, welcome to share your ideas in the comments.
Media Contact
Company Name: Tinashe Hair
Contact Person: Media Relations
Email: Send Email
Phone: 3059980511
Country: United States
Website: https://www.tinashehair.com