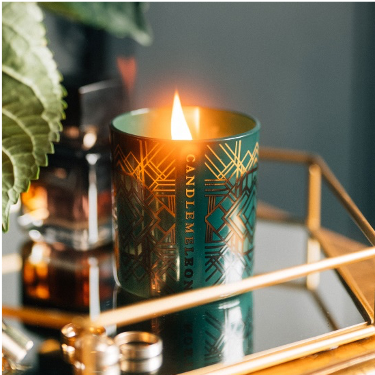 Candlemeleon Nominated as Finalists for the Gift of the Year Award 2023
Candlemeleon, the innovative candle brand, has unveiled its new collection of heat-reactive candles, powered by thermochromic technology. The unique range of candles changes color based on the heat generated by the flame, creating an unmatched ambiance and sensory experience for candle enthusiasts.
"At Candlemeleon, we believe that candles are more than just a source of light. They have the power to transform an environment, change the mood, and evoke emotions. With our new heat-reactive candles, we have taken the sensory experience to a whole new level," said Lewis Davis, founder of Candlemeleon.
The Candlemeleon heat-reactive candles are the first of their kind, and they have already generated buzz in the candle industry. The technology used in the candles is called thermochromic technology, which is based on the property of certain materials to change color in response to temperature changes. Candlemeleon has harnessed this technology to create an innovative range of candles that change color as the heat generated by the flame increases, creating a captivating sensory experience.
The Candlemeleon range is available in different colors and scents, allowing users to choose the perfect combination to match their mood and ambiance. The brand has worked hard to ensure that the candles are environmentally friendly, using 100% soy wax and wood wicks. The soy wax used in the candles ensures that they burn cleanly, without any harmful chemicals being released into the environment.
The Candlemeleon heat-reactive candles have already been well-received by candle enthusiasts worldwide. They offer a unique and innovative way to experience candles, adding an extra dimension of excitement and wonder to any room. As a result, the brand has been nominated as finalists for the Gift of the Year Award 2023, which recognises the most innovative and exciting products in the gift industry.
Candlemeleon is proud to have created the world's first heat-reactive candles, powered by thermochromic technology. The brand is committed to innovation and sustainability, ensuring that their candles are not only exciting but also environmentally friendly. To experience the magic of Candlemeleon's heat-reactive candles, visit the official website at candlemeleon.com
About Candlemeleon:
Candlemeleon is a London-based brand that specialises in artisanal interior and fashion led candles. The brand is the brainchild of Mr. R and Mr. L, who bring a combined experience of 35 years to the world of luxury beauty and fragrances. Candlemeleon's innovative range of candles is the world's first heat-reactive candle range, combining thermodynamic science with the artisanal expertise of their artists and candlemakers. The candles change their exterior designs as the wick warms and the wax begins to melt, providing a unique sensory experience. Candlemeleon takes pride in bringing its products to the market, warming each home, venue, or workplace one woodwick at a time.
Media Contact
Company Name: Candlemeleon
Contact Person: Lewis Davis
Email: Send Email
Country: United Kingdom
Website: https://candlemeleon.com/