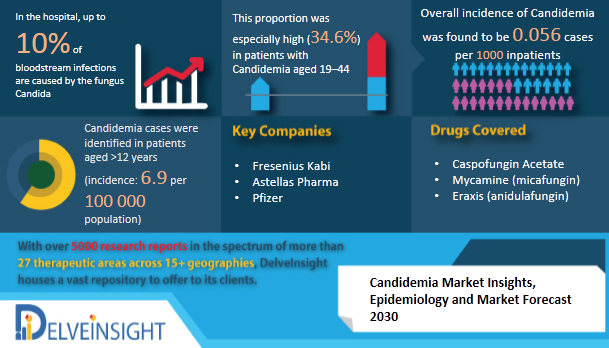 DelveInsight has launched a new report on Candidemia Market
Candida infection can occur in almost any part of the body. Usually it develops on mucous membranes (in the mouth, genitals, etc.), however, the infection can also spread into the bloodstream. The presence of Candida species in the blood is known as Candidemia. When this infection spreads from the bloodstream to other parts of the body (such as the eyes, kidney, liver, and brain), it is called Invasive Candidemia.
Request for free sample copy- https://www.delveinsight.com/sample-request/candidemia-market
Detailed Candidemia market size by therapies, covering the United States, EU5 (Germany, Spain, Italy, France, and United Kingdom), and Japan from 2017 to 2030
Candidemia Symptoms
Common symptoms of Candidemia include fever and chills that do not improve with antibiotics. The infection can also cause septic shock and therefore may include symptoms such as low blood pressure, fast heart rate, and rapid breathing. People who are healthy do not usually get Candidemia, however, they may develop a Candida infection of mouth (called thrush) from taking certain drugs such as inhaled corticosteroids used to treat asthma and COPD. On the other hand, people are at higher risk of developing Candidemia in case they are hospitalized, especially in the ICU for several days, have a weakened immune system (for example, from being extremely ill, receiving chemotherapy, or having had a transplant), are diabetic, receiving corticosteroid, have had abdominal surgery, etc.
Key players of the report
Fresenius Kabi
Astellas Pharma
Pfizer
And many others
Candidemia Market
The specific type and dose of antifungal medication used to treat candidemia usually depends on the patient's age, immune status, and location and severity of the infection. For most adults, the initial recommended antifungal treatment is an echinocandin (caspofungin, micafungin, or anidulafungin) given through the vein (intravenous or IV). Fluconazole, amphotericin B, and other antifungal medications may also be appropriate in certain situations.
Candidemia Market Size
The total Candidemia Market Size of Candidemia will include the Market Size of both the potential upcoming therapies along with Current treatment regimens in the 7MM
Candidemia Market Insights
Candidemia can be easily treated with anti-fungal therapy based on species-specific treatment. The armamentarium of drugs for the treatment of Candidemia currently comprises three major drug classes: the polyenes, azoles, and echinocandins. There are a number of medications that can be used to treat Candida infections. Most widely prescribed therapies within these drug classes include fluconazole, amphotericin B, and a drug from the echinocandin group (such as anidulafungin, caspofungin or micagungin) or voriconazole.
Candidemia Market Report Highlights
Candida auris is an emerging multidrug-resistant type of Candida that presents a serious global health threat, including in the United States. It can cause severe infections and spreads easily in healthcare facilities.
In the hospital, up to 10% of bloodstream infections are caused by the fungus Candida.
Request for free sample copy- https://www.delveinsight.com/sample-request/candidemia-market
Table of content
1 Key Insights
2 Executive summary
3 Organizations
4 Epidemiology and Market Methodology
5 Candidemia: Market Overview at a Glance
6 Candidemia: Market Overview at a Glance
7 Epidemiology and Patient Population
8 Treatment of Candidemia
9 Unmet Needs
10 Emerging Therapies
11 Candidemia: 7 Major Market Analysis
12 Seven Major Market Outlook
13 United States Market Size
14 Market Drivers
15 Market Barriers
16 SWOT Analysis
17 Market Access
Reimbursement
18 Case Study
19 KOL Views
20 Bibliography
21 Appendix
21.1 Report Methodology
22 DelveInsight Capabilities
23 Disclaimer
24 About DelveInsight
Why should you buy this report?
The report will help in developing business strategies by understanding trends shaping and driving the Candidemia market
To understand the future market competition in the Candidemia market and Insightful review of the key market drivers and barriers
Organize sales and marketing efforts by identifying the best opportunities for Candidemia in the US, Europe (Germany, Spain, Italy, France, and the United Kingdom), and Japan
Identification of strong upcoming players in the market will help in devising strategies that will help in getting ahead of competitors
Organize sales and marketing efforts by identifying the best opportunities for the Candidemia market
To understand the future market competition in the Candidemia market
Related reports
Media Contact
Company Name: DelveInsight Business Research LLP
Contact Person: Yash Bhardwaj
Email: Send Email
Phone: +919650213330
Address:304 S. Jones Blvd #2432
City: Las Vegas
State: NV
Country: United States
Website: https://www.delveinsight.com/