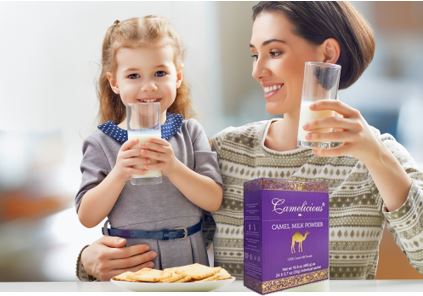 Camel milk is being called the new 'superfood' Numerous scientific studies have been conducted on the possible health properties of camel milk.
Nutra Wellness, LLC, a nutraceutical company, has entered into a partnership with PURELIFE Health Sciences to distribute Camelicious camel milk powder in the US market. PURELIFE Health Sciences has FDA registration and the right to import Camelicious into the US.
Camel milk is being called the new 'superfood' because of its unique nutritious properties. Camel milk:
Does not contain A1 beta-casein and beta-lactoglobulin – two proteins found in cow's milk that can cause an allergic reaction
Has 50 percent lower fat content than cow's milk
Has more beneficial naturally occurring Omega-3 fatty acids than cow's milk
Is rich in natural vitamin C – three to five times higher than cow's milk
Contains a higher concentration of calcium than cow's milk. The intake of this natural mineral is important for growing children
Provides a broad spectrum of beneficial probiotics and prebiotics in the form of oligosaccharide, to support gut health and healthy digestion
Contains lanolin, collagen, and other natural moisturizing ingredients that have a calming and soothing effect on the skin.
"I spent a considerable amount of time researching the properties and benefits of camel milk, finding a reliable source, and getting the needed import approval," said John Payne, CEO of PURELIFE Health Sciences. "This partnership is the final piece of the puzzle – now we can distribute the product in the US."
Numerous scientific studies have been conducted on the possible health properties of camel milk and the results of many studies can be found on PubMed.gov https://www.ncbi.nlm.nih.gov/pubmed/
Evidence indicates one of the benefits is a demonstrated improvement in cognition, social communication and symptoms of aggravated behavior.
The production of camel milk at the Camelicious farm has grown rapidly over the last five years. They now have almost 10,000 of the finest quality camels and produced four million metric tons of camel milk in 2018. The camels are milked in pristine conditions, the milk is pasteurized, gently spray dried and then packaged in single serve packets.
"We are very excited to have the opportunity to distribute Camelicious camel milk powder. Camel milk is an excellent source of nutrition and is a superior alternative to many other milk products but has not been widely known about or available in the US to date", said Sue Johonnesson, President of Nutra Wellness, LLC.
For more information on Camelicious visit the website:
https://unsinc.convertri.com/premiumcamelmilk
About PURELIFE Health Sciences
PURELIFE Health Sciences is a team of scientific researchers and doctors specializing in metabolic syndrome and its myriad of health issues. PURELIFE focuses on the development of cutting-edge nutraceuticals based on global genetic science.
About NutraWellness LLC
Nutra Wellness, LLC, provides the Qgenics™ brand of nutraceuticals. Its purpose is to make science-based formulations that address the various critical health issues related to metabolic syndrome widely available thereby helping people move closer to optimal health.
Media Contact
Company Name: NutraWellness LLC
Contact Person: Sally Falkow
Email: Send Email
Phone: 6266766419
Address:1170 N.E, Cleveland Street
City: Clearwater
State: FL
Country: United States
Website: https://unsinc.convertri.com/premiumcamelmilk