Having a trustworthy USB to Type-C cable is crucial in today's technologically advanced society. The USB to Type-C Braided Cable can be used to sync data with your laptop, charge your tablet or smartphone, or all three. This cable stands out in the crowded market for charging and data transfer cables thanks to its amazing features, which include 3A rapid charging, 480Mbps data sync, an aluminum alloy housing, braided jacket, and universal compatibility.
The most surprising is when used with a power bank, USB cables provide exceptional convenience, making them an important travel companion. Their tiny and beautiful design guarantees that they take up little space in your luggage, keeping it light and orderly. This ease is extended by its universal compatibility, which allows you to charge a variety of devices with a single cable, eliminating the need for many tangled cords.
Whether you're visiting a new city, going on an outdoor adventure, or navigating airports, USB cables and power banks provide you the freedom to stay connected and powered up, ensuring your gadgets are available whenever you need them and making your trips more enjoyable.
Check out our product here: https://www.amazon.com/stores/page/FC38AD5F-1051-4122-B59D-D60D7A70D5DB
But before that, Prepare for this fall's ultimate technological update with CableCreation! We're giving a fantastic price on October 1st and 2nd, so mark those dates on your calendar. With our premium USB cables, enjoy seamless connectivity and lightning-fast charging. CableCreation has the solution for charging your smartphone, tablet, or any other USB-compatible device.
Additionally, for a limited time, take advantage of our unique sale on October 1 and 2 to save up to 50% on all of our premium USB cables. Don't pass up this opportunity to improve your tech skills while keeping your wallet content. With CableCreation, enhance your cords and your life!
Let's discuss each of these CableCreation USB's features in more detail right now.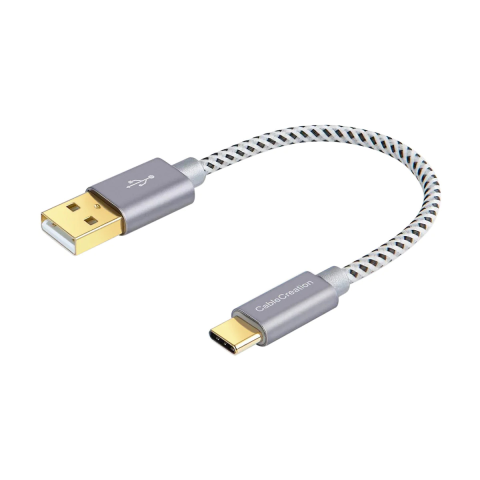 Check out our product here: https://www.amazon.com/stores/page/FC38AD5F-1051-4122-B59D-D60D7A70D5DB
Features of CableCreation USB-A to USB-C Cable
1. 3A Fast Charging:
With this cable's 3A fast charging capacity, your gadgets will be charged rapidly and effectively. This cable quickly provides the power your smartphone or tablet needs, whether it has a huge battery or not. A quicker, more convenient charging experience is here to replace the lengthy charging times.
2. 480Mbps Data Sync:
This connection is excellent at data transfer in addition to charging. You can quickly and easily move photos, movies, and documents between your devices and your laptop thanks to the blisteringly fast 480Mbps data sync speed. Your data transfer duties will be finished in a flash thanks to this speed, which will also help you save a lot of time.
3. Aluminum Alloy Case & Braided Jacket:
The cable's durable design ensures that it will last. The case is made of an aluminum alloy, which offers exceptional durability while shielding the wire from damage. A second layer of defense is provided by the braided jacket, which makes it resistant to normal twisting, tangling, and bending. You can trust that this cable will hold up to daily use.
4. Universal Compatibility:
This cable's ability to work with a variety of devices is one of its best qualities. It is a flexible option for households with several devices or professionals that need to connect to a variety of gadgets because it can charge practically all USB-C devices. With this cable in your arsenal, compatibility concerns won't be an issue.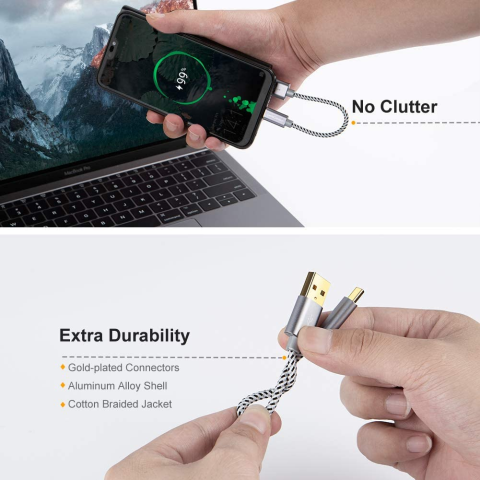 5. Quick Power Delivery:
This cable's ability to send a staggering 3A of energy to your device stands out among its features. When compared to using regular cords, this results in a substantially faster charging process. Your device's battery will charge quickly thanks to the 3A fast charging whether it's a smartphone, tablet, or any other USB-C device.
6. Convenient:
The 3A charging speed of the USB to Type-C Braided Cable is a real time-saving convenience. The time it takes to fully charge your device is significantly shortened. Every second counts in the hectic world of today, and this cable makes sure you spend less time hooked to the charger and more time using your device.
7. Diverse Uses:
The 3A quick charging feature is applicable to devices other than smartphones and tablets. Other USB-C products like wireless headphones, travel speakers, and even certain laptops can be charged with it. Because of this cable's adaptability, you can use it with a variety of everyday devices.
Check out our product here: https://www.amazon.com/stores/page/FC38AD5F-1051-4122-B59D-D60D7A70D5DB
Why is the USB-A to USB-C Cable from CableCreation superior than others?
A USB-A to USB-C cable is usually chosen over other cable types due to its wide range of compatibility and adaptability. It acts as a bridge between the more recent USB-C standard, which is increasingly seen in contemporary products, and the more established USB-A standard, which is still widely used.
When connecting USB-C devices to laptops, desktop computers, power banks, or chargers with USB-A ports, this compatibility ensures that you may still use and charge your devices without the need for specific USB-C equipment.
These cables are essential for connecting peripherals like external hard drives or printers because they work with older USB-A devices as well.
Final words:
The USB to Type-C Braided Cable is a versatile and durable accessory for customers seeking speedy charging and seamless data transmission capabilities. With 3A rapid charging, 480Mbps data sync speed, a durable aluminum alloy housing, a braided jacket, and universal compatibility, it meets all the criteria for a high-end USB-C cable.
Whether you're a computer enthusiast, a busy professional, or just someone who values efficiency and longevity, this cable is a must-have addition to your collection of electronic gadgets. Accept the ease and speed that this connection provides and wave goodbye to time-consuming charging and slow data transfers.
Don't pass up this fantastic price! The USB-A to USB-C cables from CableCreation are currently astonishingly discounted by up to 50%, so power up! These premium cables are perfect for powering up your gadgets, transmitting data, or just needing a strong connection.
It's the ideal moment to improve your charging skills with discounts of up to 50% off the standard price. Hurry, as this offer is only valid for a short period. Get a discounted USB-A to USB-C cable from CableCreation today to stay connected without spending a fortune!
Check out our product here: https://www.amazon.com/stores/page/FC38AD5F-1051-4122-B59D-D60D7A70D5DB
Media Contact
Company Name: cablecreation
Contact Person: Pre-sales customer service
Email: Send Email
Country: United States
Website: https://www.cablecreation.com/