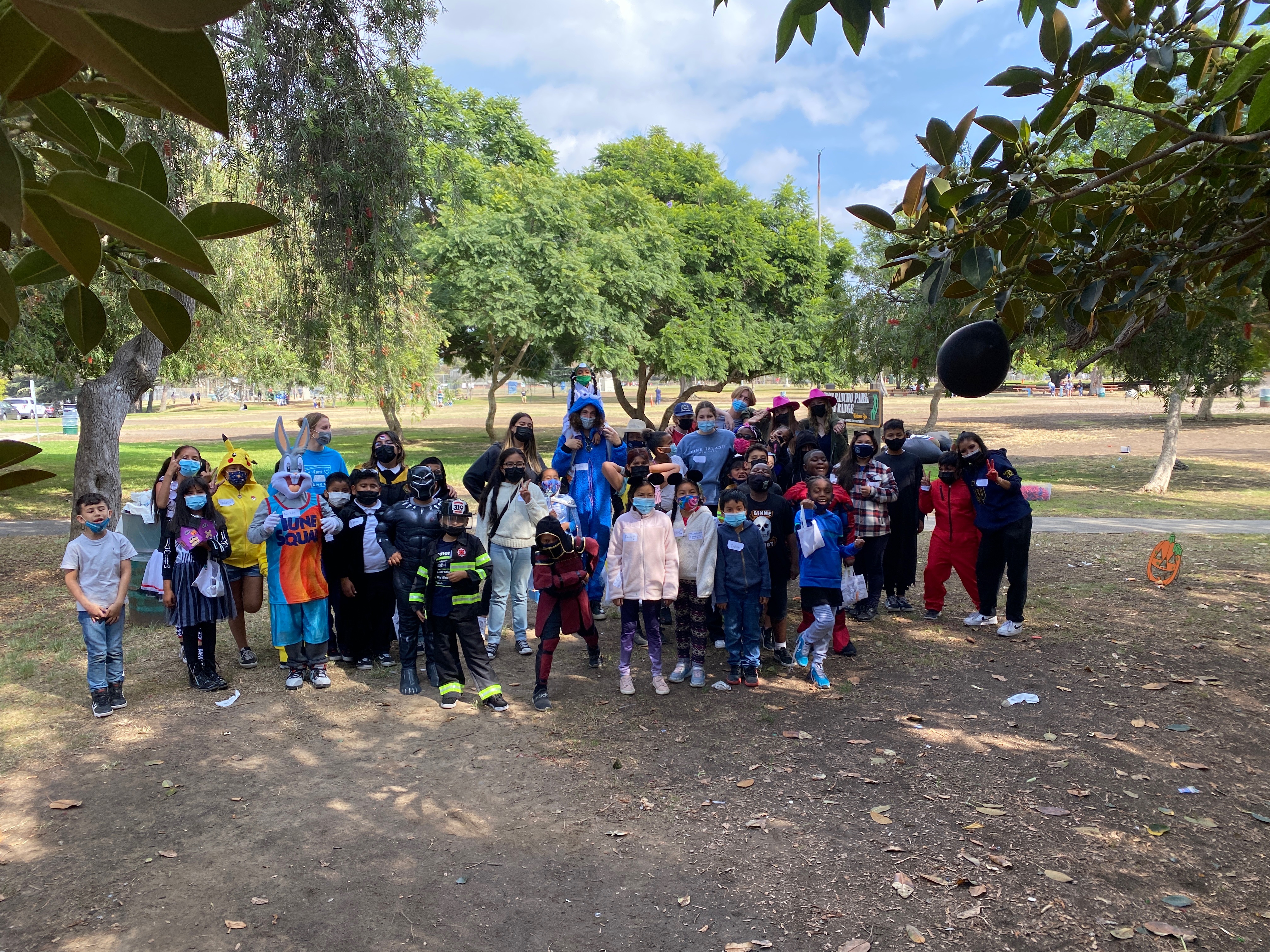 LOS ANGELES, CA – OCTOBER 26, 2021 – The COVID-19 crisis has affected children in many ways, from school, to extracurricular activities, to the holidays. Outside activities are suffering, and Halloween festivities are no exception.
This past week, a few philanthropic businesses pulled funds together and bought Halloween costumes for children in need at the not-for-profit organization United for Harmony. The Halloween costumes were donated by Kay and Associates Investigations Agency, SouthHaus Group, Corona Law Group, Erasing Time Medical Spa, and (ICT) Iconnectyou.today and were donated this past Sunday at a special event for kids in need.
The Halloween event took place at Cheviot Hills Park in Los Angeles and included games, festive decorations, pumpkin activities, trick-or-treat bags, piñatas, costumes for Halloween, and take-aways. Due to COVID restrictions, the event took place outdoors and complied with COVID safety precautions. United in Harmony puts on many holiday events throughout the year and will be following this event with Thanksgiving and Christmas events in the upcoming months.
The five businesses that donated to the event were not happenstance. All five of the business owners became friends through doing business together in LA. Kyme Mariner, owner of Erasing Time Medical Spa happened to know about United for Harmony through an employee.
"We have known the people at United in Harmony for many years and have seen nothing but blessings come from them. When our friends mentioned they were looking for somewhere to donate children's costumes, we knew just who to call," said Kyme.
The group of business owner friends wanted to do something for children experiencing poverty that needed help getting costumes for the holiday. Elisabeth Kay, owner of SouthHaus Group got the idea to donate costumes when her daughter ended up with an extra costume this year. "We know our family has been lucky to weather the COVID crisis and to have our businesses be able to float through the pandemic. Not everyone was so lucky. My husband, who owns Kay and Associates, hopped on board and also called up a few of our business friends to see if they wanted to join us in donating costumes," said Mrs. Kay.
No stranger to children's needs, Art Corona, Founder of Corona Law Group, is passionate about being a positive force in families in court as well as outside the courtroom. "One of the main focuses in my law firm is family issues/custody cases. Winning cases is great, yes, but being able to bring a smile to kids in need is inspiring and just makes you feel good about what you are doing in the world. I love to fight for clients as much as I love to make the world a happier place for kids, even if that simply means giving them a happier Halloween," said Corona.
Kay and Associates Investigations is owned by Andy Kay – Kay and Associates Investigations Agency is a full-scope private investigations and detective agency with offices in Beverly Hills and Calabasas, California, serving clients worldwide. Investigative services range from family and infidelity issues to major corporate fraud, with specialties that include surveillance, background searches, asset location, child custody, construction fraud, forensic accounting, online and social media investigations, post- criminal conviction, professional polygraph examinations, digital forensics, data recovery, and much more.
SouthHaus Group is owned by Elisabeth South – SouthHaus Group is a digital marketing agency that specializes in keeping your online digital needs under one roof. Services span website creation and maintenance, SEO, Google Ad Words, blogging, social media channel maintenance and growth, digital ads, video/photo content creation, and reputation management. SouthHaus Group creates individualized plans and strategies for each business' needs with a focus on ROI.
Corona Law Group is owned by Arthur Corona – Corona Law Group is a boutique law firm focusing on criminal defense, family matters, and civil cases. They pride themselves on providing individualized attention to each case with unparalleled attorney client relationships. Corona Law Group uses 16 years of experience to bring aggressive and efficient representation to the courtroom.
Erasing Time Medical Spa is owned by Kyme Mariner – Kyme founded Erasing Time with science and beauty tech in mind with a focus in client individuality and diversity. Mrs. Mariner operates from the understanding that each skin type, skin tone, and lifestyle require a unique approach in services. Erasing Time maintains the highest standard of professional practice and is the premiere Medical Spa in Woodland Hills, CA.
United in Harmony is a non-profit, non-sectarian organization that was established in 1989 as a response to homelessness and poverty facing children in the Los Angeles community. Their mission is provide underserved children with hope and opportunity. At Camp Harmony, children grow through interactions with teenage and adult role models, and they have an overnight camp each year designed to help children develop positive self-esteem, inspiring and empowering campers for their future endeavors.
Stay up to date with the latest information:
Instagram: https://www.instagram.com/elisabeth_at_southhaus/
Media Contact
Company Name: ICT
Contact Person: Holly Davidson
Email: Send Email
Phone: 760 809 9390
City: Los Angeles
Country: United States
Website: www.iconnectyou.today