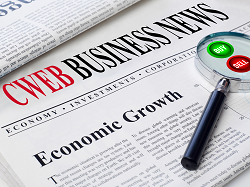 CWEB, the American business daily, has published its latest roundup of trending business news for November 1.
CWEB, the American business daily, has published its latest roundup of news for November 1, summarizing the important events and highlights from across industries and around the world.
As a business daily, CWEB covers a wide range of industry news from all sectors, from tech and retail to manufacturing, pharmaceuticals, auto and others. It also highlights the important macro and micro indicators that impact stock trends. The daily coverage of company results and stock movements is impressive. The daily newsletter is a good place to get to know the news that really matters.
The following are the main highlights as reported in the latest daily newsletter:
As investors considered new consumer confidence statistics and anticipated the Federal Reserve's imminent policy announcement on Wednesday, US stocks, which are poised for their third straight month of losses, concluded the trading day higher. The Dow Jones Industrial Average and the Nasdaq Composite both went up, while the benchmark S&P 500 gained nearly 0.6%.
Wednesday's Fed policy statement. At the end of the Federal Reserve meeting, the central bank probably won't do anything. Although inflation has slowed, it remains dangerously high, and economic expansion is robust.
U.S. retail giant Walmart on Monday announced it is investing more than $9 billion over a two-year period to remodel and modernize some U.S. locations with enhanced layouts, larger product options and new tech upgrades.
After media rumours indicated that the shared office space provider was considering declaring bankruptcy, WeWork's stock plummeted to an all-time low. WeWork has been dealing with a large debt load and hefty losses for a few years now, was once privately valued at $47 billion and now has a market capitalization of just over $121 million.
In response to California's increasing minimum wage, Chipotle and McDonald's have announced pricing increases in the Golden State. The minimum hourly wage for fast food workers in California will increase to $20 in April, thanks to a bill signed into law by Governor Newsom in September.
YouTube has begun a worldwide campaign to disable ad-blocking software. YouTube, the most popular video sharing website in the world, has announced new features and changes designed to get its viewers to either accept commercials or try out the premium, ad-free YouTube Premium.
From Musk's reported $44 billion purchase price, X's valuation has dropped by 57 percent. A year ago, the internet mogul complained that he was "obviously overpaying" for Twitter. However, when it became clear that he would be obliged by the court to complete the acquisition, he had no choice but to do so.
Axios has learned that Austin Russell, the 28-year-old CEO of Luminar Technologies who wants to buy Forbes, has asked for more time to complete his $800 million proposal. If Russell is still unable to finalize the sale after this delay, Axios knows of at least one other buyer who is planning a competing proposal.
Elon Musk's electric car business, Tesla Inc., was recently vindicated by a jury's verdict that its Autopilot driver-assistance system was not to blame for a fatal crash that occurred in California four years ago.
Native American Heritage Month officially kicks off on Wednesday. Policy decision by the Federal Reserve. Jobs available starting in September. Airbnb, Allstate, Avis, Cheesecake Factory, Coca-Cola, CVS, DoorDash, Electronic Arts, E.l.f., Estée Lauder, Eventbrite, Garmin, Kraft, MetLife, Mondelez, PayPal, Qualcomm, Roku, Toyota, Wayfair, Wingstop, Yum Brands, and Zillow are forecasted to report earnings.
Apple, Block, Cigna, Cloudflare, Coinbase, ConocoPhillips, Crocs, DraftKings, Dropbox, Expedia, Ferrari, Gannett, Hyatt, Live Nation, Marriott International, Moderna, Molson Coors, Palantir, Papa John's, Redfin, Shake Shack, Shell, Shopify, Starbucks, Subaru, Sweetgreen, Wendy's, and Yelp are scheduled to release their quarterly results on Thursday.
On Friday, we'll learn October's unemployment rate. In terms of profits, BMW and Cinemark are anticipated.
Stocks to watch with positive momentum and Buy Rating:
SNDL Group (SNDL), Groupon (GRPN), Chase Bank (JPM), Microsoft (MSFT), GOOGL, Apple (AAPL), Pay Pal (PYPL), Walmart (WMT), Amazon (AMZN), Carnival Corporation (CCL), PepsiCo (PEP), Wells Fargo (WFC), Johnson & Johnson (JNJ), Philip Morris International (PM)SNAP INC (SNAP), Exxon Mobil (XOM), Chevron (CVX), EBAY
Read the full newsletter online: https://www.cweb.com/cweb-news-summarized-breaking-business-and-financial-newsletter-for-november-1-2023/
Post your free blog on CWEB at: https://www.cweb.com/add-a-free-blog
Check out the latest news and announcements at CWEB: https://www.cweb.com
About CWEB.com
CWEB is an American multinational media news company. CWEB is primarily involved in the news, media, blogs and entertainment industries, including free forums, classifieds and job postings. CWEB reports breaking news, celebrity, entertainment, sports, politics, finance, stock market and business news.
Facebook: https://www.facebook.com/cwebmedia
Instagram: https://www.instagram.com/cweb/
Twitter: https://twitter.com/cweb
YouTube: https://www.youtube.com/c/cwebmedia
TikTok: https://www.tiktok.com/@cwebnews
Media Contact
Company Name: CWEB
Contact Person: Rachel Cohen
Email: Send Email
Phone: (310) 990-0009
Address:PO BOX # 12404
City: Marina Del Rey
State: California 90295
Country: United States
Website: https://www.cweb.com/