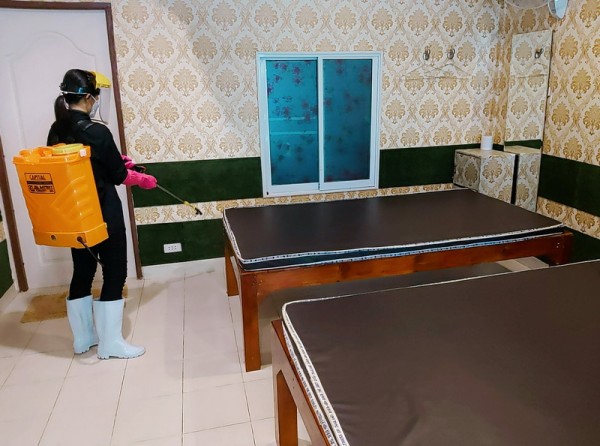 Buriram Massage is a popular and successful massage studio located in the heart of Buriram City, noted for its remarkably comfortable and clean premises. Solely owned by highly trained and experienced female masseuse Miss Pennapa Ponsue, the studio has attracted a great deal of praise both online and locally since its unofficial opening last year. Indeed, the diminutive studio has garnered a wealth of 5-star reviews from international visitors on popular websites including Facebook, Google Maps, TripAdvisor and YouTube, making it one of the must-do attractions in the city for well-informed tourists:
https://www.tripadvisor.com/Attraction_Review-g668418-d16774338-Reviews-Buriram_Massage-Buriram_Buriram_Province.html
However, Miss Pennapa must now comply with Buriram Governor Thatchakorn Hatthathayakul's order to suspend trade temporarily from March 18 through the end of April due to the ongoing pandemic of COVID-19, from which Buriram is unfortunately not immune. Miss Pennapa has quite sensibly decided to postpone all business from the studio and use the time for an intensive and professional deep clean of the premises to ensure that the venue is fit for reopening next month.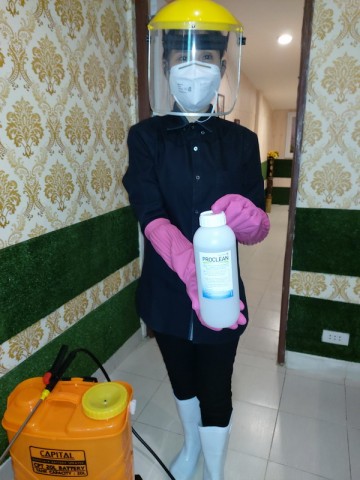 Miss Pennapa donned a full safety suit on April 12th and embarked upon the daunting job of deep cleaning the entire premises from top to bottom, making use of the powerful anti-microbial agent benzalkonium chloride to sanitise and disinfect the showers, bathroom and changing room. Benzalkonium chloride is well-known as a fast-acting and powerful, yet safe, disinfectant ingredient found in Lysol, Dettol, Bactine, Viroxyn, Spermicidal Creams, Wet Ones antibacterial wipes, and is used in many other cleaning products around the globe on a daily basis.
In addition to the intensive deep clean, the premises are also benefitting from a professional repainting courtesy of Buriram Global House, who are doing a thorough job with premium quality Nippon VirusGuard paint throughout. The numerous eclectic decorative pieces inside the studio, including rare, signed photos of well-known musical legends including Jimmy Page of Led Zeppelin fame, have been meticulously disinfected and carefully stored during the ongoing refurbishments. Miss Pennapa was at the Ariyasom Villa Som Sen Spa in January 2014 when Jimmy Page enjoyed a visit to the Ariyasom Villa Hotel Restaurant in Bangkok: http://www.ariyasom.com/spa-hotel-bangkok.html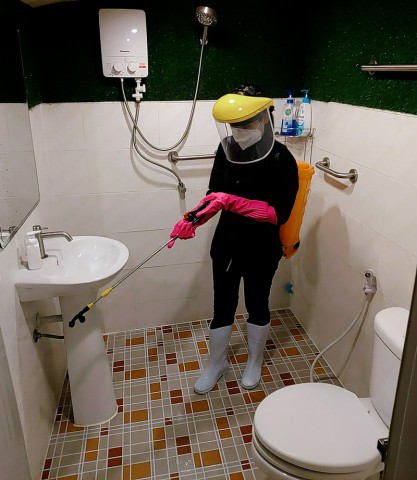 The studio is anticipating a grand reopening on the 1st of May, but of course, Miss Pennapa is being realistic and pragmatic given the unique circumstances. "I understand the need to stay closed until the crisis has passed for the safety of all visitors, ex-pats and citizens of Buriram", she was quoted as saying.
Once the ongoing deep clean and renovations are complete, Miss Pennapa will once again be eager to welcome visitors to the popular studio. She aims to impress all customers with her expertise in relaxing aromatherapy massage, as well as a range of rejuvenating deep tissue massages effective at relieving sports injuries or long-term medical complaints. She has regular clients from Surin and Maha Sarakham and is therefore very much looking forward to Governor Thatchakorn Hatthathayakul relaxing the current travel restrictions.
Miss Pennapa prides herself on the quality of massage services on offer and the cleanliness of her premises, plus she has worked hard to create one of the friendliest and most welcoming massage studios in the area. New customers are always welcomed.
View the videos filmed inside Buriram Massage Studio and submitted by satisfied massage clients:
https://burirammassage.com/buriram-massage-studio-video-2020/
Media Contact
Company Name: Buriram Massage
Contact Person: Miss Pennapa Ponsue
Email: Send Email
Phone: 66 098-956-2208
Address:13 / 28 Lang Sathani Rotfai Road Tambon Nai Mueang, Amphoe Mueang Buriram
City: Chang Wat District
State: Buriram 31000
Country: Thailand
Website: https://www.burirammassage.com