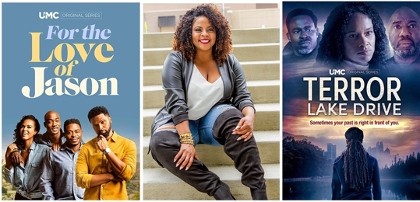 When a hot and sizzling actress like Brély Evans is in action on a network like UMC, the results can only be awesome. This time there are not one, but two shows to watch from this dope actress! AMC Network's UMC is pleased to present one of Hollywood's favorites, Brely Evans, in two new and original series: 'For the Love of Jason' (premier held November 19) and 'Terror Lake Drive' (premier held November 25).
While her fans can't get enough of her, Evans is also on a high, achieving some major milestones in her TV and film career. Her friend and the writer and creator of 'For the Love of Jason', Trell Woodberry, is also making his debut with his first series.
The launch of 'Terror Lake Drive' is also a major event, as it is the first production to return to Atlanta city since the outbreak of the pandemic this year. The show also reunites Evans with producer and director, Samad Davis, with whom she had previously finished working on the set of OWN's 'Ambitions', in her role as Rondell Lancaster, the sister to the Mayor and community activist.
A multi-talented artist and personality from Oakland, CA, Evans regales her fans and followers with her bubbly charms. Her big screen appearances include Sparkle starring the late Whitney Houston and Just Wright along with Queen Latifah, and a guest star role in Being Mary Jane. She has also been awarded the NAACP Theater Award for Best Supporting Actress.
Brély Evans uses her platform to send out inspiring and motivating messages for everyone to live their lives with purpose, ambition, and passion. She is also a recording artist ('Ambitious' is her first single released during her quarantine), and the author of her first book, "The ABC's of I Am's".

For more information, visit – https://www.brelyevans.com/
Media Contact
Company Name: Water Walkers Worldwide, Inc
Contact Person: Public Relations
Email: Send Email
Country: United States
Website: http://www.BrelyEvans.com