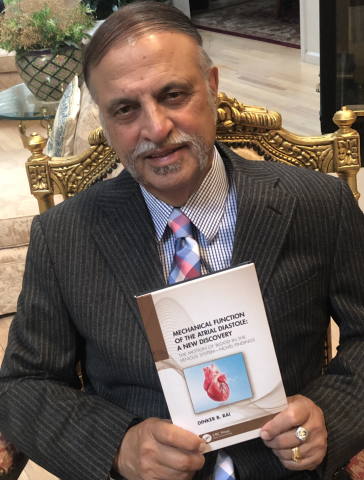 The board-certified Indian American vascular surgeon and the author of a new discovery and magnificent masterpiece for cardiologists and researchers, Mechanical Function of the Atrial Diastole: A New Discovery, Dr. Dinker B. Rai, was featured in the latest interview by TV Asia. Dr. Rai was interviewed by celebrity anchor Vikas Nangia who is also the senior producer of TV Asia.
For the last five decades, Dr. Dinker Belle Rai has been associated with the wondrous field of medicine. He has been awarded for the magnificent work and contributions that he has been making in this respective field for the past few decades. Dr. Rai was credited with developing the first-ever method for retrograde catheterization of the venous tree. For this invention, Dinker was awarded a United States Patent in 1988. Based on this patent, a company called The Ideas for Medicine, Inc. (now part of Horizon Medical Products, Inc.) manufactured and still distributes a series of catheters, known as Rai's Catheters, for use in performing descending phlebographic tests and for venous embolectomies. Over the decades, he has been adding value by bringing improvements in the medical field through his research and findings. Latest – he came up with the monograph to examine the function of the atrial diastole of the human heart, Mechanical Function of the Atrial Diastole: A new discovery.
Recently, Dr. Dinker Rai was invited for an interview on the program Focus Live by TV Asia to discuss his findings and contributions to medical science and also his book, which was the key agenda of this interview. The interview was hosted by the experienced celebrity anchor Vikas Nangia who is also the senior producer at TV Asia. Host Vikas didn't fail to bring out his special guest's versatile personality and some unknown facts, all thanks to his excellent anchoring skills. Apart from his research work, in this interview, Dr. Rai shared his national-level involvement in cricket and also his interest in Art and Indian Philosophy. The thirty minutes talk show aired live on the prime time slot of 8:30 pm and will be available on YouTube soon for those who missed the incredible conversation between two veterans of their respective fields.
Media Contact
Contact Person: Dinker B. Rai
Email: Send Email
Country: United States
Website: https://dinkerbrai.com/