Las Vegas, NV – October 19, 2023 – Designer Anna Bartoletti unveiled her Spring/Summer 2024 collection on the closing night of FashioNXT 2023, delving into the emotional complexities of toxic relationships that encourage self-worth reclamation. Her unique luxury line, combining recycled denim with high-end fabrics, provides an artisan feel with a message that goes beyond clothing. The powerful showcase on the final night of the event illustrates her commitment to empowerment through fashion. Bartoletti's designs are a manifestation of love and dedication, embodying resilience and healing in the face of toxic relationships, inspiring us all to reclaim our self-worth.
In a poignant revelation of fashion as a tool for empowerment and healing, Anna Bartoletti took center stage on the closing night at FashioNXT 2023. Her Spring/Summer 2024 collection, a tribute to those who have endured the perils of toxic relationships, was more than just a visual spectacle. It was a powerful statement on the inner turmoil and resilience of the human spirit. In the world of fashion, Anna Bartoletti stands out as a survivor with a mission in design. Her story epitomizes personal growth, serving as hope for others on a similar path. Bartoletti, an empathetic designer, is on a mission to empower those ensnared in situations mirroring her past struggles. Her creative expressions are lifelines, offering comfort and fortitude to individuals grappling with the complex challenges of emotional abuse. Beyond fashion, she aspires to establish a nonprofit organization as part of her broader mission. Proceeds from her collection will serve as a lifeline for those currently navigating the tumultuous waters of toxicity. In this profound act of empathy and solidarity, Bartoletti extends her creative hand to offer hope and support to those trapped in the dangerous throes of such connections. Her ultimate goal is to empower survivors to break free from the chains of their past and step into the light of self-discovery.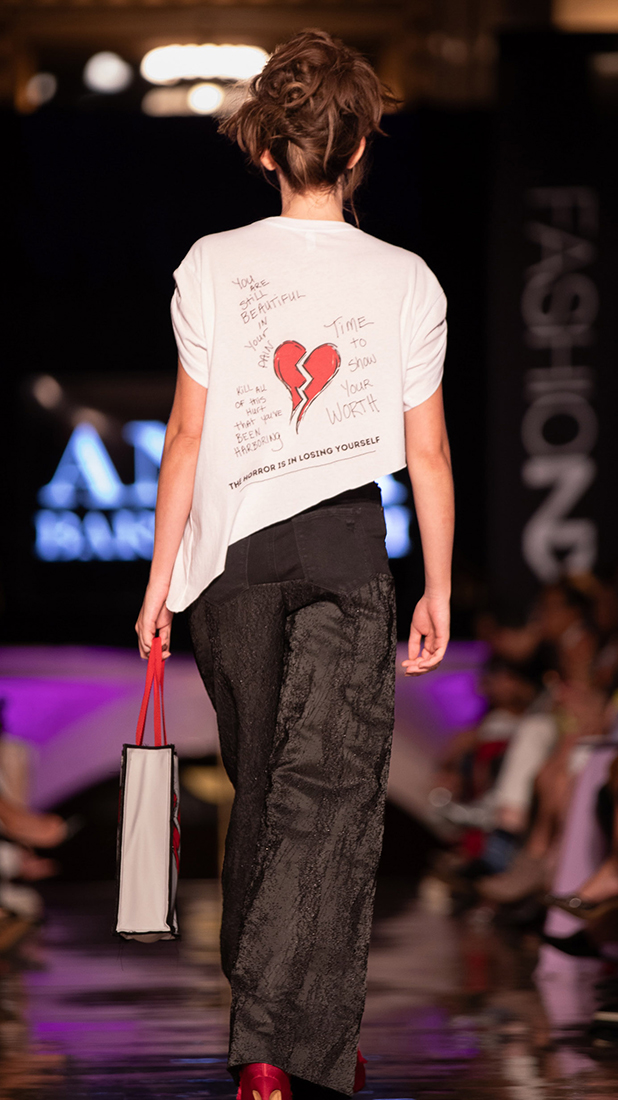 A model walks the runway in Anna Bartoletti's S/S 2024 collection at FashioNXT 2023 in Portland Oregon, on October 9th, 2023 (Images Courtesy of FashioNXT)
The inspiration behind Bartoletti's collection was the often-ignored shadow of destructive relationships, an experience that has touched countless lives. Her aim was to ignite a dialogue about the impact these relationships have on one's inner voice and self-esteem. Two taglines, "The horror is in losing yourself" and "It's Time to Show Your Worth," encapsulated her mission: to unmask the nature of these connections and inspire individuals to reclaim their self-worth.
Bartoletti explained, "Being with someone who makes you feel worthless can lead you down a rabbit hole of despair. I wanted to inspire people to recognize their true value, to be more than what they were made to feel."
At FashioNXT 2023, Bartoletti showcased 14 pieces, providing a glimpse of the collection's potential for expansion. The ready-to-wear luxury line featured meticulously crafted items, including skirts, tops, and knitwear. A red, fragmented heart theme adorned one of the sweaters, representing the heartbreak inflicted by destructive connections. A gray sweater dress, bearing the message "heartbreak horror" in red, accompanied by the words "they made me laugh, so I thought everything was okay," conveyed the emotional complexities at play.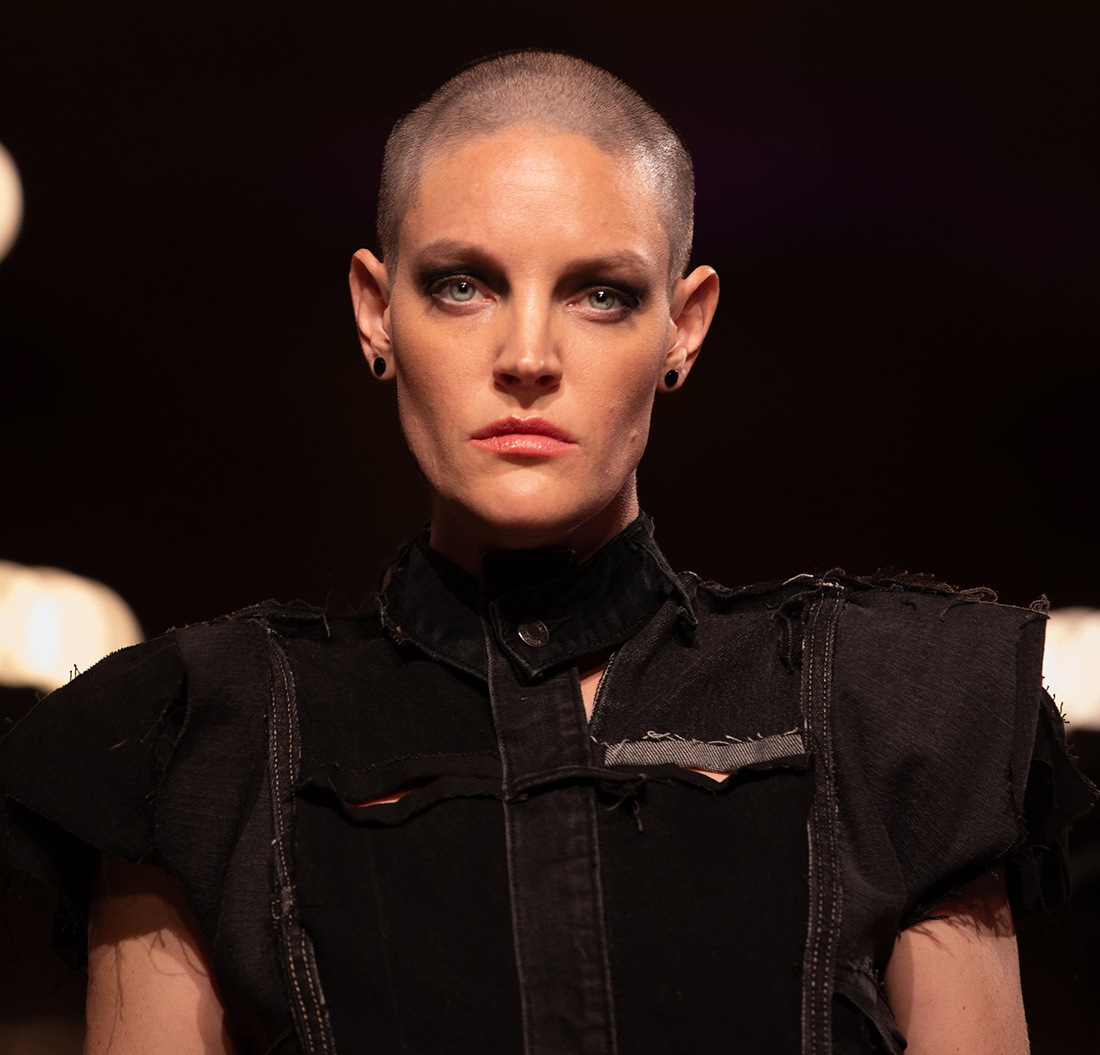 A model walks the runway in Anna Bartoletti's S/S 2024 collection at FashioNXT 2023 in Portland Oregon, on October 9th, 2023 (Images Courtesy of FashioNXT)
"Anna Bartoletti's S/S 2024 collection is luxury ready-to-wear that transcends fashion's boundaries. Skirts, tops, and knitwear come together to tell a story of healing and self-discovery. Recycled denim merges with high-end fabrics, offering an artisan atelier feel with luxury prices, underscoring the designer's commitment to quality and her profound connection to her creations." — AGENDA Magazine
Wide-legged pants, tops, skirts, dresses, and an elegant gown completed the collection. Additionally, three bags, embellished with thought-provoking messages, and a velvet bag, featuring "two halves of a heart" held together by a chain, designed by Bartoletti herself, added a touch of symbolism to the collection.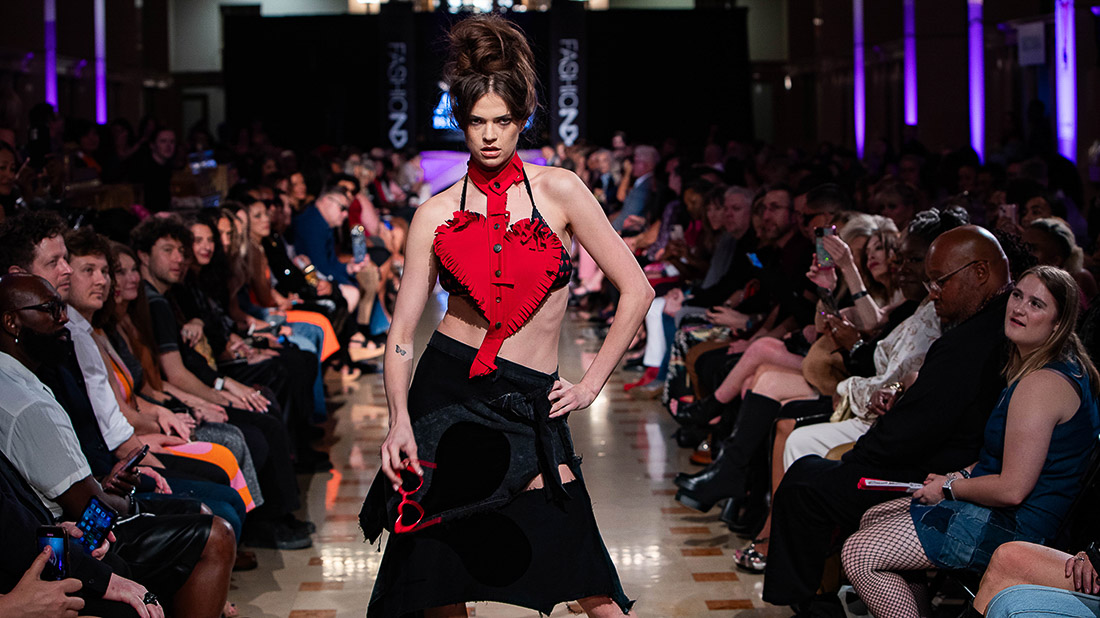 A model walks the runway in Anna Bartoletti's S/S 2024 collection at FashioNXT 2023 in Portland Oregon, on October 9th, 2023 (Images Courtesy of FashioNXT)
FashioNXT 2023 provided the perfect stage for Anna Bartoletti's collection. The historical venue, steeped in architectural splendor, heightened the allure of the event. Bartoletti's show on the final night of the fashion week was an experience for both the designer and the audience. Some pieces presented unique challenges, with one garment taking over 200 hours to construct. The creative process, for most pieces, was intuitive, evolving as they took shape on her dress form. The fabrics used, from asymmetric knits to denims and hand-embroidery, were not mere sketches; they were original creations by Bartoletti. The hand-embroidered pieces, in particular, were a testament to her commitment, with some being time-consuming, requiring up to five hours of meticulous work. The entire collection was the result of a three-month creative journey.
Destructive relationships can manifest in various forms, from toxic romance to harmful interactions with coworkers, family members, and friends. Bartoletti's message is a call to break free from these emotional shackles. Everything she designs is a story in itself. On the runway, models brought this theme to life, acting out narratives carefully choreographed to convey her message. The music she chose played an integral role in storytelling.
Anna Bartoletti's collection is more than fashion; it's "wearable art" that inspires hope. Her designs transcend the surface, touching all who have endured the darkness of toxicity. With her powerful message and captivating creations, she encourages us all to reclaim our self-worth and stride confidently into an empowered future.
To learn more, visit: https://www.Annabartoletti.com
About Anna Bartoletti:
Anna Bartoletti, a New York City native now based in Las Vegas, is not just a fashion designer; she's a mental health advocate. Her slow fashion brand is a creative fusion of texture and handcrafted artistry, drawing inspiration from history, art, and rock and roll. Anna is committed to sustainability, utilizing recycled and vintage materials, vegan fibers, and minimizing waste with innovative construction techniques. With a Fine Arts degree in Fashion Design from The Fashion Institute of Technology and an apprenticeship under Betsey Johnson, Anna's work has been displayed in FIT, the NYC fashion museum. She's won the National FashioNXT Mask Design Competition, featured in Forbes Magazine, and is known as the People's Choice Designer. She's also worked in costume design for film and theater. Currently based in Las Vegas, Anna continues to craft custom garments and award-winning dance and stage costumes, leaving an indelible mark on the world of fashion.
Media Contact
Company Name: First Take PR
Contact Person: Sean McKenzie
Email: Send Email
Country: United States
Website: www.firsttakepr.com