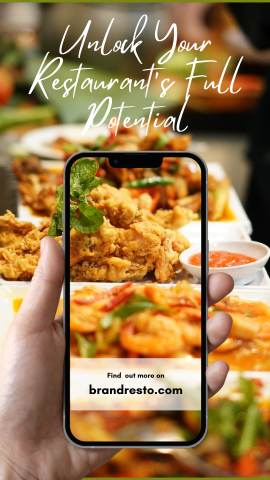 Hyderabad, India – BrandResto, a pioneering mobile app development company, has announced the launch of its competitively priced app development services tailored specifically for restaurant owners across the United States. Starting at just $1,500, BrandResto is set to revolutionize the dining experience by offering custom mobile apps that cater to the unique needs of the food industry.
In an era where digital presence is not just an option but a necessity, BrandResto steps in to bridge the gap between restaurant businesses and their customers. With a deep understanding of the challenges faced by restaurant owners, BrandResto's services are designed to enhance customer engagement, streamline operations, and ultimately boost revenue.
"Our mission is to empower restaurant owners with the digital tools they need to thrive in today's market," said Naveen Veldanda, founder of BrandResto. "We believe that a personalized app should not be a luxury reserved for the few but an accessible asset for all. That's why we've tailored our pricing without compromising on quality or functionality."
The BrandResto platform offers a range of features, including online ordering, reservation systems, loyalty programs, and more, all within an intuitive and user-friendly interface. These apps are not only a means to increase sales but also a platform to build a loyal customer base by providing a seamless dining experience.
As the restaurant industry continues to navigate the challenges of the digital age, BrandResto's services come as a timely solution. The company's approach to app development combines the latest technology with a deep understanding of the food service industry, resulting in apps that are both innovative and practical.
With the rise of mobile usage, having a dedicated app is becoming increasingly important for restaurants looking to stand out. BrandResto's apps are designed to be engaging, with features that encourage repeat business and word-of-mouth referrals. The affordability of BrandResto's services means that even small and medium-sized restaurants can now leverage the power of mobile technology.
"We're not just developing apps; we're crafting experiences that resonate with diners and bring them closer to their favorite eateries," added Veldanda. "Our goal is to make every meal memorable by enhancing it with the convenience and personal touch of a mobile app."
BrandResto's commitment to affordability and quality has already garnered attention in the US market, where restaurant owners are eager to adopt digital solutions that drive growth. With a clear understanding of the importance of SEO, BrandResto also ensures that its apps are optimized for search engines, helping restaurants increase their online visibility and attract more traffic to their sites.
Restaurant owners interested in taking their business to the next level with BrandResto's mobile app solutions can learn more about the pricing and features by visiting BrandResto's pricing page.
About BrandResto
BrandResto is a mobile app development company specializing in creating bespoke digital solutions for the restaurant industry. Based in Hyderabad, India, and serving clients across the United States, BrandResto is dedicated to helping eateries of all sizes leverage technology to enhance their customer experience and operational efficiency.
Media Contact
Company Name: Brand Resto
Contact Person: Naveen Veldanda
Email: Send Email
City: Hyderabad
Country: India
Website: https://brandresto.com/