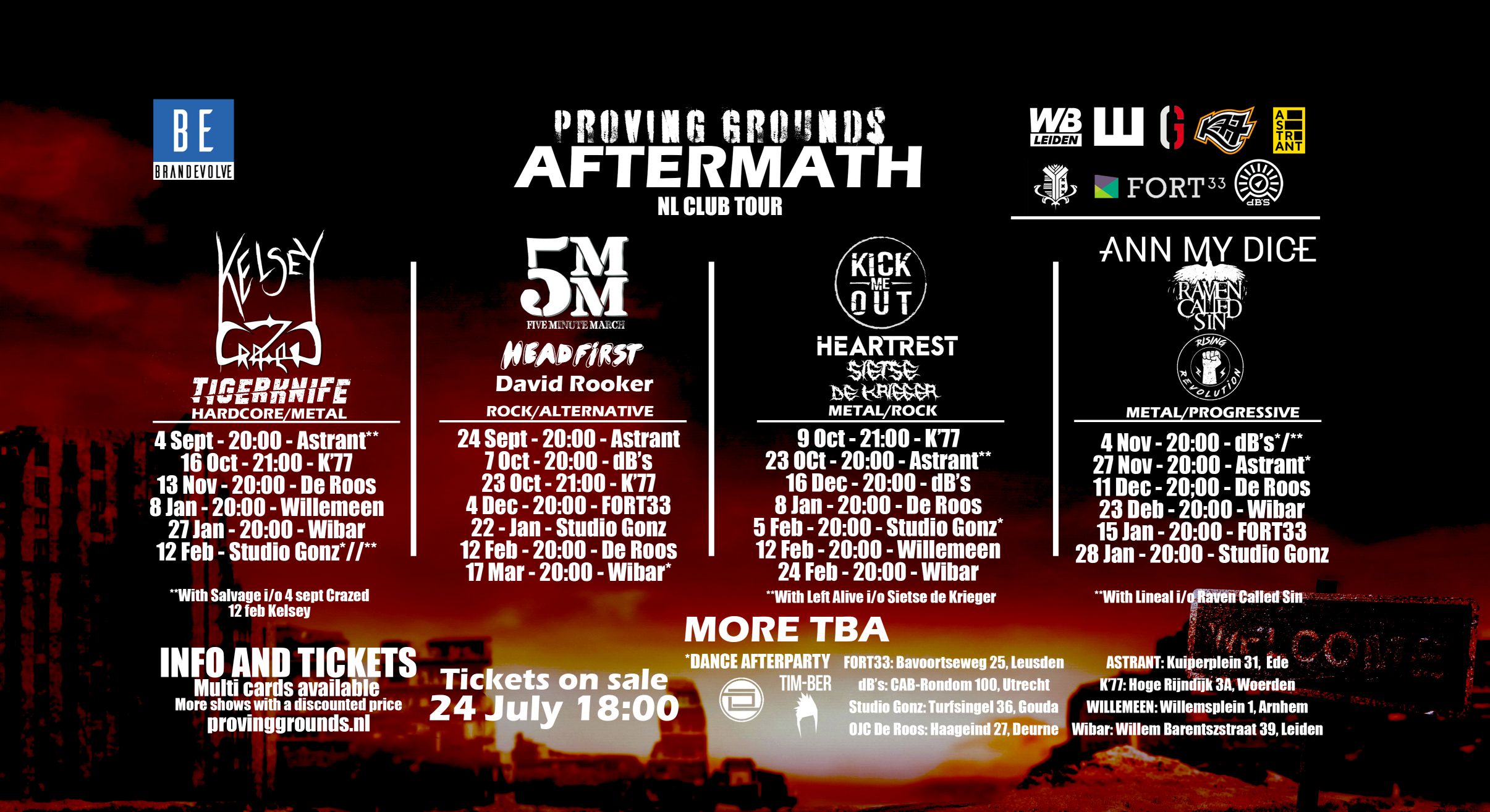 PROVING GROUNDS AFTERMATH NL CLUB TOUR WILL FEATURE MORE THAN 12 DUTCH BANDS & MUCH MORE FOR THE MUSIC FANS WORLDWIDE
Veenendaal, The Netherlands – July 26, 2021 – BrandEvolve Bookings has proudly announced that it is launching the biggest NL CLUB TOUR, and the Dutch company is calling it Proving Grounds Aftermath. Tickets are now available online and the event will be featuring a Dutch Club Tour with 12 bands from the festival. Moreover, the Proving Grounds Aftermath NL CLUB TOUR with 12 Dutch bands is a great way to support the emerging Dutch music scene, and it will have more than 25 shows taking place at various locations.
"With Proving Grounds Aftermath, you can find a show near you and join us in supporting the Dutch music scene." Said Boudewijn Jansen of BrandEvolve Bookings, while talking about this endeavor. "Now we are already over 20 nights with this line-up and more will follow soon too, and we welcome you to follow our social media presence for more updates." He added. Tickets went on sale on July 24th, and the organizers are basically offering three types of tickets for the festival. These include Online Single Ticket, Door Ticket, and a Multi-Ticket that can be used for more than one night.
In addition, Proving Grounds Aftermath is a unique and one of a kind chance for the music fans the Netherlands to become a part of this historic and exciting undertaking and see their favorite music bands perform. Proving Grounds Aftermath NL CLUB TOUR with 12 Dutch Bands is redefining the entire musical landscape of The Netherlands, and it features a strong lineup along with great venues. The lineup includes Ann My Dice, Kick Me Out, Five Minute March, Kelsey, Heartrest Tigerknife, Crazed, Headfirst, Raven Called Sin, Rising Revolution, David Rooker, and Sietse de Krieger.
For more information, updates, and tickets, please visit the website at: www.brandevolve.nl/bookings/proving-grounds-aftermath
Media Contact
Company Name: Proving Grounds Aftermath By BrandEvolve Bookings
Contact Person: Boudewijn Jansen
Email: Send Email
Phone: +31 652824597
Country: Netherlands
Website: www.brandevolve.nl