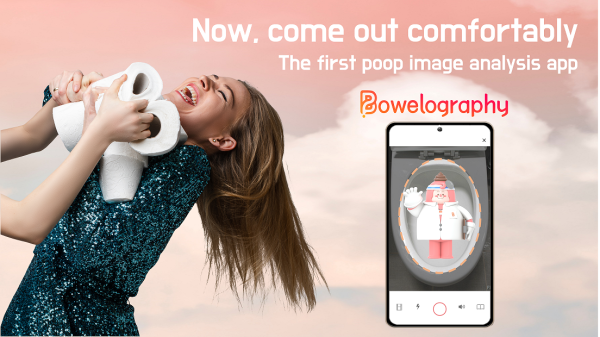 Wearbeing Corp., a smart healthcare start-up, has been developing a new app called 'Bowelography' designed to provide an automatic stool image analysis service. If the users take a picture of stools in the toilet with their camera, AI will automatically check their health by analyzing the image of stools.
The company said, "Stool is one of primary elements to check your health, but it is not properly used due to the psychological denial and its low awareness." In fact, it can be used as a health status indicator of diseases such as inflammatory bowel diseases and irritable bowel syndromes. Currently, the number of patients with those diseases is significantly increasing globally.To tackle the current challenges of those patients, Wearbeing has put its efforts into developing a new technology designed to provide a non-face-to-face stool analysis service with its know-how accumulated through experiences for many years. It has previously launched and operated "Bowelog," a healthcare app for patients with intestinal diseases such as irritable bowel syndrome (IBS) and inflammatory bowel disease (IBD).
The company said that Bowelography's stool analysis service helps those struggling to find the proper treatment due to the lack of knowledge about stools. Sometimes their symptoms worsen when they suspect the disease but don't go to the hospital to treat their conditions as quickly as possible. Only with a picture of their stools, Bowelography can provide their appropriate AI analysis feedback, disease risk scores, problems, and disease management programs.
The AI stool analysis service would benefit not only patients with inflammatory bowel diseases but also physicians. One of the existing treatment methods is taking pictures of stools and showing them to their physicians for proper diagnosis. However, there are some treatment limitations due to various variables such as urine, shadow, and toilet paper reflected in the pictures. In addition, physicians find it difficult to accurately observe and judge their symptoms within a short period of time. So, it's hard to get good quality information they could get from stools.
Furthermore, patients find it difficult to record stool status objectively. They're often required to record the color, shape, and smell of their stools manually. However, it's almost impossible to record them like an expert.
Wearbeing's Bowelography has developed its own image correction and object classification technology to consider multiple variables that could occur when stools are observed and analyzed. The previous technology is to analyze the shape of stools according to the Bristol Stool Chart. But Bowelography is designed to analyze the external information of stools such as volume and color of stools and volume and shape of bloody stools. By taking out obstructive factors reflected in the picture such as shade, toilet paper, and color variables with the help of its image correction technology, it helps clearly distinguish stools from others. Compared to other companies with an accuracy of 82%, the accuracy of its recognition technology reaches 91%. That's why it's very likely to analyze the patients' stool samples precisely. (The Bristol Stool Chart is a diagnostic medical tool designed to classify the form of human stool into seven categories.)
Going forward, Wearbeing plans to add a service designed to transmit the images and patient logs to medical staff. This service is expected to be used for various purposes since physicians could provide efficient feedback on face-to-face visits. In addition, it helps patients access health care services remotely.
The company mentioned that the non-face-to-face stool analysis service would play a significant role in daily lives and in the medical field. The app, Bowelography, will be launched at the end of October. More information can be found on the website (www.bowelog.com).
Media Contact
Company Name: WEARBEING
Contact Person: Kim, Kyung Soo
Email: Send Email
Phone: +82-10-4134-5398
Country: South Korea
Website: www.bowelog.com