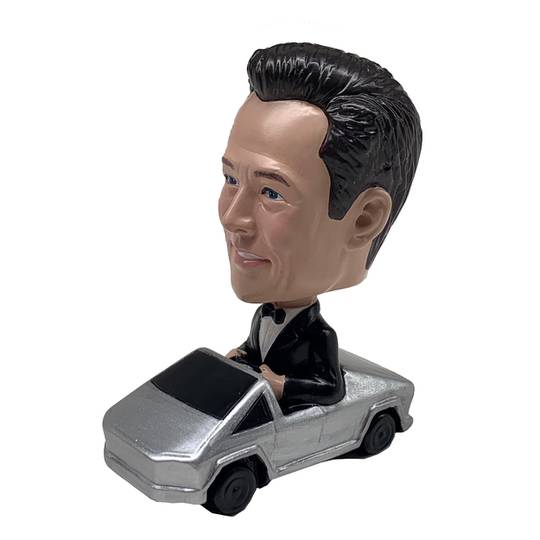 Companies, groups and individuals can head to Bobbleheadhome.com to get customized Tesla Cybertruck bobbleheads for themselves or for family and friends that are Tesla fans.
One of the leading makers of custom bobblehead in the world, Bobbleheadhome.com is proud to announce that it now offers customized Tesla Cybertruck bubblehead for Tesla fans and all the Tesla Cybertrunk owners. This cybertruck bobblehead is a perfect gift that looks like a custom bobblehead riding on a large trapezoid on wheels.
Appreciating a group of people, self or individual with items like mugs, towels and other generic items is now obsolete as it is not exciting and lacks creativity. This is where Custom Bobbleheads from Bobbleheadhome.com comes in very handy. Bobbleheadhome.com provides quality Custom Bobbleheads at a competitive price to all customers. The bobbleheads from Bobbleheadhome.com are known to be unique to the individual as they are made using the photograph of the owner. Each bobblehead is made from a picture, hand-sculpted by professional sculptors and painted on high-quality polyresin bodies.
The customized Tesla Cybertruck from Bobbleheadhome.com gives people that want to be like Elon Musk who can drive a Tesla Cybertruck prototype around Los Angeles California the opportunity to do so. The unique piece of art features the person riding on a cybertruck with sports car performance. This customized Tesla Cybertruck and will look fantastic on your desk, the dashboard of your car or any other place you want to place it. You can gift it to yourself or acquaintances that are Tesla fans as well as Tesla Cybertruck owners for occasions like a wedding, birthday party, graduation party, anniversary, and more.
Bobbleheadhome.com sets itself apart from others because each product from the company is guaranteed to be of top quality and made according to customers' requirements meaning the person on the customized Tesla Cybertruck bobblehead will look exactly like you. Also, Bobbleheadhome.com would send proof to your email and if you are not satisfied with what you see, they will modify it to your satisfaction.
Be the first to own this Cybertruck custom bobblehead before anyone else! To get one for yourself or for someone else, please visit http://www.bobbleheadhome.com/en/products/custom-bobblehead-driving-tesla-cybertruck-prototype-205/
About Bobbleheadhome.com
Bobbleheadhome.com is a premier Custom Bobblehead company. Each of its Bobbleheads is top quality, custom handmade and painted on high-quality polyresin bodies which will last for years to come. Only the top quality Custom Bobbleheads are made with Polyresin bodies. Bobbleheadhome.com makes online shopping for Custom Bobblehead easy with easy checkout.
Media Contact
Company Name: Bobbleheadhome
Contact Person: Sunny Wong
Email: Send Email
Phone: 1-855-537-7711
Country: United States
Website: Bobbleheadhome.com