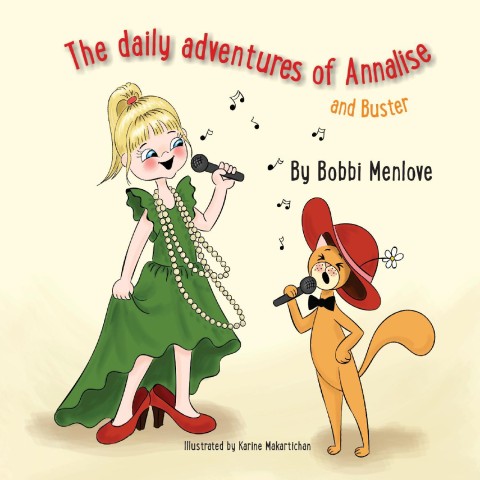 CENTERVILLE, MO – October 13, 2020 – Celebrated author Bobbi Menlove, popularly known as Bobbi Menlove, has unveiled her latest children's book, "The Daily Adventures of Annalise and Buster". The book captures the delightful escapades of a young girl named Annalise and her stuffed cat, Buster, as they navigate the wonders of everyday life.
Menlove's narrative is a heartwarming reminder of the magic of childhood. The book's tagline promises readers: "Annalise and Buster find thrills, delights, fun, and some disappointments in everyday life as they share grand adventures in this lighthearted book."
"The Daily Adventures of Annalise and Buster" is a treasure trove of stories that resonate with both children and adults. While children will be captivated by Annalise's imaginative escapades, adults will find themselves reminiscing about their own childhood adventures. The book beautifully encapsulates the essence of a child's world, where even the most mundane activities can transform into grand adventures.
Some memorable quotes from the book include:
"Jacklings are very rare. I thought the jackling would make a great friend for Buster, so I bought him."

"There are many dinosaurs at the park. Dry dinosaurs and wet ones. Dinosaurs that ate meat and some that ate leaves."

"This morning I 'waked up' to the sound of Buster crying. I feel his head is hot. Buster has a fever."

"After lunch, Grammie needs 'down time'. We read stories and watch a princess movie. I love to cuddle Grammie."

"You are right, Buster. They are the purr-fect shoes for this little princess."
The book has garnered significant recognition, including an accolade from The Mother's Choice Awards for children's books and being named the book of the month at Creative Books in Pittsburg, CA. Literary Scout, Randy Lewis, also gave the book a high rating of 9.1 out of 10. Furthermore, "The Daily Adventures of Annalise and Buster" was featured in Authorial Magazine Vol. 2.
Targeted primarily at pre-school and kindergarten children, the book is also a perfect read for parents of younger children, school teachers, libraries, and grandparents.
Menlove's enchanting storytelling, combined with the relatable adventures of Annalise and Buster, makes this book a must-have for every child's bookshelf.
About Bobbi Menlove
Bobbi Menlove, is a passionate author with a flair for crafting stories that resonate with readers of all ages. Her latest book, "The Daily Adventures of Annalise and Buster," is a testament to her ability to capture the essence of childhood in words.
Media Contact
Company Name: Bobbi Menlove
Contact Person: Bobbi Menlove
Email: Send Email
City: Centerville
State: Missouri
Country: United States
Website: https://store.bookbaby.com/book/the-daily-adventures-of-annaliseand-buster