Recently, BMbridal offers a varying styles of affordable bridesmaid dresses under $100, which makes it much less expensive for a bridesmaid to attend the wedding. There's no need to make the bridesmaids break the bank.
Traditionally, the bride-to-be will prepare all things for the wedding, including the bridesmaid dresses and the accessories which is a massive expense for the brides.
But as the time goes by, the trend of the wedding has been changed. In modern weddings, it is common that the bridesmaids will have to buy their own bridesmaid dresses and accessories. On one hand, it is a very super thoughtful gesture for a bride-to-be to reduce the financial pressure.
On the other hand, it will increase the bridesmaid's financial burden. It will be very expensive for everyone involved in a wedding, especially for the bridesmaids. The bridesmaids need to prepare for the bachelorette party, the bridal shower and a whole host of other little costs, except for the cost of the bridesmaid dress. So finding an affordable bridesmaid dresses is the only way out of this embarrassment. And the bridesmaid will appreciate the bride's thoughtfulness when she chooses an affordable bridesmaid dress.
Under such circumstances, BMbridal has designed and made the bridesmaid dresses for the most fashionable and affordable. The brides and the bridesmaid will find the dresses in most popular colors of the moment. The dresses are made of the exquisite fabrics like chiffon, tulle and lace. And the bridesmaids will be inundated in the various playful necklines like deep-V, sweetheart and off-the-shoulder. Besides, BMbridal provided all kind of silhouette like a line, mermaid, sheath and so on. The bridesmaids will love the fact that the dresses from BMbridal are cute enough and that they will really want to wear the dress again.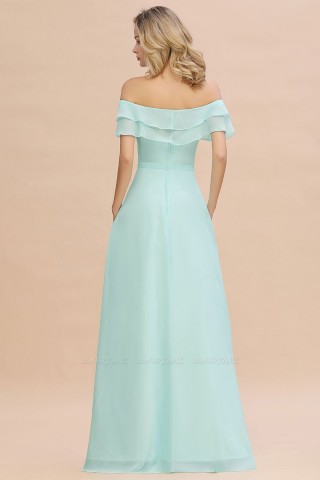 Off-the-Shoulder Front-Slit Bridesmaid Dress With Pockets Price $99
This bridesmaid dress is made with off the shoulder neckline and the front slit, making this dress much more sexy but still elegant. The feature of the dress is the pockets, a unique design, which is not seen on a dress before. It is very convenient for the bridesmaids to put the phone into the pocket when there is something else to be done.
There are a lots of dresses with unique designs at BMbridal.com. With the affordable price, the bridesmaid dresses and the brides will find a perfect bridesmaid dresses for the wedding.
Media Contact
Company Name: BM Bridal Co., Ltd.
Contact Person: Drue Fitzgerald
Email: Send Email
Phone: 1-510-598-5158
Address:4982 Bayview Dr
City: Stockton
State: CA
Country: United States
Website: https://www.bmbridal.com