Bitremi.com is an indigenous cryptocurrency exchange platform that enables its users to sell their Bitcoins to Naira and get credited within minutes to any Nigerian bank account of their choice free of charge.
Cryptocurrencies have become digital golds, exemplified by Bitcoin's market capitalization of $1072.21 billion as of February 21st, 2021. In fact, according to available estimates, the global Blockchain market will go up to $5 Trillion by 2023.
Nigeria's predominantly young tech-savvy population is also the reason cryptocurrencies have found widespread acceptance in the country. According to statistics, about 32% of Nigerian citizens are users of cryptocurrencies, which is among the highest in the world. Estimates show that of the top 10 countries for trading volumes, Nigeria ranked third after the US and Russia in 2020, generating more than US$400 million worth of transactions.
Leveraging on this, Bitremi's parent company, Kierian Technologies Nigeria Limited created its platform to provide a seamless crypto trading space where users can exchange their Bitcoins to Naira without the hassle of P2P Platforms notorious for their slower trading speeds and low liquidity. On Bitremi, depending on Bitcoin Network Congestion, exchanges can take between a few minutes to 1 hour to be completed.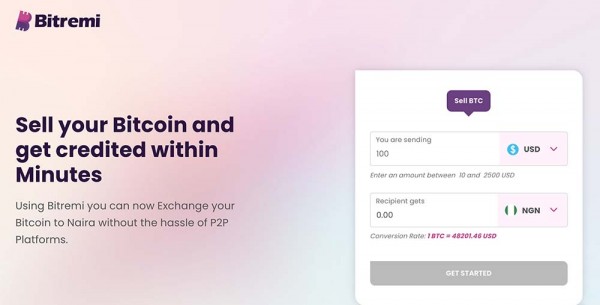 According to Bitremi's Co-Founders, Mr. Chukwudimma Sab-Udeh and Mr. Ohagwu Emeka Darlington, Bitremi would soon rollout the selling/buying other cryptocurrencies on the platform, such as USDT and Ethereum, also a remittance solution is part of the features in active development on Bitremi and this will enable Nigerians to receive money from any part of the world.
Bitremi simplified their platform for easy transactions such that users can exchange their BTC in 4 simple steps:
Enter the amount to be exchanged i.e. the bitcoin equivalent in dollars.
The naira equivalent is automatically generated using the current exchange rate.
Select continue to send the BTC to be exchanged and recipient's account.
That's it. The money is transferred and available after 2 Bitcoin network confirmations. Easy and efficient.
Speaking further, Mr. Ohagwu Emeka remarked that their new platform is currently the easiest way to exchange digital assets to Naira at the moment and also the fastest.
It is pertinent to note that Bitremi placed a $2,500 limit per transaction. However, traders that want to increase their transaction limit can send an email to the company, or, alternatively, simply perform multiple transactions.
Bitremi currently operates only in Nigeria with its head office in Lagos State, but will be rolling out several Blockchain services to other African countries in the near future.
Media Contact
Company Name: Biremi
Contact Person: Collins Darlington
Email: Send Email
Phone: +2349054711643
Country: Nigeria
Website: https://www.bitremi.com