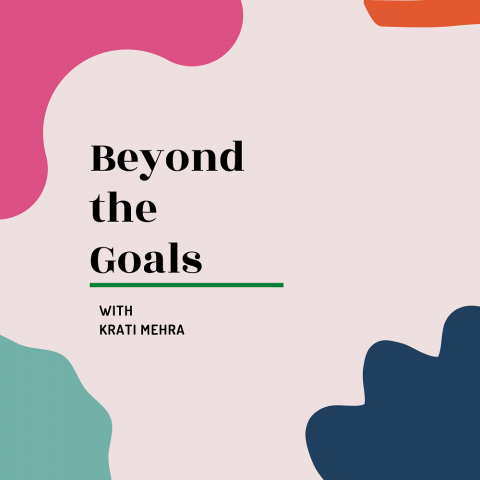 "Beyond the Goals" podcast is for people looking to add meaning and depth to their life. Instead of mindlessly imitating the successes of the world, seek new avenues and explore paths that bring joy, colour, and purpose to your life. Live the hustle culture without losing sight of what truly matters, and "Beyond the Goals" podcast can help you with that. With exceptional motivational skills and words that hit all the right spots, the host, Krati Mehra is here to help people go beyond their to-do lists and goals to build a life that speaks to their very soul.
The trailer of the podcast was released on July 23, 2020, and the first episode went live on August 10, 2020. Hosted by Krati Mehra, this podcast created a stir among the listeners right from the first episode. "Beyond the Goals" was launched with a view to inspiring people to lead a healthy and purpose-driven life. As of now, there are a total of 16 episodes to this podcast, with the latest episode being released on December 7, 2020. Krati invites various guests and experts on the show, who share their wisdom and inspiring stories on topics related to building healthier relationships, a healthier lifestyle, a fulfilling career, and a satisfying life.
The latest episode of "Beyond the Goals" features Megan Bruneau and is about embracing vulnerability, self-empowerment, and practicing healthy self-criticism. Other episodes also deal with related subjects and topics. In the episode released on November 16, 2020, Brad Aronson was invited as the guest, who is a husband, dad, son, entrepreneur, angel investor, mentor, volunteer, and writer. He discusses the power of kindness, affective empathy, and the benefits of volunteering.
People from all age groups love to listen to this informative and intellectual podcast.
A review by Astrid H-V reads on "Beyond the Goals" podcast, "Informative, Enlightening, and Real! Beyond the goals has become my favourite go-to Podcast when I want to get a dose of uplifting, honest, well thought out advice. Krati is very natural at her craft, and the guests are phenomenal. One of my favourite podcasts was Discussing Self -Exploration Life Purpose. I agree that we must get out of our comfort zone to achieve our goals and dreams. Gradual steps to get to that goal. Loved it!"
Media Contact
Company Name: Beyond the Goals – Podcast
Contact Person: Krati Mehra
Email: Send Email
Country: India
Website: www.redefinednarrative.com