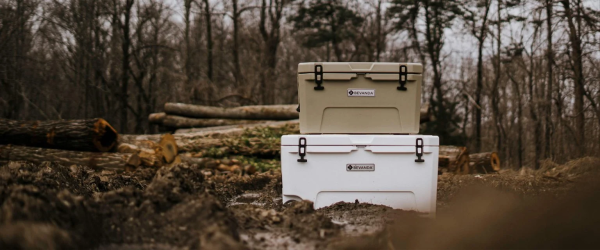 Newly founded company Bevanda offers exclusively made Coolers, Roto-molded coolers, and Drinkware for working folk and contractors. The design and structure were centered around the construction industry and its requirements. Bevanda is quickly growing thanks to its top-of-the-line injection molded and rotomolded coolers.
As experienced construction site workers, the founders of this company knew that contractors need tough and reliable coolers of different sizes to accommodate their staff at their worksite. Hence, Bevanda came up with a 20 qt injection-molded cooler, a range of 50 qt rotomolded coolers, 75 qt rotomolded coolers, and its biggest so far, the 110 qt rotomolded cooler. Along with this, the company also offers customization on all coolers for businesses looking to promote their brand.
Additionally, Bevanda provides an assortment of drinkware shapes and sizes from 20 oz tumblers, 20 oz sports bottles, 40 oz bottles, and gallon jugs. These products are also available for customization as per the client's requirements. They serve a dual purpose of keeping the workers hydrated while simultaneously promoting the business.
"Our drinkware options will cater to your every need. Whether you are looking for small drinkware to carry around at your workplace or a large gallon jug that can accommodate your hydration needs for days, Bevanda has a variety of options for you to choose from", says a spokesperson for Bevanda.
Many contractors opt for Bevanda's personalized coolers and drinkware as a way to show their customers and employees their appreciation and gratitude. This form of marketing helps businesses in a brand and establish themselves in the industry.
Bevanda is a cooler and drinkware company based in the US. Established in 2017, the company is currently located in the heart of Lancaster. Here they supply to contractors and the working class. Bevanda's coolers and drinkware are exclusively designed to suit contractors and their day-to-day needs.
For more information, please visit: https://bevandaproducts.com/
Media Contact
Company Name: Bevanda
Contact Person: Akhil Paul
Email: Send Email
Country: United States
Website: https://bevandaproducts.com/