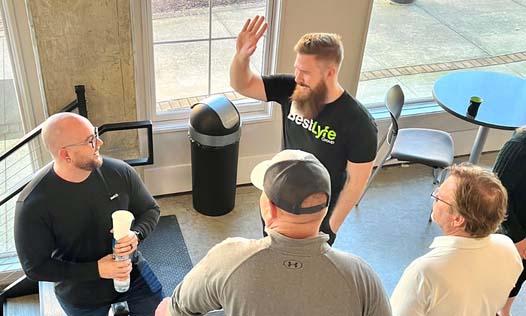 Elevating small businesses with transparent SEO services for lasting success.
BestLyfe Group, a rising force in the SEO services landscape, is reshaping the digital marketing paradigm with its unwavering commitment to transparency and delivering results. Catering to small businesses across the US and the UK, the company takes an honest approach, empowering enterprises to thrive in the fiercely competitive online arena. It recently announced a free SEO website audit to help businesses see how they can improve in this critical area.
The founders of BestLyfe Group were fueled by dissatisfaction with the industry's common shortcomings. "We got tired of empty promises from companies that never delivered results. Our solution was to hire experienced professionals and provide their expertise to empower small and medium-sized businesses," revealed Dustin Lunde, Co-Founder of BestLyfe Group.
BestLyfe Group stands apart by offering a suite of services meticulously designed to propel businesses above the digital noise. Their complimentary SEO Website Audit delivers insights, unraveling the intricacies of a brand's online presence. To further help small businesses, the company offers a free ebook for those who want to explore a hands-on approach to SEO improvement.
Client satisfaction paints a vivid picture of the value BestLyfe Group provides. Marcus Sherrod, Owner of CenTex Jumps in Austin, Texas, commented, "The BestLyfe Group has been an invaluable asset to our business. Having access to a proficient team for SEO, website optimization, ads, and general advice has been transformative. We're eagerly anticipating a record-breaking year!"
Beyond conventional SEO services, BestLyfe Group adopts a comprehensive approach to fostering business growth that is updated as the need demands. The company boldly asserts, "We're not into hollow promises, clichés, or one-size-fits-all gimmicks." Instead, they channel their efforts into tailored strategies, serving over 20 industries in collaboration with a network of 100+ partner businesses. The 8x average return on services has made clients stick around for the long term.
All backed by the bold guarantee: "We guarantee results, or you don't pay."
BestLyfe Group's approach includes creating high-converting websites, using advanced SEO strategies, leveraging smartly designed ad campaigns, and providing business coaching and bookkeeping services. By nurturing multiple dimensions of business growth, the company makes sure clients are in the best position for success possible.
To discover how BestLyfe Group helps small businesses grow and to schedule a consultation, visit https://www.bestlyfegroup.com.
About BestLyfe Group
We build a bridge from where you are to where you want to be.
Media Contact
Company Name: BestLyfe Group
Contact Person: Dustin Lunde
Email: Send Email
Phone: 404-590-7343
City: Lawrenceville
State: Georgia
Country: United States
Website: bestlyfegroup.com