Wood Laser engraver that can be fully customized to your needs and budget. The Mimowork's Flatbed Laser Cutter 130 is mainly for engraving and cutting wood (plywood, MDF), it can also be applied to acrylic and other materials. Flexible laser engraving helps to achieve personalized wood items, plotting diverse intricate patterns and lines of varying shades on the support of different laser powers. For fitting with varied and flexible production for different format materials, MimoWork Laser brings a two-way penetration design to allow engraving the ultra-long wood beyond the working area. If you are seeking higher-speed wood laser engraving, DC brushless motor will be a better choice due to its engraving speed can reach 2000mm/s.
Multifunction in Wood Laser Engraver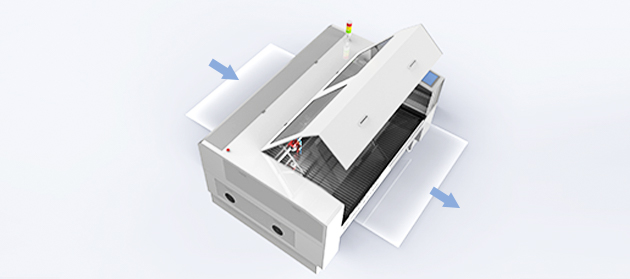 Two-way Penetration Design
Laser engraving on the large format wood can be realized easily thanks to the two-way penetration design, which allows wood board placed through the whole width machine, even beyond the table area. Your production, whether cutting and engraving, will be flexible and efficient.
Stable and Safe Structure
◾ Signal Light
Signal light can indicate the working situation and functions exerting of laser machine, helps you to do the right judgment and operation.


◾ Emergency Button
Happen to some sudden and unexpected condition, the emergency button will be your safety guarantee by stopping the machine at once.
◾ Safe Circuit
Smooth operation makes a requirement for the function-well circuit, whose safety is the premise of safety production.


◾ CE Certification
Owning the legal right of marketing and distributing, MimoWork Laser Machine has been proud of the solid and reliable quality.
◾ Adjustable Air Assist
Air assist can blow the debris and chippings from the surface of engraved wood, and give a degree of assurance for wood burn prevention. Compressed air from the air pump is delivered into the carved lines through the nozzle, clearing the extra heat gathered on the depth. If you want to achieve burning and darkness vision, adjust the pressure and size of airflow for your desire. Any questions to consult us if you are confused about that.

article source: https://www.mimowork.com/flatbed-laser-cutting-machine/laser-engraving-machine-for-wood.html
Media Contact
Company Name: Mimowork
Email: Send Email
Country: China
Website: https://www.mimowork.com/