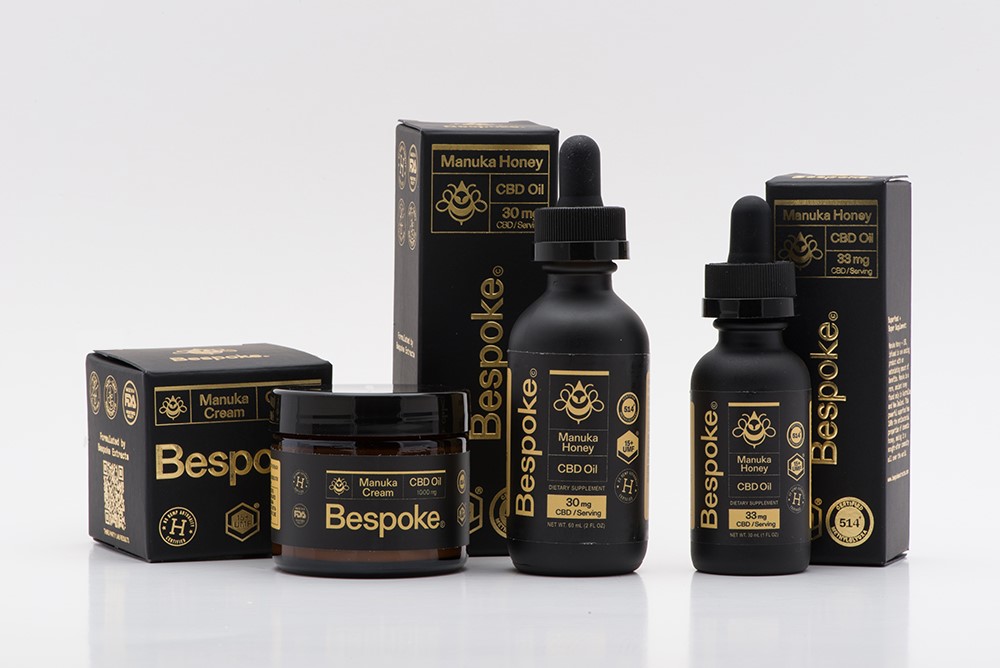 UMF15+ Manuka Honey CBD Bundle includes 1000mg Cream, 1000mg 30mL Tincture, and 1800mg 60mL Tincture.
Bespoke Extracts is dedicated to producing the highest quality, 100% organic, hemp-derived CBD extracts products. Manuka Honey and Bespoke's Potent CBD are infused in amazing tinctures and cream with an astonishing number of benefits.
At Bespoke Extracts, we believe in the power of the individual. So, we strive to tailor each CBD experience to make its benefits unique to you and your lifestyle. That means making sure you are confident that everything we deliver to you is safe, effective and perfect for you.
From the very beginning, we have hand-picked our producers to ensure only NSF-certified and USDA-certified organic hemp from some of the finest CBD growers in the United States. It is also why we use the highest possible standards and best practices for extraction to ensure the purest and most potent product on the market. And finally, it is why we strive to develop a long-term personal relationship with each and every one of our customers — including you — to help them determine their needs and wants and supply the exact right solution for them. As a result, our handcrafted formulas effectively harness the power of nature, complementing a healthy, active mode of being for discerning customers who demand quality and will, quite simply, accept no less.
Certified by the US Hemp Authority for adhering to best practices and the highest possible quality US manufacturing standards, all of Bespoke's CBD products undergo third party independent testing to verify their superior quality and have been issued a Certificate of Analysis, affirming the cannabinoid content and profile of our products and that they are free from heavy metals, pesticides, residual solvents and other harmful elements.
In 2017, Bespoke Extracts was among the first companies in the industry to introduce a Mānuka Honey-flavored CBD tincture to the global marketplace. Our new and expanded line of Manuka Honey-infused CBD formulations delivers a broad range of potential benefits, providing health-and wellness-minded consumers with all-natural products that pack a powerful punch.
For more information on Bespoke Extracts and our high quality hemp-derived CBD formulations, please visit www.bespokeextracts.com
The products mentioned are THC-free and/or compliant with the 2018 Farm Bill.
Media Contact
Company Name: Bespoke Extracts, Inc.
Contact Person: Carly Stojsic
Email: Send Email
Phone: 416-520-3381
Country: United States
Website: https://naturalgrocers.org/featured-item/bespoke-extracts-inc/