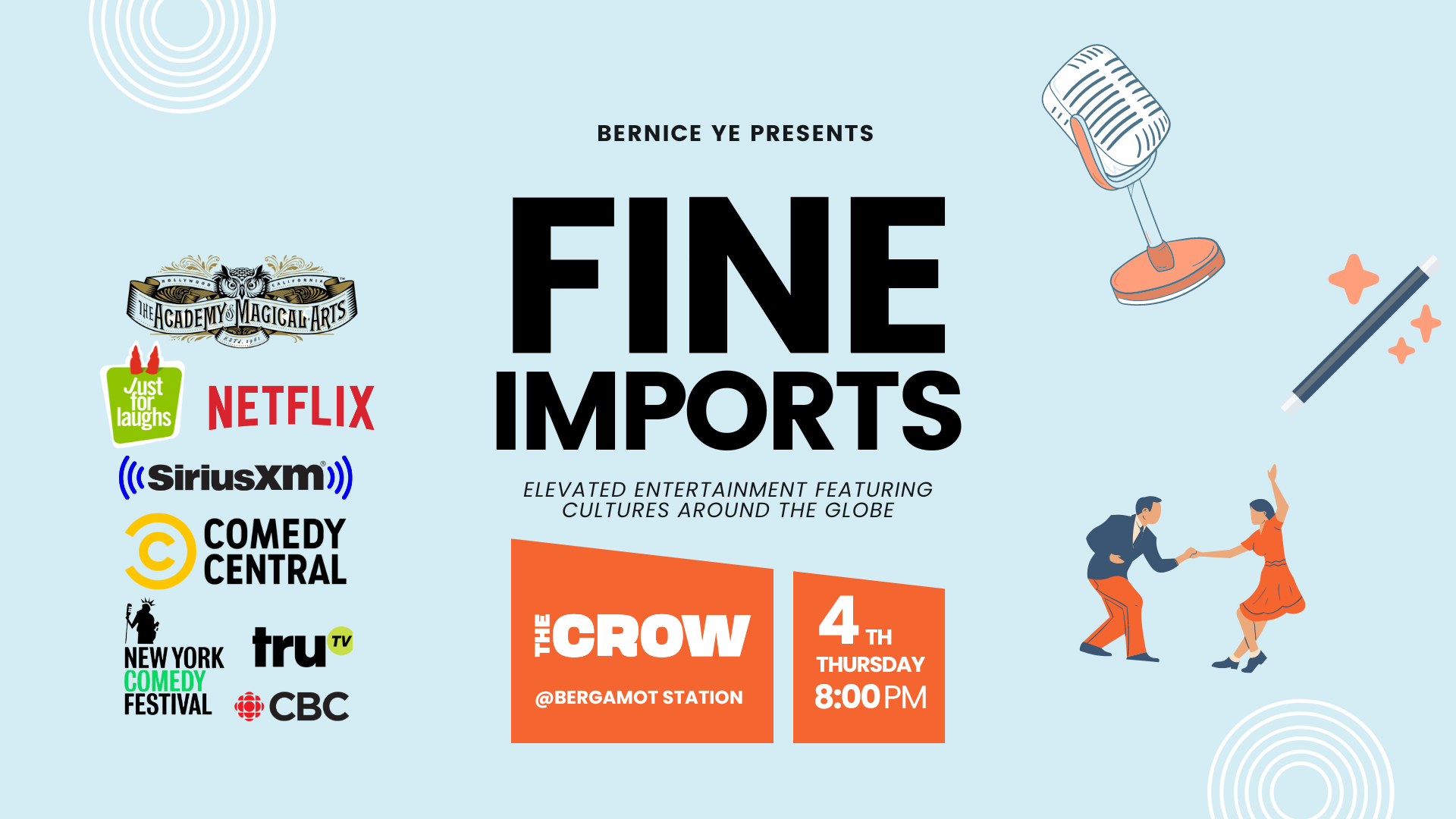 On January 26, 2023, Los Angeles-based stand up comedian Bernice Ye will launch her new monthly show, "Fine Imports" at The Crow in Santa Monica. Held on the fourth Thursday of every month, this special event will bring a unique blend of international comedy, dance and magic to the Santa Monica stage.
The Crow, a female-owned and operated comedy club, is located within the Santa Monica Bergamot Station Arts Center. After opening in June of this year, the club has since received an overwhelming amount of support and is known community-wide for its all-inclusive comedy.
Ye plans to bring elevated entertainment to the club by presenting amusing, zestful events featuring cultures from around the globe. The opening show's lineup includes magician Jonathan Molo and comedian Andrea Jin as headliners, with other guests including comedians Sean Grant and Andrew Orolfo, and comedian, actor, writer and producer Mary Basmadjian.
The premiere will be professionally catered with a custom, libation-based menu.
Jonathan Molo, the official magician of the nonprofit organization Rock'n Our Disabilities And Autism Eats, is globally known for his love for entertainment and his many philanthropic contributions.
He is the recipient of the IChange Nations Champion Leadership Award for his magical work in the special needs community and is a performer for the Academy of Magical Arts at the renowned Magic Castle in Hollywood, CA.
Molo most recently became a member of the prestigious Magic Circle in London,England, and continues to wow audiences with his magic and incredible talent, bringing hope and joy to the lives of those who experience his performances.
Los Angeles-based standup comedian and writer Andrea Jin was born in Shanghai and shares relatable, charming comedy about her life experiences as a young Asian Woman.
Jin recently made her late-night TV debut on The Late Late Show with James Corden and was selected as New Face at Just for Laugh's Montreal Festival in 2021.
She has also performed at JFL Northwest, SiriusXM Top Comic, Seattle International Comedy Competition, CBC's The Debaters, and the Winnipeg Comedy Festival. Her writing has been featured on Vice, CBC Comedy, and the Vancouver Sun among other publications.
"Fine Imports" presenter Bernice Ye has gained national recognition for her sharp wit and comedic timing. She has performed at the New York Comedy Festival, San Diego Comedy Festival, AV Comedy Festival, and Northwest Women's Comedy Festival, as well as clubs and theatres all over the west coast.
With "Fine Imports," Ye is bringing together some of the most exciting up-and-coming acts from outside of the United States.
She encourages fans to take a break from their day-to-day lives and enjoy the global comedy scene from within their own city. Her passion rests in bridging cultures and empowering immigrants through her humor and personal stories.
Bernice is faithful to her voice as a first-generation immigrant and is celebrated for her honesty, courage and hilarity.
"Fine Imports" event doors will open at 7:45 p.m. on January 26, 2023, and the show will officially start at 8:00 p.m. The first 30 attendees to purchase their tickets will receive a promotion code for discounted ticket prices.
Please visit the link below to purchase your tickets and to see if you are eligible for the early bird special:
Ticket link: https://jetbook.co/calendar/the-crow?event=fine-importsen37Promotion code: "tango"
To keep up with Bernice's adventures, follow her on social media or visit her website.
Website: www.berniceye.com
Instagram: https://www.instagram.com/bernicecomedy/
YouTube: https://www.youtube.com/c/BerniceYe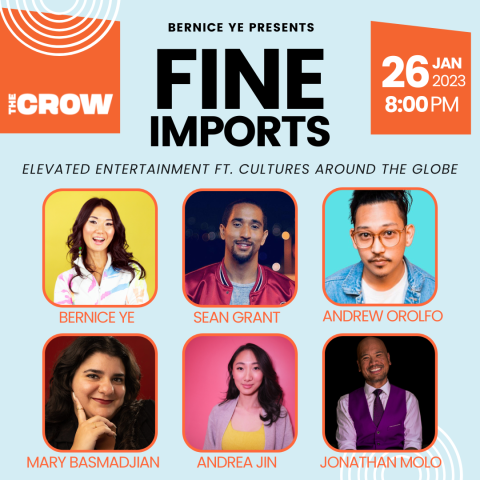 Media Contact
Company Name: ICT
Contact Person: Nolan Bellamy
Email: Send Email
Phone: 323 513-4804
Country: United States
Website: www.iconnectyou.today