A newly signed partnership between the Chulalongkorn School of Integrated Innovation (ScII) and the Sutardja Center for Entrepreneurship and Technology (SCET) of University of California Berkeley will furnish opportunities for Asian students to initiate start-up projects to innovate alongside Silicon Valley giants.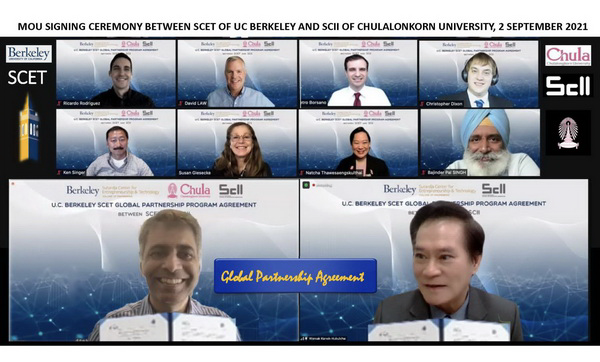 This partnership brings ScII students and faculty face-to-face with the Silicon Valley innovation ecosystem. In addition, they will participate in the Berkeley Method of Entrepreneurship Bootcamp, Silicon Valley Innovation Leadership Program, and Engineering Leadership Global Hybrid Program. Furthermore, the partnership facilitates the transfer of knowledge related to SCET teaching methodologies, such as Innovation Engineering and the Berkeley Method of Entrepreneurship (BMoE).
Signing the agreement on September 2, 2021, ScII Executive Director Professor Worsak Kanok Nukulchai invited SCET faculty members to offer online courses for ScII students as a customized course or to allow our students to take their courses online with credits transfer, which could lead to the development of an international online platform for all SCET's international partners.
We are pursuing a long-term partnership because ScII and Sutardja Center for Entrepreneurship and Technology share the same vision, Prof. Worsak noted. In his words, "We have the same passion and are two vital forces contributing to the sustainable future of humanity." Worsak also noted that both SCET and ScII are founding members of the League of Global Entrepreneurship Programs alongside MIT Legatum, Stanford University, Harvard University, Cambridge University, Mexico's Tecnológico de Monterrey, and several other higher education institutions.
"It is my pleasure to be part of this project, and I look forward to many new things we will develop together in addition to benefiting from this experience," said Dr. Ilkhlaq Sidhu, Director of SCET at UC Berkeley. "At SCET, students participate in a topic while it is still new and growing," Dr. Sidhu noted as he welcomed the partnership with ScII.
Chulalongkorn University Vice President for Strategic Planning, Innovation and Global Natcha Thawesaengskulthai noted that SCET's approach to education and building global innovation and entrepreneurship aligns with SCI's core disciplines and specializations. "This integrated critical approach to technology and entrepreneurial innovation jointly pursued by SCET and ScII should serve as a polestar for future endeavors," she added.
Susan L. Giesecke, Director of Global Engagement at SCET, welcomed the SCET-SCII partnership, stating that Chulalongkorn University is a highly regarded institution and that SCET's agreement with ScII portends to an excellent partnership. She added that students at ScII will have an opportunity to interact and engage with Silicon Valley innovators and UC Berkeley alumni.
The Sutardja Center for Entrepreneurship & Technology is the premier institution on the UC Berkeley campus for studying and practicing "technology-centric" entrepreneurship and innovation.
ScII is the newest school at Thailand's oldest and most prestigious university, Chulalongkorn University. The university currently offers a bachelor's degree program called the Bachelor of Arts in Science in Integrated Innovation (BASCii).
More info: https://scii.chula.ac.th/
Media Contact
Company Name: Chulalongkorn School of Integrated Innovation
Contact Person: Bajinder Pal Singh
Email: Send Email
Phone: +66 2218 3137
Country: Thailand
Website: https://scii.chula.ac.th/