Video Link: https://www.youtube.com/embed/jLaGR_0XRN8
Benetme (CEO Lee Young-eun), a fashion designer brand, has been on a rise by expanding its online and offline distribution networks. Selected as a new designer at the K Fashion Audition in 2019, the fashion brand has steadily opened its pop-up stores and entered into Amazon Japan. Recently, it has been actively expanding its brand by opening its own mall and entering into Naver Designer Window and Luce Rossi (luxury fashion select shop) as a first Korean designer brand.
Although the fashion industry is suffering from the recent COVID-19 crisis, Benetme is using the crisis as an opportunity by aggressively launching new products and expanding distribution networks. CEO Lee said: "Of course, it is true that the current situation is difficult and harsher than ever to a newly launched brand like us. Since exhibitions and fashion shows that we have prepared at the beginning of the year were canceled, there are no opportunities to introduce our brand through traditional promotional methods. I was anxious and frustrated because everything I had prepared seemed to disappear in a moment. But, I have to do something, so I prepared what I could do. I kept communicating with customers through social media service. I wanted to focus on what I can do rather than what I can't because I believed that branding is a kind of marathon race."
She also said that fortunately, we are currently receiving steady offers from various distribution channels, so we will focus on what we can do now.
As its core design philosophy, Benetme pursues to make clothes that are consistently loved over time, clothes that are faithful to the finish, clothes that seek splendor but do not stand out excessively, and clothes that have both simplicity and novelty through a mix-match combination of simple but color and material, and such concepts hit the fashion market.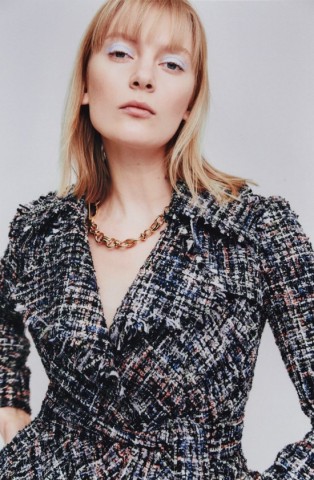 Benetme, which pursues French modern sensibility, is a brand that produces a good fashion combination of color and pattern. The fashion brand also presents a unique look that creates a stable feeling based on elegant and classic sensibility with colorful colors and materials. A small number of employees are in charge of design, product production, and even supply and fabric supply, and it has a small lineup of products. However, it is gradually expanding its range of product lines.
It is difficult to secure a new customer base because it is a new brand. However, there is a positive sign that the number of re-purchasing customers is increasing and the number of core customers who like the design is growing through word of mouth. Furthermore, the signature products have been steadily gaining popularity, including Dotted blouse & skirt, Poka Jacket, and Lollipop skirt. In addition, Chandelier Jacket and Baseball Jumper & Pants have been steadily loved despite off-season. Through the new distribution network in the second half of the year, it will be evaluated with a variety of products by more diverse consumers. Benetme is just the beginning.
Media Contact
Company Name: Benetme
Contact Person: Kim Tae Hyung, Hong Ji Woen
Email: Send Email
Phone: +82 2 556 0908
Country: Korea
Website: https://www.benetme.com/