November 16, 2023 – In a momentous event on the 5th of November 2023, the Chungbuk Regional Headquarters of the Korea Rural Community Corporation, led by Director Shin Hong-seop, hosted a significant bee farming event at Bee Land in Goesan, North Chungcheong Province. This bee return campaign, a pioneering initiative aimed at revitalizing beekeeping farms, saw the participation of about 40 notable attendees. Among them were National Assembly member Park Deok-heum, Chungcheongbuk-do Assemblyman Lee Tae-hoon, Goesan Deputy County Governor Ban Ju-hyeon, and Ban Hwa-byeong, the Chungbuk branch president of the Korean Beekeeping Association.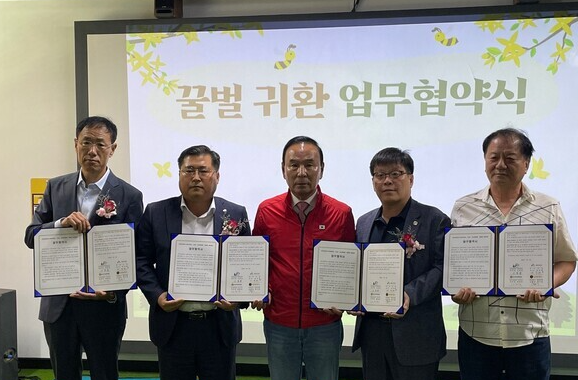 The event marked the first of its kind at a regional level, emphasizing the importance of the beekeeping industry in the area. Significant contributions were made during the event, including the planting of Hovenia trees, which serve as rest spots for bees, and the donation of 1,000 shares of wheat raw water. Additionally, beehives were donated and installed in Bee Land. A move aimed not only at boosting the productivity of bee farms but also at reducing the initial capital required for beekeeping, thus improving the income prospects for local beekeepers.
A highlight of the event was the 'Honey Donation Business Agreement Ceremony' conducted by the Chungbuk Regional Headquarters of the Korea Rural Community Corporation. This ceremony underscored a commitment to return the honey collected from the donated beehives back to the local community, fostering a sense of shared responsibility and community welfare.
Furthermore, this agreement brought together four key organizations: the Chungbuk Regional Headquarters of the Korea Rural Community Corporation, Goesan-gun, the Korea Beekeeping Association, and the Bee Land Cooperative. Together, they pledged mutual cooperation to support vulnerable members of the local community through the profits generated from the collectively harvested honey.
Director Shin Hong-seop, in his remarks, expressed gratitude for the participation and support at the bee return event. He emphasized the enduring commitment to the development of the beekeeping industry and the creation of a virtuous cycle of honey profits, which will continue to support the community's vulnerable segments. "Even though today's event ends, the honey bee return campaign will not," he stated, affirming the ongoing pursuit of constructive efforts in this arena.
The "Bees are Back" campaign at Goesan Bee Land represents a significant step towards revitalizing the beekeeping industry and reinforcing community ties. By combining environmental initiatives with socioeconomic support, this campaign sets a precedent for sustainable, community-focused agriculture and industry practices.
Media Contact
Company Name: Goesan Bee Land
Contact Person: Andy Hong
Email: Send Email
Country: South Korea
Website: www.goesanbeeland.com