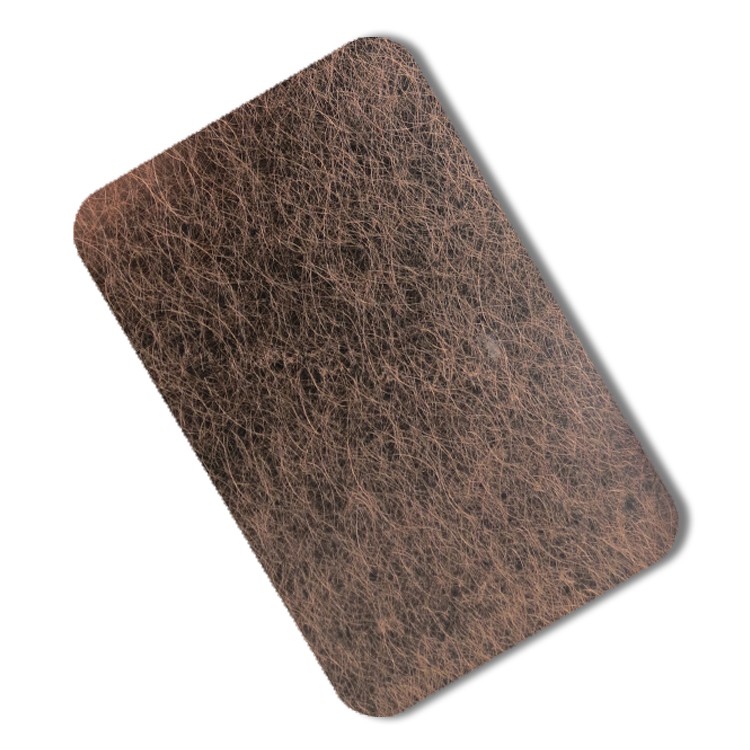 Foshan Hermdeco Steel Co., Ltd has a great number of uses in architectural, industrial, commercial and transportation application. decorative stainless steel sheet is not only based on the aesthetic appeal, which range from mirror, etching to patterns and so on, but also on the durability of the product and its high resistance to wear and scratching.
Brushed Stainless steel sheet is one of the most widely used decorative stainless steel sheet in people's daily life. From elevator to luxury shopping mall. Brushed stainless steel are widely applied. It can increase a clear and tidy feeling to visitors.
Classification of brushed stainless steel:
1. Short lined
Short lined brushed stainless steel sheet is more widely applied in elevators and kitchen equipment. The short lined surface will make small scratches not so obvious.
2. Hair lined
stainless steel sheet surface is similar with short lined, but the line is longer. The fabrication process is same with NO.4. After NO.4 short lined fabrication, if another fabrication process is applied, the line will become longer.
3. Hot rolled polishing stainless steel sheet

For hot rolled stainless steel sheet polishing, Shanghai Yieh United Corporation combined manual polishing with machinery polishing. Due to hot rolled stainless steel sheet is thicker and the surface is based on No.1. Its surface may not be as even as 2B effect; therefore, fully automatic polishing may not reach a ideal No.4 or No.6 effect.
After machinery polishing, hot rolled stainless steel sheet will be processed with manual polishing, which can make the uneven part polished; therefore, manual polishing is an unnecessary part for hot rolled stainless steel sheet polishing.
Decorative Stainless Steel Sheet (Coloured)
Colored stainless steel sheet are becoming more and more popular in the decrative areas. From elevator to door border. colored stainless steel sheet can show different decorative effect in different environment. Basically, three types of stainless steel are most widely processed into colors.
Etched Stainless Steel sheet is processed with different chemicals which will form different patterns. Different mold with chemicals can produce different patterns. It is widely used in art design environment.
It is widely used in table or kitchen tables. The width is normally 730mm, 750mm, and 810mm, and 1000mm. This kind of sheet is normally produced with different rolling process with pattern mold.
Media Contact
Company Name: Foshan Hermdeco Steel Co., Ltd
Email: Send Email
Phone: +86-757-29273045
Country: China
Website: https://www.hermessteel.net/