The four-part series will feature top experts in medical health, longevity technology, and entrepreneurship, with the aim of finding a lasting solution to aging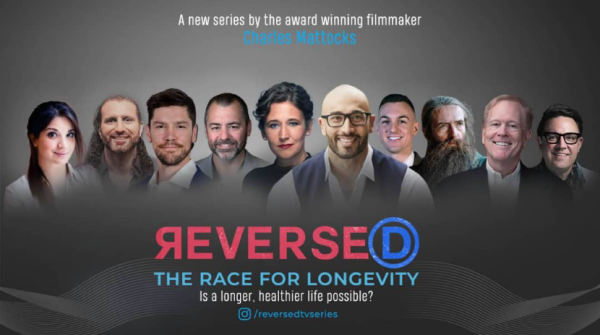 Tampa, Florida – September 25, 2023 – For centuries, the question of longevity and aging has been a major topic among people of different civilizations and cultures. Award-winning filmmaker, Charles Mattocks, is proud to announce the launch of their new docuseries, 'Reversed: The Race for Longevity. The four-part series will be aired on Discovery networks and many major OTT platforms.
Filmmaker Charles Mattocks is known for his work on many health topics like diabetes, cancer, and complex regional pain syndrome. He has teamed up with pioneers in the field of longevity and related courses such as Aubrey de Grey and longevity technology expert Dr. Nick Engerer. He will also be working with a team of scientific experts, entrepreneurs, and visionaries, including Professor Andrea Maier, Dr. Robert Lufkin, Nikolina and Gordan Lauc, Bradley Schurman, Dr. Nathan Bryan, Dr. Alan Graves, Dr. Kien Vuu, Rudy Inaba and Dr. Rafid Fadul.
The series will reveal surprising and dramatic changes in the way humanity will approach and think of longevity and aging, with the use of the latest in research, technology, and innovations in the field of longevity.
Through the adoption of a highly accessible format, involving real-life, everyday people interacting with longevity technologies, it aims to reach the masses with a message of hope and excitement.
In this series, Charles Mattocks focuses his attention on science, exploring the tough questions still outstanding about what we really know about aging. The series will also use available real-world data to back its surprising claims as it reveals how changes in nutrition, exercise, intermittent fasting and other tools can significantly contribute to living longer and healthier lives.
Charles has brought on some partners in the longevity space to help bring this project to life. Those partners include Cenegenics, GlycanAge, donotage.org, Pneuma Nitric Oxide and the Longevity Blog.
About the Producer
Charles Mattocks is a multi-talented award-winning filmmaker, Producer, published author and health advocate, known for his impactful work in the film industry and his unwavering commitment to promoting health and wellness. Charles has produced and directed several successful documentaries and television shows. His work has been featured on major networks such as NBC, PBS, WGN, Discovery, Cox, Pluto TV and has received critical acclaim for his groundbreaking work. Charles has appeared on shows such as Dr Oz, CNN, The Today Show, Good Morning America, and numerous other media outlets worldwide. Charles is a Blue Circle Champion for the International Diabetes Association and is a published author for the American Diabetes Association.
Charles has received numerous awards and accolades for his work as a filmmaker and health advocate. Through his work in the film industry and his tireless efforts to promote health and wellness, Charles has made a significant impact on the world and continues to inspire others to lead healthier, happier lives.
Learn more about Bella & Elle Media, please visit:
https://www.bellaandellemedia.com/ and Instagram
Media Contact
Company Name: Reversed
Contact Person: Brandi Kasperski
Email: Send Email
Phone: 4176711895
Country: United States
Website: https://www.bellaandellemedia.com