David Gatti, recent winner of the prestigious Merlin Award for "Best Magic & Illusions Europe," is bringing the joy and fun of seeing a magic show with friends and loved ones to homes across the world
Gatti, who has practiced his craft for over two decades across four continents and 50 countries, wants to increase the accessibility of his performances. As the COVID pandemic has made live entertainment near impossible to find, and social distancing regulations make it hard to build in-person memories, David innately understands that more than ever, people are looking to add a bit of mystery and magic to otherwise ordinary days. For this reason, David has created a new, collaborative virtual magic show.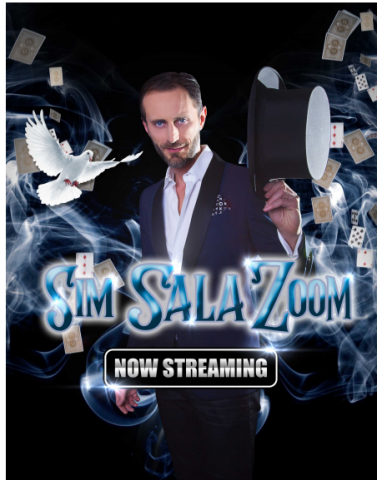 The goal of this show is to help others cope with the stress and difficulties of the pandemic. On an unprecedented scale, plans are changing, milestones are not being celebrated, and people are feeling lonely, stir crazy, and bored. Now, from the comfort of your home, you can view your own personal magic show. Streaming Live from his own Professional Studio, David tailors each show uniquely to his audience and every viewer will participate in the act. This show is perfect for groups of friends, family, or even coworkers who want to build special memories together while viewing a world-class magic act.
Before COVID, friends and family could go to a magic show, be entertained, and spend quality time with each other. David's magic show offers an amazing reason to bring people together for live entertainment at a time where such experiences are extremely rare. Because his goal is to inspire and entertain, his shows are special, intimate, and an amazing time for the whole family.
To learn more about David Gatti and experience a one of a kind, front-row VIP magic show, please visit the Official Website https://www.davidgatti.com.
About David Gatti
Master Magician David Gatti was born in Italy and began his career as a magician over 20 years ago. In those 20 years, he has mastered his craft, entertained people across the world, and has won prestigious awards. Thanks to his dedication to his audience, David's acts are constantly evolving to ensure that as many people as possible can experience the magic.
Media Contact
Company Name: Davidgatti.com
Contact Person: David Gatti, Master Magician
Email: Send Email
Phone: 929 265 1678
Address:#370 2510 E. Sunset Rd. Ste 6
City: Las Vegas
State: Nevada 89120
Country: United States
Website: http://www.davidgatti.com/