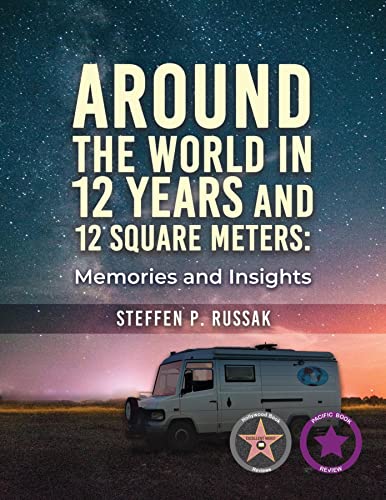 A Heartwarming Tale of Love, Adventure, and Inspiration.
Step into the world of Steffen Russak, a man who chose to live his dream of traveling the world with his wife Marianne, in a tiny camper van measuring only 12 square meters. Their journey took them to 45 countries and 5 continents, where they immersed themselves in different cultures and gained valuable insights into life.
But this book is not just about travel; it's a touching tribute to Marianne, who lost her life to breast cancer after 55 years of marriage. Through his writing, Russak honors his beloved wife and their adventurous spirit, encouraging readers to embrace life and live to the fullest.
With vivid descriptions and stunning photos, "Around the World in 12 Years and 12 Square Meters" is a captivating read that will transport you to the most beautiful and remote corners of the world. Russak's storytelling is both engaging and thought-provoking, inviting readers to reflect on their own life journeys and the lessons they have learned.
Whether you're a seasoned traveler or someone who dreams of exploring the world, this book is for you. Join Steffen Russak on his unforgettable adventure and discover the beauty of living life on your own terms.
Get your copy of "Around the World in 12 Years and 12 Square Meters: Memories and Insights" now, available on Amazon.
About Author's Tranquility Press
Author's Tranquility Press is a top publicity agency known for delivering innovative solutions designed to help writers across genres to reach a wider audience. The company combines the use of the latest technologies and the expertise and diverse experience of the team to provide quality, relatable content to as many people as possible, irrespective of their location across the globe.
Media Contact
Company Name: Author's Tranquility Press
Contact Person: Patricia Adams, Marketing Supervisor
Email: Send Email
Phone: (866) 411-8655
Address:3800 CAMP CREEK PKWY SW BLDG 1400-116 #1255
City: Atlanta
State: Georgia, 30331
Country: United States
Website: www.authorstranquilitypress.com