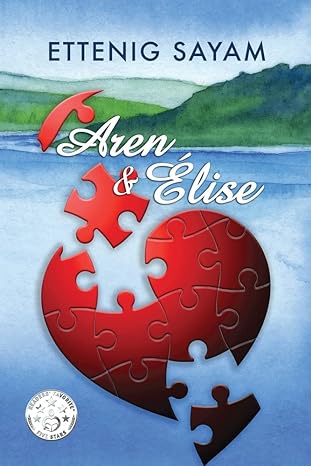 A Timeless Tale of Love, Transformation, and Spiritual Intimacy
In a world where love is often associated with youth, "Aren & Élise" by Ettenig Sayam invites readers to explore the profound depths of passionate love in the second act of life. Can a mature woman undergo a transformation as profound as a caterpillar becoming a butterfly? Is intimacy truly a spiritual journey? This modern retelling of the biblical story of Abraham and Sarah takes us on a captivating exploration of these questions and more.
At the heart of this enchanting narrative are two captivating characters: Aren Karajian, a widowed sixty-two-year-old solar technology engineer hailing from Armenia, and Élise Douchet, a fifty-year-old French teacher at a Boston prep school with roots in Montreal, Canada, as well as French Saint Martin and Haiti. Élise grapples with the milestone of turning 50 by embarking on a hiking retreat in the picturesque landscapes of Vermont. It is during this journey that fate intervenes, leading her to a chance encounter with Aren.
Their story unfolds with a tumble during a morning hike, leading Aren to the realization that the grey-haired woman he rescues possesses an undeniable striking and exotic allure. In that moment, smitten by her grace and charm, he embarks on a dogged pursuit that ignites a sultry romance and sets the stage for a miraculous transformation.
Yet, amidst the passionate love that blossoms between them, questions loom. Can a miracle of such magnitude disrupt the established rhythms of life and challenge the bonds of their relationship? Just as in the Boston Marathon, where runners must conquer Heartbreak Hill to reach the finish line, Aren and Élise are faced with their own trials and tribulations.
Join Aren and Élise on their profound journey, where they navigate the complexities of love, transformation, and the spiritual dimensions of intimacy. In the choices they make, readers will find inspiration and contemplation on the essence of life, commitment, and the enduring power of love.
About the Author:
Ettenig Sayam, the brilliant mind behind "Aren & Élise," is a seasoned storyteller with a unique ability to breathe life into characters and narratives that resonate with the human experience. A lifelong advocate of the written word, Ettenig embarked on a journey to create stories that transcend time, age, and boundaries.
With "Aren & Élise," Ettenig presents a work that defies convention, inviting readers to embrace the idea that love knows no age, that transformation is a constant possibility, and that intimacy can be a profound spiritual journey. This book is a testament to Ettenig's creativity and the depth of emotion that can be captured through storytelling.
Ettenig Sayam's storytelling prowess is matched only by a keen understanding of the intricacies of human relationships and the dynamics of love. Through characters like Aren and Élise, Ettenig weaves a narrative that delves deep into the human soul, offering readers a chance to connect with the universal themes of love, transformation, and the enduring quest for meaning.
"Aren & Élise" is more than a love story; it's a reflection of Ettenig Sayam's passion for literature and the power of words to touch hearts and inspire change. With this book, Ettenig invites you to embark on a journey of self-discovery and rediscover the beauty of love, regardless of the stage of life you find yourself in.
Discover the transformative journey of Aren and Élise published by Bookside Press and the author's unique storytelling talent. Dive into "Aren & Élise" by Ettenig Sayam, available now on Amazon. Visit her website at ettenigsayam.com and her social media accounts; (twitter, YouTube, facebook and Instagram) at Ettenig Sayam.
About Author's Tranquility Press
Author's Tranquility Press is a top publicity agency known for delivering innovative solutions designed to help writers across genres to reach a wider audience. The company combines the use of the latest technologies and the expertise and diverse experience of the team to provide quality, relatable content to as many people as possible, irrespective of their location across the globe.
Media Contact
Company Name: Author's Tranquility Press
Contact Person: Patricia Adams, Marketing Supervisor
Email: Send Email
Phone: 8664118655
Address:3800 CAMP CREEK PKWY SW BLDG
City: Atlanta
State: GA
Country: United States
Website: www.authorstranquilitypress.com/