"Student Success Secrets" is the book every teen must read before going to college to help create a mindset for success.
New Orleans, LA – May 11, 2021 – For authors Rahz and Michele Slaughter, writing "Student Success Secrets: Unlock The 7 Secrets for Developing Inspired, Motivated, and Success-Driven Teens" was something they knew was needed, and they wished they knew this information before they attended college. Rahz Slaughter says, "The teenage years are very difficult for most teens. Navigating those years without guidance and a roadmap has proven to be even more challenging during a pandemic. The seven secrets give teens the tools, and strategies to deal with disappointment, set positive goals, and how to take action on creating success in school, athletics, and in life." What makes Rahz unique is he barely graduated high school and was labeled disabled at birth. He was born with no right quadricep or hamstring muscle. This creates a 3.5-inch length difference between his right and left leg. Rahz and Michele had very different upbringings but faced similar challenges in school because they lacked confidence and self-esteem. Rahz says, "These seven secrets helped change our adult lives." Rahz has been overcoming obstacles his entire life and to become a teen performance coach and author is a true turnaround story.
EARLY REVIEWS
They say experience is the best teacher, and the challenges that Rahz and Michele have overcome are truly inspiring. The 7 success secrets revealed in this book will improve your life as they have for so many others, myself included. I feel fortunate to pass on these priceless life lessons to my teenage kids today because I wish they were shared with me growing up. With so many young people struggling in this confusing social media world we live in; this book is a must-read for success-driven students. – Ron Douglas, NY Times Best Selling Author
Congrats on your powerful book Student Success Secrets. I loved the many quotes and stories you shared to illustrate each key point you made. Most of all, your individual stories resonated with me. If I were still the principal of Wheatley I would make your book required reading for everyone, students, and staff. – Rick Simon, Retired Principal – The Wheatley School, New York
Student Secrets is a thoughtfully and well-written motivational guide for people of all ages, but its success at speaking to its target young readers is beautifully executed! This Book should be utilized in every household and school! This book teaches young people what success really means, the value of planning for success, strategies for overcoming obstacles and how to grow from perceived failures and many other important lessons and tips for navigating through the dreaded teen years. Most importantly, it aims to teach teens that no matter where you begin life or wherever you come from, success is attainable when you put your mind to it and utilize the 7 secrets from this book. This book is written from the heart and based on the experiences of its authors Rahz and Michele and many other incredible people, which makes it both relatable and a very useful tool. this book is made for every teen, it does not discriminate. – Lorna duPlooy – South Florida, Mother of 3
As a youth motivational speaker for many years, I've found that the thing missing in the lives of our youth are life skills such as goal setting, managing emotions, and knowing how to make better choices. Student Success Secrets by Rahz and Michele Slaughter is a great book that incorporates all this with personal stories and anecdotes of notable successful people that will inspire, motivate, and connect with students so they can obtain success on their terms. I strongly recommend this book and love the questions used to help engage the reader to dive into the contents of the book. – Geo Derice – Author, Speaker, Entrepreneur
After reading this incredible book, I found myself reevaluating my "Why" and "Beliefs." This book which was meant to help teens push through their fears, barriers and self-doubt has actually helped me recognize these things within myself as an adult. Student Success Secrets by Rahz and Michele Slaughter gave me the strength, courage, and tools I needed to push further in order to begin to live a better life where I can attack my goals more realistically and with confidence. I highly recommend this book to all parents, educators and anyone who wants to obtain success. – Charles Harvell Jr. – NYPD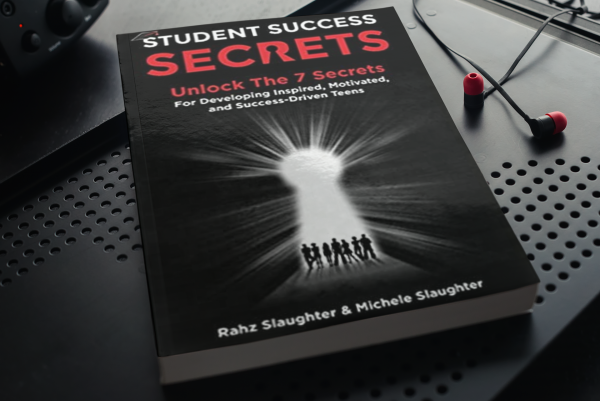 About the Authors
Rahz is a 20+ year fitness coach and peak performance specialist, disabled bodybuilder, and entrepreneur. Rahz has dedicated his life to helping people get motivated and create change in their lives by breaking through limiting beliefs and confidence challenges. Michele is a NYU graduate, Senior Accountant, and mother of two amazing boys. Michele has always had a passion for writing and being creative.
Media Contact
Company Name: AAPH Press Distribution, LLC
Contact Person: Rahz and Michele Slaughter
Email: Send Email
Phone: 800-509-9383
Address:1231 Williams Blvd
City: Kenner
State: LA
Country: United States
Website: www.rahzslaughter.com