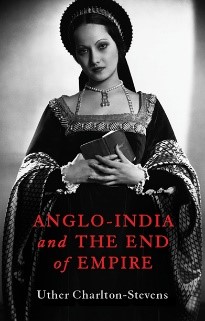 Authored by Uther Charlton-Stevens. Hurst Publishers, UK, and Oxford University Press, USA, co-published the book in September and December 2022, respectively.
"Anglo-India and the End of Empire" presents a historical account of the end of British rule in India through Anglo-Indian eyes.
New York, NY, USA – December 13, 2022 – Fewhistory books capture key historical moments as well as "Anglo-India and the End of Empire", authored by Uther Charlton-Stevens. Hurst Publishers, UK, and Oxford University Press, USA, co-published the book in September and December, 2022, respectively, and South Asian rights with Harper Collins India. The book is available from amazon.com and amazon.co.uk and international bookstores including Bookazine and VIBE in Hong Kong. The eldest of four siblings, Charlton-Stevens arrived in Hong Kong at age two. Charlton-Stevens says, "I have always had a love of history, nurtured by stories told by my Anglo-Indian grandmother, a Major in the Women's Auxiliary Corps (India) during WW2, which I would listen to late into the night and which are the greatest inspiration for this book."
"Anglo-India and the End of Empire," brings to life the history of a community of mixed European and Indian descent, earlier known as Eurasians, whose story was never properly told by Indian and British historians; a community which later settled in Britain, Australia, Canada, New Zealand, and to a lesser extent, the US. Although active and resilient in India (even with the loss of some minority rights, circa 2019), within this global diaspora there is a sense that, due to recent intermarriage and integration, Anglo-Indian culture may vanish, and along with it the memory of a vibrant and colorful group who punched far above its weight in Hollywood and the global music industry as well as in Indian national life. The book vividly tells stories of mixed-race individuals racially passing as white in order to succeed in India and on the global stage, whilst providing a comprehensive social and political history of the Anglo-Indian community during the late colonial era throughout the tumultuous changes giving rise to the nations of India and Pakistan in 1947.
Comparisons between the Hollywood film careers of Anna May Wong and Merle Oberon provide an attractive and fascinating entry into a work which reaches into US history, especially the transatlantic eugenics' movement, and Cedric Dover's relations with prominent African Americans like W. E. B. Du Bois. Essential reading for people interested in issues of color and race, of passing, and of comparisons between US history and mixed-race history in other settings, it also enlarges the conversation about colonialism and empire. The issues of colorism within the African American community and of racial passing in particular and of differing skin color among siblings in mixed families are becoming more visible in America and are tackled in depth in relation to Anglo-Indians, in a distinct, but instructive, historical setting with its own socioracial hierarchies.
Testimonials
"Uther Charlton-Stevens describes in unparalleled detail the political and social circumstances of the Anglo-Indian community in India. An innovative, informative and distinctive work." — David Arnold, Emeritus Professor of History, University of Warwick, and author of Pandemic India
"A significant contribution to the extensive and growing body of historical literature about the late British Raj period." — Michael H. Fisher, Robert S. Danforth Professor of History, Emeritus, Oberlin College, and author of Counterflows to Colonialism: Indian Travellers and Settlers in Britain 1600–1857
"As this ambiguous, hybrid Anglo-Indian identity is stretched to breaking point, we get a valuable insight, available from no other position, into what was at stake in the racial categories of the Empire. Original, fascinating, and gripping." — Benjamin Kingsbury, author of An Imperial Disaster: The Bengal Cyclone of 1876
"Uther Charlton-Stevens provides a rich history of the Anglo-Indian community, people of both Indian and British heritage, and explains why this small but important community deserves a greater focus… a tightly-written but highly informative historical summary of how this community has historically been overlooked or under-analyzed in traditional annals of Indian history. He makes a compelling case for why the study of this community, which has been at the centre of so many key aspects of recent Indian history, is important if we want to better understand India's past and present. This is a comprehensive and reflective history…" — Maximillian Morch, author of By the Way of the Border: Travels Around the Frontiers and Beyuls of Nepal
About the Author

Born in London, Uther Charlton-Stevens, grew up in Hong Kong, attending Peak School and Island School, before proceeding to Mansfield College, Oxford, for his first degree, followed by a Master of Science from LSE, and a DPhil (PhD) from St Edmund Hall, Oxford. His previous book, Anglo-Indians and Minority Politics, was published by Routledge for the Royal Asiatic Society, of which he is a Fellow. From a mixed-race family in Bangalore who emigrated to Britain in the 1950s, Uther's Anglo-Indian father was born in Ferozepore, Punjab, during the last days of British India.
www.facebook.com/uthercs & www.facebook.com/angloindianhistory
Twitter @uthercs
whatsapp/cell: (+852)54981572
Country: Hong Kong SAR
Media Contact
Company Name: AAPH Press Distribution, LLC
Contact Person: Maximilian Dier & FinTale Media
Email: Send Email
Phone: 951-234-1620
Address:1231 Williams Blvd
City: St. Louis
State: MO
Country: United States
Website: www.facebook.com/uthercs