Charles Perry has been training voices for over 20 years and is also a BET Music Matters artist.
His talent has graced him to work with artists such as Stephanie Mills, R&B Legend Regina Belle, Grammy and Oscar award winner Lisa Fischer, Karen Clark, Tye tribbett, Sheila E, Tramaine Hawkins, Cissy Houston, Pastor Shirley Caesar and also Luther Vandross, Michael Jackson the King of Pop, Whitney Houston, Enrique Iglesias, Marc Anthony Deborah Cox, Usher Raymond and many more.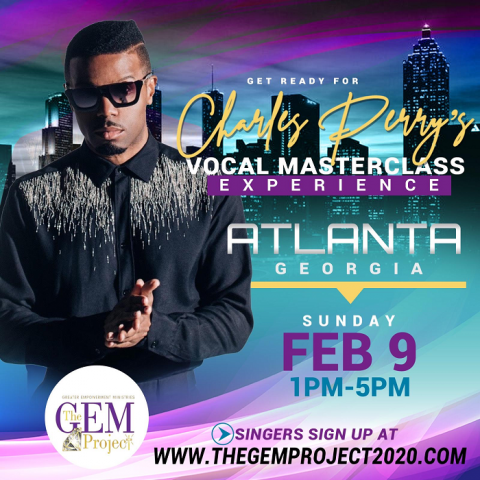 His vocal master classes are held across the United States and worldwide.
He teaches excellence, perfection, precision, projection, technique, tone, depth, fearlessness, confidence, breaking barriers and insecurities. He enhances the vocals of every student that comes into his presence regardless of their natural capabilities. People flock in their hundreds and thousands to come and be a part of his life changing workshops.
The Greater Empowerment Movement fosters partnerships that ehance the growth of every believer spiritually, naturally and financially.
Centrally Located In the Heart of Atlanta this is sure to be a dynamic vocal worship experience!
Coming up SUNDAY, FEBRUARY 9TH, 2020 – FROM 1PM-5PM
You don't want to miss the opportunity of a lifetime to Enhance, Groom, and cultivate your vocal abilities!! All age ranges are welcome to come and join!!!
IF YOU would like to join the "Vocal Masterclass" – On SUNDAY, FEBRUARY 9TH, 2020 – 1PM-5PM
Sign up today you can email us at the email listed below:
IT'S GOING TO BE A DAY TO REMEMBER! Register @ www.thegemproject2020.com
Contact:
Deedria Chauntee
Thegemproject2020@gmail.com
Media Contact
Company Name: The Gem Project
Contact Person: Deedria Chauntee
Email: Send Email
Phone: 678 221 1911
Country: United States
Website: www.thegemproject2020.com