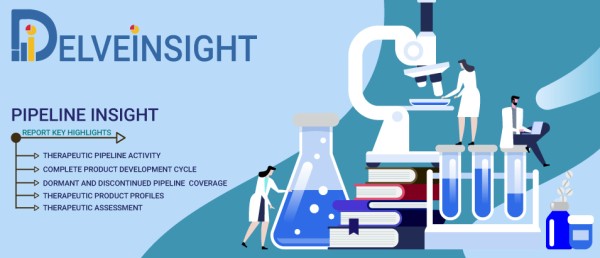 Asthma pipeline constitutes 100+ key companies continuously working towards developing 100+ Asthma treatment therapies, analysis of Clinical Trials, Therapies, Mechanism of Action, Route of Administration, and Developments analyzes DelveInsight.
Asthma Overview
Asthma is a chronic disease that affects the airways. It is characterized by inflammation and spasm of the airways. The airways are tubes that carry air in and out of the lungs. If a person has asthma, the inside walls of the airways become sore and swollen. The air passages in the lungs become narrow due to inflammation and tightening of the muscles around the small airways. This causes asthma symptoms: cough, wheeze, shortness of breath, and chest tightness. The diagnosis and management of Asthma is challenging and complex, and requires the expertise of interprofessional team members who are familiar with all aspects of its evaluation and treatment.
"Asthma Pipeline Insight, 2022″ report by DelveInsight outlines comprehensive insights into the present clinical development scenario and growth prospects across the Asthma Market.
The Asthma Pipeline report embraces in-depth commercial and clinical assessment of the pipeline products from the pre-clinical developmental phase to the marketed phase. The report also covers a detailed description of the drug, including the mechanism of action of the drug, clinical studies, NDA approvals (if any), and product development activities comprising the technology, collaborations, mergers acquisition, funding, designations, and other product-related details.
Some of the key takeaways from the Asthma Pipeline Report:
Companies across the globe are diligently working toward developing novel Asthma treatment therapies with a considerable amount of success over the years. Asthma Key players such as – Tarus therapeutics, Aslan Pharmaceuticals, Landos Biopharma, KeyMed Biosciences, Hoffman-La-Roche, Chia Tai Tianqing Pharmaceutical, Kinaset therapeutics, Akeso Biopharma, Sterna Biologics, Aldeyra Therapeutics, T-Balance therapeutics, Avillion LLP, GlaxoSmithKline, AstraZeneca, and others, are developing therapies for the Asthma treatment
Asthma Emerging therapies such as – A2BR inhibitors, ASLAN004, LABP-73, CM326, RG6314, TQC2731, KN-002, AK120, SB010, ADX-629, Tregalizumab, PT027, GSK3511294, BGF MDI, and others are expected to have a significant impact on the Asthma market in the coming years.
In December 2018, Avillion initiated a randomized, double-blind, multicenter, parallel-group, variable-length study to compare 2 doses of BDA MDI (PT027) with AS MDI (PT007) on the time to first severe asthma exacerbation in adult, adolescent, and pediatric subjects with moderate to severe asthma
In January 2020, Avillion initiated a multicenter, randomized, double-blind, single-dose, placebo-controlled, 2-period, crossover study to evaluate the efficacy and safety of budesonide/albuterol metered-dose inhaler (BDA MDI/PT027) as compared with a placebo metered-dose inhaler (placebo MDI) on exercise-induced bronchoconstriction (EIB) in adult and adolescent subjects with asthma
In December 2021, Akeso Biopharma Co. Ltd. initiated a Phase II randomized double-blind, placebo-controlled, multi-center trial. The trial is being conducted across 19 locations. The primary objective of the study is evaluate the efficacy and safety of AK120 in the treatment of subjects with moderate-to-severe asthma
Asthma Pipeline Therapeutics Assessment
Asthma Assessment by Product Type
Asthma By Stage and Product Type
Asthma Assessment by Route of Administration
Asthma By Stage and Route of Administration
Asthma Assessment by Molecule Type
Asthma by Stage and Molecule Type
DelveInsight's Asthma Report covers around 100+ products under different phases of clinical development like
Late-stage products (Phase III)
Mid-stage products (Phase II)
Early-stage product (Phase I)
Pre-clinical and Discovery stage candidates
Discontinued & Inactive candidates
Route of Administration
Emerging Asthma Drugs Under Different Phases of Clinical Development Include:
A2BR inhibitors: Tarus therapeutics
ASLAN004: Aslan Pharmaceuticals
LABP-73: Landos Biopharma
CM326: KeyMed Biosciences
RG6314: Hoffman-La-Roche
TQC2731: Chia Tai Tianqing Pharmaceutical Group
KN-002: Kinaset therapeutics
AK120: Akeso Biopharma
SB010: Sterna Biologics
ADX-629: Aldeyra Therapeutics
Tregalizumab: T-Balance therapeutics
PT027: Avillion LLP
GSK3511294: GlaxoSmithKline
BGF MDI: AstraZeneca
Asthma Pipeline Analysis:
The Asthma pipeline report provides insights into
The report provides detailed insights about companies that are developing therapies for the Asthma treatment with aggregate therapies developed by each company for the same.
It accesses the Different therapeutic candidates segmented into early-stage, mid-stage, and late-stage of development for Asthma Treatment.
Asthma key companies are involved in targeted therapeutics development with respective active and inactive (dormant or discontinued) projects.
Asthma Drugs under development based on the stage of development, route of administration, target receptor, monotherapy or combination therapy, a different mechanism of action, and molecular type.
Detailed analysis of collaborations (company-company collaborations and company-academia collaborations), licensing agreement and financing details for future advancement of the Asthma market.
The report is built using data and information traced from the researcher's proprietary databases, company/university websites, clinical trial registries, conferences, SEC filings, investor presentations, and featured press releases from company/university websites and industry-specific third-party sources, etc.
Further Asthma product details are provided in the report. Download the Asthma pipeline report to learn more about the emerging Asthma therapies
Asthma Pipeline Market Drivers
Increasing prevalence of asthma worldwide
R&D focus towards developing novel therapies for asthma
Increasing healthcare expenditures
Asthma Pipeline Market Barriers
High cost of asthma medications
Inadequate knowledge/ Less awareness in under-emerging economies
Lack of effective and proven therapies for asthma
Get a Free Sample PDF Report to know more about Asthma Pipeline Assessment
Scope of Asthma Pipeline Drug Insight
Coverage: Global
Key Asthma Companies: Tarus therapeutics, Aslan Pharmaceuticals, Landos Biopharma, KeyMed Biosciences, Hoffman-La-Roche, Chia Tai Tianqing Pharmaceutical, Kinaset therapeutics, Akeso Biopharma, Sterna Biologics, Aldeyra Therapeutics, T-Balance therapeutics, Avillion LLP, GlaxoSmithKline, AstraZeneca, and others
Key Asthma Therapies: A2BR inhibitors, ASLAN004, LABP-73, CM326, RG6314, TQC2731, KN-002, AK120, SB010, ADX-629, Tregalizumab, PT027, GSK3511294, BGF MDI, and others
Asthma Therapeutic Assessment: Asthma current marketed and Asthma emerging therapies
Asthma Market Dynamics: Asthma market drivers and Asthma market barriers
Request for Sample PDF Report for Asthma Pipeline Assessment and clinical trials
Table of Contents
| | |
| --- | --- |
| 1 | Asthma Report Introduction |
| 2 | Asthma Executive Summary |
| 3 | Asthma Overview |
| 4 | Asthma- Analytical Perspective In-depth Commercial Assessment |
| 5 | Asthma Pipeline Therapeutics |
| 6 | Asthma Late Stage Products (Phase II/III) |
| 7 | Asthma Mid Stage Products (Phase II) |
| 8 | Asthma Early Stage Products (Phase I) |
| 9 | Asthma Preclinical Stage Products |
| 10 | Asthma Therapeutics Assessment |
| 11 | Asthma Inactive Products |
| 12 | Company-University Collaborations (Licensing/Partnering) Analysis |
| 13 | Asthma Key Companies |
| 14 | Asthma Key Products |
| 15 | Asthma Unmet Needs |
| 16 | Asthma Market Drivers and Barriers |
| 17 | Asthma Future Perspectives and Conclusion |
| 18 | Asthma Analyst Views |
| 19 | Appendix |
| 20 | About DelveInsight |
Download Sample PDF Report to know more about Asthma drugs and therapies
Media Contact
Company Name: DelveInsight Business Research LLP
Contact Person: Gaurav Bora
Email: Send Email
Phone: 9193216187
Address:304 S. Jones Blvd #2432
City: Las Vegas
State: Nevada
Country: United States
Website: https://www.delveinsight.com/