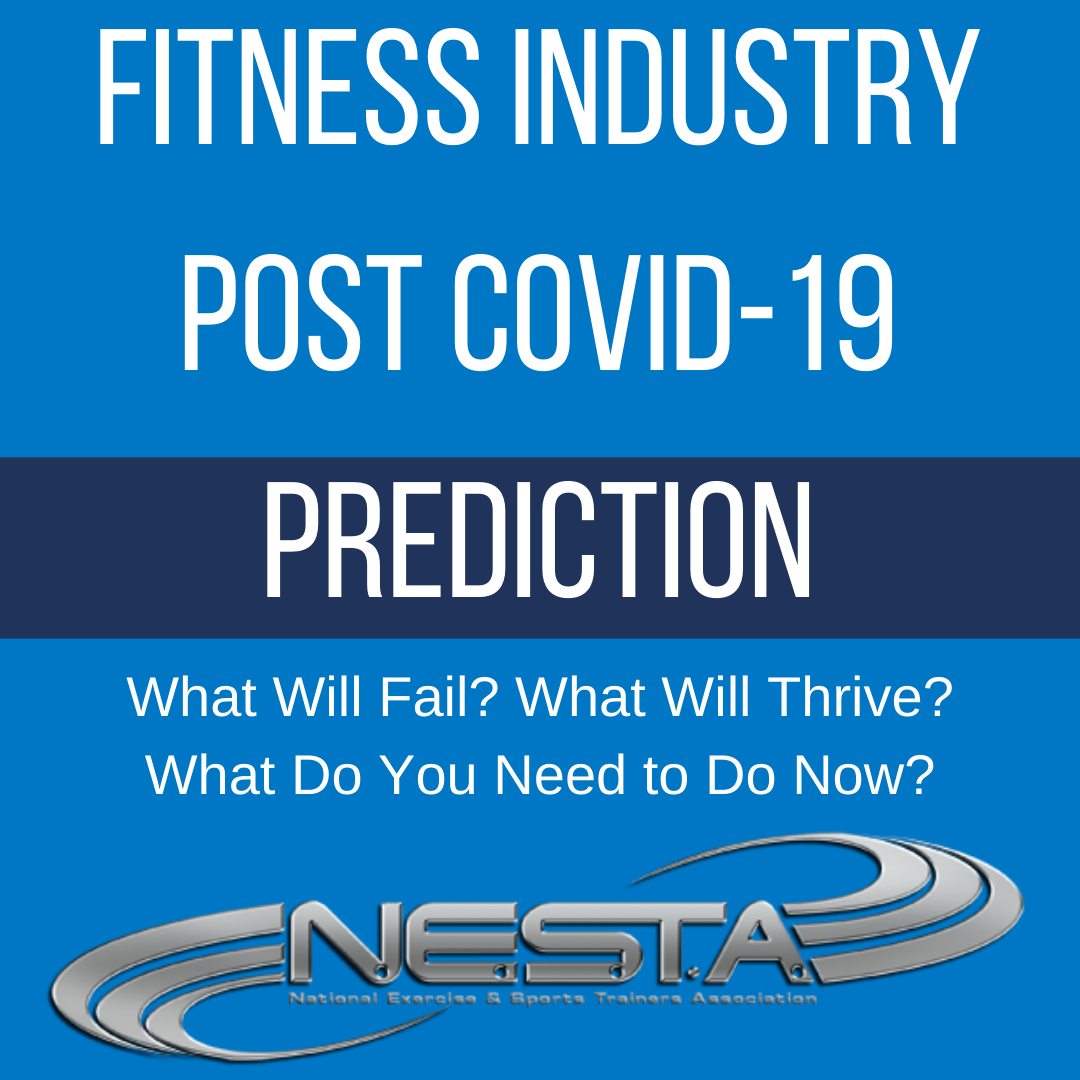 NESTA, fitness association Releases its prediction out for the Covid-19 impact on the fitness industry.
May 04, 2020 – NESTA, National Exercise & Sports Trainers Association releases its Official Predictions for the Post Covid-19 Fitness Industry. The fitness industry like other industries such as travel and tourism is undergoing a dramatic change in how organizations and businesses conduct their day to day operations, but the big question who would have thought big changes like this will come into play in 2020?
NESTA on its official website takes a critical look at the future of the fitness industry with a detailed explanation on various business models, such as small box gyms, fitness franchises, big-box gyms models online personal training models, and hybrid models. Fitness professionals and gyms can use any of these to ameliorate the effect of the pandemic and possibly adopt a suitable one, to have a sustainable business.
While there are no, one-size-fits-all solution, It seems what's old is fast becoming new. Trainers can reinvent themselves with some olds school way of doing things, couple with some tech stacks, and add a new twist to their fitness business.
There's a new rebirth of personal training, being certified Personal Fitness Professional is fast becoming a thing again more than before. This is one of the core valuable skills and will always be a skill fitness professional should possess.
Being a personal trainer is the fundamental of doing anything, while there is a need for specialized equipment in some cases, without a doubt, is the foundation for everything even before a machine or gym.
Coupled with the growing internet traffic, a key take away is delivering online coaching and training services as a certified personal trainer. As personal trainers can quickly set up their business with minimal space and investment and start working from home.
As seen before and during the pandemic, video communication company such as Zoom became ranked the fastest-growing app in the enterprise market. Apps like house party experiencing a surge in usage, this tells a story, a lot of traditional meetings are turning to the internet to catch up, and fitness pros can quickly move, on this trend and boost their business.
For more information and how to become part of profitable personal trainers working from home, visit https://www.nestacertified.com/fitness-industry-2020-predictions/
Media Contact
Company Name: NESTA
Contact Person: Michelle Adams
Email: Send Email
Phone: 949-589-9166
Country: United States
Website: http://nestacertified.com