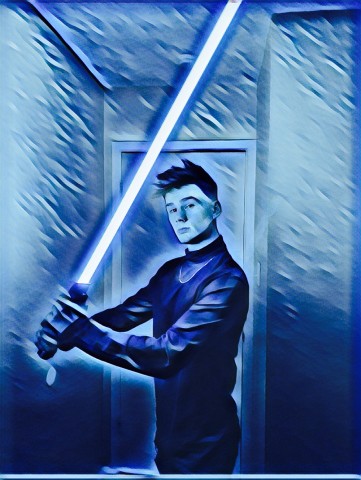 Originally from Minneapolis, Minnesota, Wyatt AKA Skib is a talented young artist, currently based in Los Angeles. He is half Ojibwe and half white which reflects well in both his personality and music.
The first track of his upcoming album "Social Butterfly" is "Surface" that was released on March 31, 2020. As for now, only the audio of the song is available on leading platforms like Apple Music and Spotify, and the video will also be out shortly. But the feather in the cap for this album is the recently released track "MPLSWTF", which is the direct statement on the murder of George Floyd, which took place in the artist's home city, Minneapolis. As his precious city of Minneapolis burns, it is a hard time for him, as he is left alone in LA, while his friends are protesting and rioting.
In the intro of the track "MPLSWTF", Skib's father's voice can be heard telling him about the fire in the city. With this track, he wants to tell the world about his emotions on the situation blatantly, without any filter. "MPLSWTF" is a track that will always be very close to Skib's heart.
"I've been performing for my whole life. I sang a song at my grandmother's funeral and also at my dad's wedding. But I did not take it seriously until I Graduated High school in 2016. With the money, I got from Graduation I built my studio at my brother's house. Instead of spending money on college, I decided to spend my money on myself and my music. From there came my first project, 'The SKIB project' which is 7 songs of just introspective madness", says the artist talking about his musical journey so far.
Skib likes to describe his music style as "SKIB", which is random, creative, and spontaneous. The music created by him is what defines his personality – Risk-taking, lively, and free. He draws inspiration from the likes of Kendrick Lamar, J Cole, and Mac Miller. He identifies his music with that of Mac Miller a lot and feels that all his emotions and feelings are a fair game for his music. He doesn't like to confine his music to any particular genre and believes in writing what he feels like.
Skib sends a message to his fans to be prepared for the release of his complete album "Social Butterfly" as it will be nothing short of spectacular. He is working hard now, more than ever, and promises his fans to offer nothing but the best music.
Listen to the tracks "Surface" and "MPLSWTF" now on Spotify.com.
Media Contact
Company Name: SKIB BRAND
Contact Person: Skib
Email: Send Email
Phone: 7635685126
Country: United States
Website: Skibbrand.com