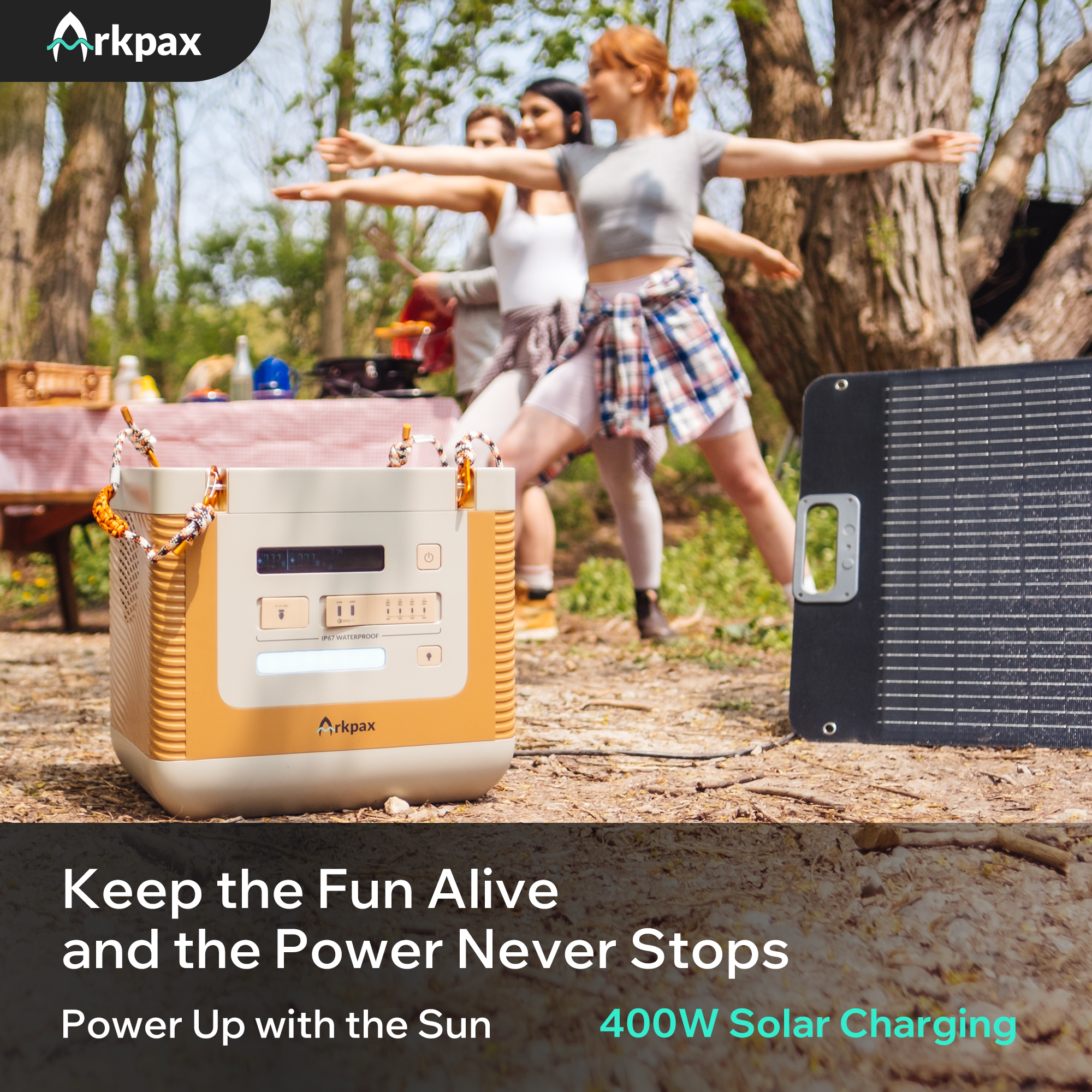 Arkpax, a pioneer in innovative outdoor technology, is redefining the boundaries of portable power with the introduction of Ark 1800W. This groundbreaking power station is tailored specifically for boating, sailing, and fishing expeditions that span more than a week, ensuring constant power supply where it's needed the most.
The Ark 1800W is a testament to Arkpax's commitment to power and reliability. Equipped with a substantial 1500Wh battery capacity, it provides an 1800W power output and a 3300W peak output. Whether it's to energize a laptop, charge a phone, or power a blender, the Ark 1800W is built to handle an array of devices with ease.
The Ark 1800W stakes its claim as the world's first portable power station to offer IP67-rated dustproof and waterproof protection. This milestone is achieved through a state-of-the-art waterproof panel drainage system, complemented by waterproof fans that keep the device safe from environmental factors such as dust, dirt, and water, ensuring an uninterrupted power supply even in adverse weather conditions.
Beyond protection, the Ark 1800W's waterproof feature also simplifies maintenance. Its clean-friendly design allows for effortless upkeep, even in challenging environments. Be it sailing, hiking, or camping, the Ark 1800W ensures that water exposure or dirt accumulation won't interrupt your power needs.
Built to withstand the unpredictable, the Ark 1800W is electric shockproof and internally cooled to prevent overheating. Additionally, it sports an electrolysis-resistant coating that wards off corrosion and rusting, ensuring long-lasting performance.
The Ark 1800W is a testament to Arkpax's design versatility. Engineered to charge a wide array of devices – from phones, tablets, laptops, cameras to drones, and more, Ark 1800W ensures you can enjoy your water-bound adventures without compromising on comfort or connectivity.
The Ark 1800W provides three unique charging avenues: 500W solar charging, 240W car charging, and 1000W AC charging. With its fast two-hour charging time, you'll be ready for your next adventure in no time.
Additionally, the Ark 1800W features a built-in Uninterruptible Power Supply (UPS), providing a continuous power supply to your devices during power outages. This invaluable feature is ideal for emergency situations or extended periods on the water.
With a promising lifespan of up to 10 years, tested over 1,000 lifecycles, the Ark 1800W offers enduring performance. Maintaining an 80% original capacity even when pushed to its limits, this power station is designed to keep you powered up for a decade of adventures.
Rounding off its impressive feature-set, the Ark 1800W incorporates the advanced BMS 35 technology – an intelligent battery management system that ensures optimal performance while safeguarding your power station.
In summary, the Arkpax Ark 1800W isn't just a portable power station; it's a reliable ally for all your water-based escapades. Its innovative features and robust performance set a new benchmark in the portable power industry, paving the way for enhanced fishing, boating, and sailing experiences.
Media Contact
Company Name: TWS Technology LLC
Contact Person: Olivia Stone
Email: Send Email
Country: United States
Website: www.arkpax.com